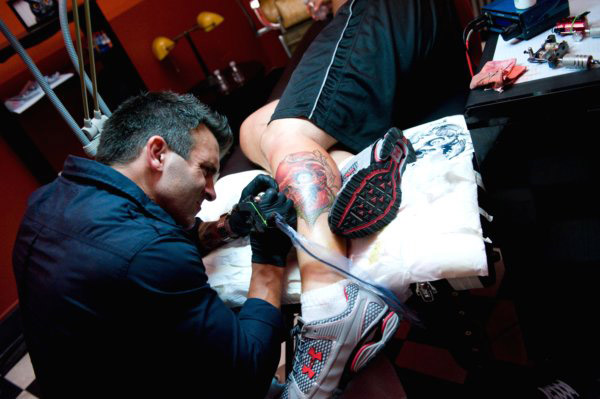 Shane O'Neill is our latest local reality TV champ. The Penns Wood alum, UArts grad and owner of Shane O'Neill Infamous Tattoo with locations in Middletown, Del. and Willow Grove, won Spike TV's tattoo reality competition "Ink Master" with the above piece, which took 18 hours to create.
Congratulations!
Uh. Thanks.
Were you surprised to win?
No. Throughout the whole process, I could see the direction it was going. I was winning the most challenges. At the very end, I wasn't surprised, but I wasn't expecting it, either.
How are you celebrating on the day after your win?
You'd think I would celebrate, but I have normal work.
I know pre-show, you had a six-month waiting list for appointments. Are you even busier now?
Oh yeah, absolutely. Even before winning, the amount of people who want appointments has gone through the roof. Just yesterday, we confirmed an appointment for January 23rd. [Sighs.] But it's what I wanted.
What are people asking you for now?
Mostly everybody is asking for portraits, and that's what I love to do. Whatever's been on the show is what they want.
Will your rates increase?
[Silence]
Will they… decrease?
[Laughs.] No. It's supply and demand. I want to be booked, but it's kind of unrealistic to be booked for 18 months straight. So, if I raise the price, some people get weeded out.
So, how much will a Shane O'Neill tattoo cost?
I really don't want to comment about pricing.
Ballpark?
Top-notch tattooers are 200 bucks an hour. I have some friends who charge $400 an hour, which is ridiculous. I came from a normal family, a blue-collar set-up. I know how hard it is to make money. I'm not pulling miracles off here, I'm just doing tattoos.
Have people been asking you for autographs?
Yeah. The few times I have gone out, it hasn't been some tattooed person. It's been an older lady or something like that.
What about autographs on your work?
Nobody's done that. Not lately.