"I want to be your first, and I want to be your last," he said on bended knee. To which she responded, "Yes, a thousand times, yes."
The two-hour ending to what Chris Harrison called "the most dramatic season ever" of ABC's The Bachelorette came to somewhat of an anti-climactic, yet ultimately satisfying close Monday evening.
The show's lead lady, Desiree Hartsock, dressed in a gorgeous nude-colored gown, finally picked her man, Chris Siegfried, who down on his knee in a sharp tux looked up to her with pleading eyes - the couple surrounded by heart-arresting, panoramic views of Antigua's remote landscape and clear waters.
Though the moment sounds picturesque and perfect, viewers knew the road leading up to that point was anything but.
In the muddled mix of uncertainty and possible outcomes of this season's Bachelorette, it seemed just as likely at the beginning of the episode that Des could be the first star who would not find true love on the show. "Nobody wins," the more speculative audience said after the outcome of the previous week's dramatic episode. "I have two amazing guys at the rose ceremony coming up and I don't have a clue what I'm going to do," a teary Des shared at the onslaught of the finale. "I came here to find love and I still want it. At the rose ceremony, if I don't see a future, for me, it's over."
Most, however, believed Brooks Forester, the suitor who unexpectedly (though thoughtfully) shattered Desiree's heart, would come around after processing the magnitude of his actions in choosing to leave the show and hence, possibly the woman of his dreams. Wistful viewers hoped he would come cavorting back to Antigua to renege on everything he had just openly shared, sweeping America's sweetheart-du-jour off her feet, while ending a painful season in a "happily ever after," highly-dramatic fashion.
Neither scenario happened.
Des, it seems rapidly recovered from Brooks and found love in the poetic, boyish arms of Siegfried, a 27-year-old former professional baseball player-turned-mortgage broker. "With Chris, I know what my future would be like," she confessed before her final date with him. "I know he would be there. I know he would be supportive."
As for her other remaining suitor? Des had already parted ways with living, breathing Ken doll, Drew Kenney, minutes into what was their final date. An emotionally perturbed, yet honest Hartsock confessed to the sensitive soul, "I have been so lucky to have you in my life. But I don't know if I see our futures together, if I can be 100 percent for you."
"You don't have to be sorry for not being in love with me" was Drew's response, as he gracefully bowed out from the show.
As Des continued to weigh her decision over Chris, her sole remaining suitor, she shared insight on her previous relationships - an openness that allowed the viewer to understand her slightly better. "I feel so sad," she said, initially leading fans to conclude the sentiments were strictly based on the loss of Brooks.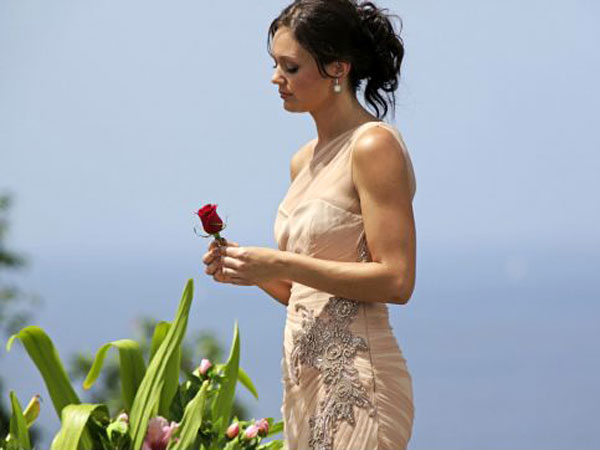 Francisco Roman / ABC
"I never felt like anyone has loved me, as much as I have loved them. That's why it's so hard to feel so loved," she said.
"... It feels good," she continued, noting that she felt "guilty" for "not [having] loved him from the beginning."
After a successful final date with Chris, Des brought him to meet her parents and brother, Nate, a daunting moment for Hartsock and all of America considering her older sibling's track record with Sean Lowe last season. Although Siegfried had received her brother's approval and asked Desiree's father for her hand, a still unsure bachelorette added, "It's hard for me to accept how much Chris loves me."
Then the day of the ring ceremony arrived, where she still remained shrouded by the emotional vomit left behind in the previous week's episode. Among the thoughts she contemplated - Did she truly love Chris? Was he enough for her even after the Brooks incident? - what became evident to the viewer was Des needed to work out her own emotional walls to simply accept a wonderful man's love, free of guilt, free of fear.
As Chris was about to get down on his knees, Des stopped him with, "I want to say something," quite possibly the worst words to use before a man proposes to a woman. The terror in Siegfried's eyes as he simultaneously muttered, "Don't say anything," built the anxiety to unstable, Jenga tower on-the-brink-of-toppling proportions. She then disclosed to him, "You know, I was torn apart by Brooks leaving."
"And I feel like I was blindsided by my feelings for Brooks - That I couldn't see the one thing that I always needed. You've been by my side from the very beginning." As America collectively let out a sigh of relief, she added, "I thank you everyday for never giving up. It meant the world to me. I love you. I love you so much."
A visibly relieved Siegfried then responded, "I want to be your first, and I want to be your last," as he got down on one knee and presented her with a beautiful rock to the tune of Matt White's "Love and Affection." Des then breathlessly responded, "Yes, a thousand times, yes," as the cameras panned out of the two kissing beside the gorgeous hillsides of the island, surrounded by miles of aqua-colored water.
While the producers of the show had us wondering all along if Des finds love, an unconventional season turned out quite conventional, after all.
So is their love an everlasting one, asks America. As of Monday evening, three months after the show taping had commenced, the couple still remains together. Only time will tell, especially now that Siegfried has watched every single episode, including last week's bawl-fest over Brooks.
What were your thoughts on the finale: Happily ever after? Or disaster?