Archive: April, 2012
Jonathan Takiff
Wonder upon wonders, "new" material from the Beatles is still springing forth - on Apple apps, video discs, CD and soon at a movie theater near you.
Material Evidence: George Harrison was the gear head of the group - quite a good photographer and gadget lover - and also a media hoarder. Evidence comes to the fore tomorrow with the home video release of Martin Scorsese's documentary film "George Harrison: Living in the Material World" and the simultaneous release of the Abrams multi-touch iPad/iPhone/iPod e-book of the same name.
Chock full of rare performance clips plus stories from the late Harrison, family and friends, Scorsese's monumental two part/four hour epic delves deeply into the musician's spiritual nature as an alternative path into the Beatles' history. This treasure trove has been playing on HBO and HBO Go for a few months (and actually will screen again Tuesday and Wednesday at 8 p.m. on HBO2 East) But if you buy in tomorrow on DVD, Blu-ray or iTunes download, you'll also be treated to bonus features like a "lost" Harrison guitar solo from "Here Comes the Sun." The DVD/Blu-ray combo edition also boasts a ten song CD collection of stripped-down demos, including several from his landmark solo album "All Things Must Pass." The same CD ("Early Takes, Volume 1") will be available separately, too.
Jonathan Takiff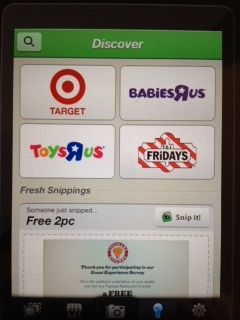 A practical iPhone/iPad app for digitally "clipping" coupons and generating new ones has been grabbing lots of attention in town this Philly Tech Week.
Spawned locally - with support from Philadelphia Media Network's digital incubator project - SnipSnap claimed top honors at the 5th Annual Mobile Monday Demo Night, then again last night at the startup competition Switch Philly. Still, the sweetest victory had to be Apple's quick approval of the program in "under two weeks," said CTO Kostas Nasis, allowing SnipSnap to launch in perfect synchronicity yesterday morning on the App Store.
Sparked by the "bowl of shame" at CEO Ted Mann's house - a repository of coupons constantly coming to his house that he "couldn't bear to part with," SnipSnap uses your iPhone or iPad camera to capture and save those discount deals electronically. As described in the app store introduction, "Simply snap a picture of any printed offer and SnipSnap magically converts all the text, images and barcodes into a mobile optimized offer, which you can redeem off your screen." At the checkout line, you then "pull up the coupon, barcode, promo code or photograph and present it to the cashier to redeem."
Jonathan Takiff
We're really torn between a trio of Philly Tech Week and Philadelphia Science Festival events happening this evening.
The drama may be as thick as on "The Apprentice" at tonight's "Switch Philly" competition. Five Philly startups will pitch their concepts in seven minute presentations, followed by a grilling from Mayor Michael Nutter (nothing like Donald Trump, thank heaven) Josh Koppelman and Ellen Weber. Two or three of the competitors were pre-screened by PTW organizers at Techicallyphilly.com. At least one was plucked from the masses showing at the Monday Mobile Demo Night. Winner earns free office space and meetings with local investors. Showtime - 6 p.m. tonight at Levitt Auditorium, 401 S. Broad St. Admission is $10.
Also getting their game on tonight, 15 local studios will showcase their newest finished and developing wares at the "IGDA Philadelphia Game Showcase." Indy Hall, 22 N. 3d St. hosts the event from 7 to 9 p.m. Free.
Jonathan Takiff
Some pretty nifty events - aimed to inspire and jump start your high tech professional life - are in sights for Philly Tech Week tonight (Tuesday) and tomorrow (Wednesday) morning. .
Wonder what it takes to fund, fuel and market a startup? Three pros get into it at Startup 101, 6 to 8 p.m. at the Pyramid Club, high atop 1735 Market St. $10.
Quick Response Codes that lead mobile phone users to websites are showing up everywhere, but do these trigger agents also lead to increased sales of products and services? Much to discuss at PTW's Marketing with Quick Response Codes panel, 7 to 9 p.m. at 100 S. Broad St., Suite 2100. Free with RSVP.
Jonathan Takiff
Looking to work your brain and (sometimes) your belly tonight? Consider some of the lively Philly Tech Week and Philadelphia Science Festival events happening around town.
Both the Philly Robotics Expo and Mobile Monday Demo Night are sold out, sorry. But you can still get in to PTW's "Performing with Technology," a night of sound installation, interactive dance and experimental electronic music at the fidgetspace, 1714 N. Mascher St., 5-8 p.m. tonight (free).
More interested in futurist theater with an on-line interactive component? Check out New Paradise theater company's "Digital Performance in a Possible Future" presentation, free from 6:30 to 8:30 p.m. at Hamilton Hall, 320 S. Broad St.
Jonathan Takiff
How do we know that Earth Day must be right around the corner (Sunday)? Environmental groups focused on the (fraught with eco-peril) electronics industry have been laying on the good and bad tidings.
Cloudy Forecast: Amazon, Apple and Microsoft all got slammed by Greenpeace International yesterday in a report on cloud energy practices. While Google, Yahoo and Facebook are
"taking steps to power their clouds with clean energy," those other "highly innovative and profitable companies are building data centers powered by coal and acting like their customers won't know and won't care," said Gary Cook, Greenpeace senior policy analyst. Some data centers "use as much electricity as 250 European homes."
We Done Good: Patting itself on the back - and maybe hoping to stave off more unwieldy state laws mandating recycling - the Consumer Electronics Association reported this week that 460 million pounds of consumer electronics had been responsibly recycled by its' members and "third party" companies in the last year. That's a 53 percent increase over the prior year. By 2016, CEA's eCycling Leadership Initiative hopes to up the annual ante to one billion pounds of electronics, equivalent to an entire 71,000 seat NFL stadium and making room for more good gear to invade our homes. "The average U.S. household owns 25 different CE products," said Walter Alcorn, CEA's v.p. of environnmental affairs. "We want to make recycling just as easy as purchasing electronics," And to that end hopes you'll check out the recycling options nearest you by visiting greenergadgets.org
Jonathan Takiff
Bloomberg took its beef with Comcast back to the Federal Communications Commission today, saying the BTV news channel is being unfairly excluded from the "news neighborhood" on Comcast cable systems.
Fair and equal viewer access to all news channels was a specific condition imposed on Comcast by the FCC, in allowing the cable giant's takeover of NBC/Universal, noted Bloomberg attorney Stephen Gavin in his FCC filing. The order was to prevent undo advantage for NBC News, MSNBC and CNBC. The Commission held that "if Comcast now or in the future carries news and/or business news channels in a neighborhood, defined as placing a significant number or percentage of news and/or business channels substantially adjacent to one another in a system's channel lineup, Comcast must carry all independent news and business news channels in that neighborhood."
Bloomberg had to dig deep into the Comcast world, but has come up with a few locales that contradict Comcast's first Annual Report of Compliance, filed with the FCC by senior vp David L. Cohen on February 28. The report affirms Comcast "has not re-arranged any news channel into a neighborhood since the close of Transaction and, as a result, has not incurred any obligation to neighborhood news channels."
Jonathan Takiff
What's buzzing in the tech world today? A trend setter in low cost home computing has passed. And Apple's feeling some competitive heat in the mobile phone space.
Bargain Computing Started Here: Unless you built your own PC in the garage, there was once no cheaper (serious) computer to be had than the Commodore 64, the brainchild of Jack Tramiel and reportedly the most successful model ever sold (17 million.) "We sell to the masses and not the classes," said the Commodore king, who died Sunday at age 83.
The Polish-born Tramiel was a survivor of the Auschwitz concentration camp, had the equivalent of a 5th grade education. After coming to the U.S., he started fooling with gizmos as a typewriter repairman in the U.S. Army, later founded Commodore to import typewriters, then got into bargain electronic calculators and digital watches. That set off his first price battles with Texas Instruments. "Business is not a sport. It's a war," he said.