Archive: February, 2012
Jonathan Takiff
I'm starting to feel sorry for Apple. No, really. While the company prides itself on a "veil of secrecy," loose-lipped parts suppliers and the ever vigilant Apple-ologists are eternally looking in the shadows and dishing the dirt about Apple's next big thing.
Yes, Apple just announced a press conference for next Wednesday in San Francisco, touted with the invite hint "We have something you really have to see. And touch."
But truth is, an insider shared this conference date weeks ago. And who doesn't know what that coded message is all about - a slightly thicker, third generation iPad tablet with a new breed of LED-backlit screen boasting 4 times the pixels of today's iPad 2. So print, pictures, games and videos should look super. We've also gotten wind of its lighter/thinner Gorilla 2 glass face plate, faster quad-core processor, double-sized battery, improved cameras and support (on some models) for faster 4G/LTE connection to Verizon and AT&T networks.
Jonathan Takiff
Uh-oh, there's a new study, just released by Baylor College of Medicine and Texas Children's Hospital, that undermines the allure of video games promoting physical activity.
Researcher Tom Baranowski has even given the news media a damning quote to bite on, declaring "there's no public health benefit from having those active video games."
But the man had to come up with something strong to rationalize the research bucks Baylor got from the National Cancer Institute and the United States Department of Agriculture/Agriculture Research Service, for this flawed (to my perspective) study.
Jonathan Takiff
While denied the best picture/director Oscars, I'd argue that "Hugo" will be the 2011 motion picture that time and film historians remember best - as an homage to cinema magic old and new.
"Hugo" did wipe the plate clean at the Academy Awards with technical achievement honors - for cinematography, best visual effects, art direction, best sound editing and sound mixing. And when this ripe-for-all-ages film goes on sale tomorrow i(Tuesday) in home video versions (good timing, Paramount) I urge that you splurge for the "Limited Edition" 3D package, which also holds old-school 2D Blu-Ray, DVD and digital copy versions.
Even if you don't own a 3D TV, disc player and glasses now, someday you will. And it's in the creative use of that extra depth dimension - pulling you down chutes, soaring over Paris, poking you in the eye with massive clock tower tech (very steampunk) - that half the magic of this film resides.
Jonathan Takiff
Golden ears have long groused about the inferior sound of streaming music and video. DTS, Apple and SRS are responding
DTS' excellent multi-channel sound encoding for DVDs and Blu-Ray video discs is widely hailed. Now a variation on the theme (can't be quite as good, but they'll try) will be part of a "cloud-based delivery service" that will be unveiled in "Q2" 2012, DTS CEO Jon Kirchner shared with stock analysts this week.
Acknowledging problems of distortion and over-compression in some music on the iTunes store, Apple has introduced a "Mastered for iTunes" program that starts out with the best possible source material and tweaks it in a number of ways. Artists and labels are invited to study up on the technology in a newly posted white paper . Some classical, jazz, pop and rock titles are already available in "Mfi" form - from Holst's "The Planets" to John Coltrane's "A Love Supreme" to flavor of the month Lana Del Ray. While cordoned off in the Mastered for iTunes section at the site, the offerings sell for the usual price - $1.29 a track, $9.99 for the album.
Jonathan Takiff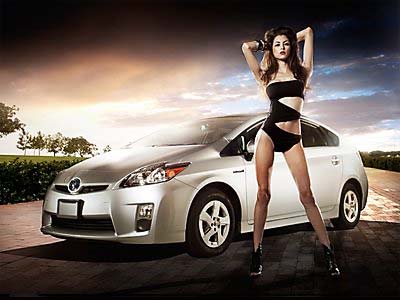 Who says hot girls don't "think green"?
Or that geeks don't wanna have fun?
Certainly not Mike Cessario, the brainstormer behind the 2012 "Pump Rebels" pinup calendar combining fuel efficient vehicles with voluptuous, bikini-clad babes. Talk about juicing up a Volt! Perking up the Nissan Leaf!
Jonathan Takiff
Pay no attention, please, to all the fuss surrounding Sony's launch today of a new multimedia portable. We want all eyes forward for another momentous announcement from your friends in Cupertino.
Seriously, Apple, couldn't you have picked another day, ANY OTHER day, to spring the news you've finally got ringtone versions of the Beatles classics available for exclusive download to iPhones? Jeez, youve been selling the Fab Four's music in digital form on the iTunes store since late 2010. Was the editing down of "Yesterday" and "Hey Jude" really all that complicated and fraught with Apple vs. Apple debate? And just NOW resolved?
I've got to admit, I am feeling a little warm and fuzzy about the prospects of announcing my wife's incoming calls with "She Loves You." Or can see the dark humor in trumpeting my editors' phone communiques with "Eight Days A Week," "A Hard Day's Night" or "Help."
Jonathan Takiff
Sean "P. Diddy" Combs and Earvin "Magic" Johnson will be hosts and owners of new cable channels which Comcast (and maybe others) will launch later this year and early next.
Two new channels geared to the Hispanic audience - one with direction by the legendary Hollywood film director Robert Rodriguez - are also in the Comcast pipeline.
P.Diddy's music-themed service Revolt aims to give the likes of BET and MTV a run for the money, combining urban-slanted artists and news with a social networking component. "We're coming with a new energy, we're coming with something that people are going to want to tune in to see," shared the media mogul with an MTV reporter recently. Though best known for his rap hits, P. Diddy's Bad Boy Entertainment has also produced hit cable shows like "Making the Band." Revolt will launch in 2013.
Jonathan Takiff
ABC's "Nightline" will scoop all other media tomorrow night (Tuesday), with a visit to a Foxconn factory in China where your favorite iToys are made.
Foxconn actually assembles 40 percent of the world's consumer electronics - including XBox 360 game systems, HP and Dell computers, and varied products for the likes of Samsung and Sony. But over the past two years, a spate of employee suicides, strike threats and reports of the operation's oppressive/dangerous working conditions have mostly connected Foxconn to Apple, their most demanding of customers, especially around the time of a new product launch.
The timing of this report - and choice for ABC to tell it - are curious.