Archive: February, 2012
Jonathan Takiff
The NPR Music site launched on the iPad this week is pretty darn spiffy - opening a Pandora's box of content that reallly hits the spot(ify.) Philadelphia public radiio stations are part of the freebie mix - though their commitment to the cause could be stronger.
Actually a fine tuning/focusing of the music component in the already popular NPR app, NPR Music offers listeners instant access to dozens of public stations serving up more sophisticated/mellow varieties of music - alt and indie rock (in many manifestations), jazz and classical.
A decorative on-screen menu also provides quick access to specialty radio programs like "Piano Jazz." "Alt Latino" and WXPN's "World Cafe," as well as to streaming video mini-concerts and short-form music videos that are well curated and ever tasteful. First to grab my eyes and ears - one of the "Tiny Desk" concerts spotlighting tUnE-YarDs; a snappy, synthed up set by alt-hip hop-bop duo Shabazz Palaces; and a dynamic session with vibraphonist Walter Wolf's jazz quintet. All fun to watch as well as hear, with fine picture and sound quality.
Jonathan Takiff
Everyone in the telecommunications industry has been bemoaning that we're fast running out of "spectrum" to carry all the mobile phone traffic. Yet the Federal Communications Commission has essentially squashed one very promising solution from LightSquared that would have provided additional voice and internet service using satellites and available to any/all interested carriers.
Yesterday, the FCC declared LightSquared's technology was "severely flawed" because it interferes with the GPS (global positioning satelllite) gear used widely by the military, aviation, construction and agricultural industries. (GPS for cars was evidentally not a concern.)
While never denying there were problems, LightSquared has countered that the interference between its assigned (and expensively purchased) frequencies and the adjacent GPS spectrum space is really GPS's problem, due to poor equipment design.
Eric Smith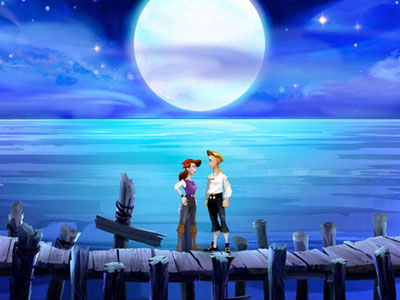 Whether we are searching for our princess through seemingly endless number of castles (she's always in another one!) or romancing aliens while crossing the galaxy to save mankind… us gamers, we're romantics. We cried at the end of Final Fantasy X. We battled an array of giant living colossi for love in Shadow of the Colossus. We traveled back in time to save a bratty princess, and consequently, saved the world in Chrono Trigger.
So you better believe we appreciate Valentine's Day.
One of the many great things about the iTunes store, aside from the vast library of music, movies, and games, is that you can gift purchases to friends, and perhaps more importantly, loved ones. Struggling to find the perfect little gift for that lovely gamer in your life?
Why not gift them one of these many games, each with a wonderful love story all its own?


The Super Nintendo classic from the golden age of Square Enix hit the App store back in December, and its transition from the 16-bit console to iOS devices was nothing less than perfect. And the story, over a decade later, still holds up.
While exploring his town's Millennial Fair, the game's young protagonist, Crono, literally runs into the beautiful Marle, a fearless blonde spitfire. After volunteering to try out the latest invention from Lucca, Crono's best friend, Marle is transported four centuries back in time. Crono bravely chases after her, and what unravels is one of the best stories in video game history, traveling from the past, to the future, and to the end of time.
The port of the game even includes the two bonus areas from the Nintendo DS re-release of the game. With memorable characters, an outstanding soundtrack, and a heartwarming love story, this is the perfect title to gift on Valentine's Day.


Before Tim Schafer was leaving us in stitches with games like Psychonauts and Brutal Legend, he was writing some of the funniest games during the golden age of LucasArts, including Day of the Tentacle, Full Throttle, and of course, the classic Monkey Island series. The re-released special edition of the original, which is also available on Xbox Live & the Playstation Network, dishes out updated graphics for the groundbreaking point-and-click adventure.
In The Secret of Monkey Island, gamers are introduced to the bumbling Guybrush Threepwood, a determined but haphazard wanna be pirate. As he undergoes a series of trials to become a pirate, he quickly becomes the enemy of LeChuck, a notorious ghost pirate, and becomes absolutely smitten with the governor of the island, Elaine Marley. Can he defeat LeChuck and win the gal? You'll have to play the game to see.
We've all been that good natured, disaster-of-a-person whilst trying to win over someone. Every Valentine will see a little of themselves in Guybrush.
Note: And hey, if you really like your Valentine, pick them up Monkey Island 2: LeChuck's Revenge. It's also available, and also only $2.99.


Look at that adorable robot holding hands with the lady robot. LOOK AT HIM.
Feel your heart melting? Good. Let's continue.
Much like Secret of Monkey Island, Machinarium is a point and click adventure story, requiring you to solve an array of puzzles to progress through the game. Set in the world of Machinarium, you play as Josef, a robot tossed out for scrap, on a mission to stop three evil robots from destroying the city's tower. Along the way he has to help the others robots in Machinarium, as well as… you guessed it, save the girl.
One look at some of the screenshots, and you'll understand why this title won numerous awards when it came out back in 2009. It's an absolutely beautiful game, from the gorgeous artwork to the fantastic soundtrack.
Note: Before you go rushing to pick this game up this specific iOS title will only work on the iPad 2. If you still want to get it but lack the latest iPad, it is available for PC, Mac, and Playstation 3.
Jonathan Takiff
Though not yet on sale, Sony's new PlayStation Vita portable game system is already available for consumer testing at your friendly neighborhood Game Stop outlet. That's good news for gamers, and also got me to wishing for a couple other "try before you buy" opportunities. Can I hear an "amen," Canon and Vizio?
Vita-lized: While hardly a spur of the moment buy, starting at $249, Sony's PlayStation Vita has a lot going on. Start with a great looking display, a nice light feel and some nifty new performance features - including rear mounted touch controls (!) - that gamers will want to try out. And far more than its PlayStation Portable predecessor, the PS Vita will be marketed (starting next week) as an all-in-one media player, connecting wirelessly on Wi-Fi or 3G (at added cost) to the newly unified Sony Entertainment Network for streaming and downloading of content. Not just games but also music and video.
Vita video games will cost less if you download rather then buy the titles at stores packaged on a new generation memory card. But how long will that download process take, and how much internal memory will it consume?
Eric Smith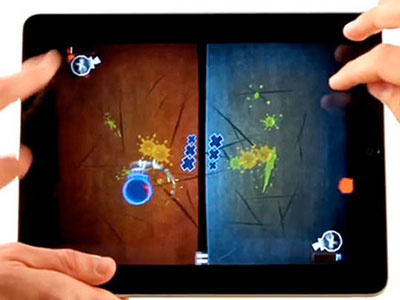 Every gamer has, at one point in their romantic life, heard "don't worry sweetheart, I like watching you play." And consequently, every gamer has been lied to. It's not fun. Whether you're the one asking questions or the one explaining, there's a one-sidedness that occurs in gaming that is far from entertaining.
So, as Valentine's Day approaches, I've whipped up a list of fun multiplayer iOS games for you and your beloved to play together.
I'm not talking turn-based board games (though EA's mobile versions of Scrabble, Monopoly, Risk, Battleship, and Life are absolutely fantastic) or any of the many With Friends titles (Words, Scramble, etc) that you can play online. I'm talking same device, head to head, one on one.
So now, let the battle begin.

Whether you're lying in bed or killing time on the SEPTA, the iPad version of Fruit Ninja (in HD!) is the ultimate competitive game for gaming couples either snuggling up on a chilly evening or squished together on the Regional Rail.
Yes, the premise is ridiculous. Numerous fruits fly through the air as you swipe at them, violently slicing across a hardwood background. There's no story, no deep character development. Just bright colorful graphics and shockingly addicting game play. And then there is the multiplayer.
The head to head multiplayer in Fruit Ninja HD splits the iPad screen down the middle, giving each player their own dojo. You'll both try to slice more fruit than the other, whilst attempting to sabotage each other with bombs. It gets intense; make sure your relationship is strong enough to handle it.
Note: You can also get this on the iPhone ($0.99), which supports Game Center multiplayer, and Fruit Ninja: Puss In Boots ($0.99), a tie in to the Dreamworks film that is a lot of fun and has Global Leaderboards.


Mirror's Edge, the celebrated EA title that we all want a sequel for, has a surprisingly great iOS adaptation that leaves behind the first person parkour in favor of a 2D side scrolling action game. And while the first person game is short, the multiplayer is a blast.
Like Fruit Ninja, you'll get a split screen on which you can race head-to-head in two different multiplayer modes. One challenges you to race each other, while the other pits you against each other to hunt down hidden packages.
The graphics are stunning, the gameplay is simple, and the racing gets intense. Definitely a fun title to play with your significant other… just don't admit you have a slight crush on Faith. Rawr.
Note: Yes, $9.99 is ridiculous, but don't get turned off by the price. EA loves putting their iOS games on sale. Chances are around the holidays, you'll be able to nab this game for $1.99. Snag it when it goes on sale.


I remember playing the original Worms on an ancient 486 PC in my parents' basement. My friends and I were obsessed with these sorts of competitive artillery games, pouring hours into games like Scorched Earth and laughing all the while.
Worms made the genre even more fun with quirky animations and outrageous weapons, like the Holy Hand Grenade from Monty Python and the Holy Grail.
The idea behind Worms is simple. You have a team of several heavily armed worms, each of which can fire an array of wild weaponry. You'll take turns moving them around and strategically positioning them while firing madly at each other. The team that loses all their worms, loses the battle.
So go ahead. Name your worms after your mutual friends and battle it out. Your standard game will probably take 20 minutes or so, and you'll likely spend all those minutes laughing and yelling at each other.
Note: Concerned that you're missing the highly cerebral storyline if you don't play the first one? Worried that you'll have lots of questions? Relax. These are worms shooting at each other with bazookas, not Magnolia.
Jonathan Takiff
Bloggers make strange bedfellows. So do high tech companies. That's how we're linking Apple to both Moore College of Art and Sir Paul McCartney today.
While famously feuding for many years over the whole Apple trademark thing, the Cupertino electronics giant clearly made its peace with the surviving Beatles and their Apple enterprises a few years back, with the highly promoted digital release of the Fab Four catalogue. And tomorrow night, Paul McCartney and Apple will very publically share a Pre-Valentines Day love fest - as Apple streams a free, live concert by Macca. The focus wil be on his brand new album "Kisses on the Bottom," which reprises "Great American Songbook" romantic songs from McCartney's childhood memory bank - the likes of "It's Only a Paper Moon" and "Gonna Sit Right Down and Write Myself a Letter" (from whence comes the album title) which he does up in retro-jazzy style. You can catch the concert renderings (from Capitol Studios in Hollywood) for free at 10 p.m. Thursday through the iTunes store and over Apple TV.
Closer to home, Apple has just made a deal with Moore College of Art to outfit every incoming freshman come fall with an iPad 2 "or whatever tablet is current at the time," said a school spokesperson. This comes on the heels of Apple's newly escalated initiative to move iPads into far more school programs. Details are still being worked out regarding curriculum pieces, faculty training, etc, but I'm told the new think Moore courses will "integrate digital media and tools with tradition drawing and design media." Students also can expect to use the new mobile technologies "as a sketchpad, to take still images, shoot video and use apps to work out ideas, concepts or produce finished work."
Jonathan Takiff
Ever stood in line at an Apple store, waiting for the "next big thing" to go on sale? Hope you got a larf from the rowdy TV commercial for the Samsung Galaxy Note which debuted on the Super Bowl telecast last night.
Actually the second time Samsung has taken to bashing Apple zealots (and I'm kinda one), the 90 second spot was directed by Bobby Farrelly of, um, "Dumb and Dumber" and "Something About Mary" fame. It opens with shots of people waiting in front of a very white store, grousing "Can't believe we're missing the game for this" and "Feels like detention."
Then along comes a guy with a wacky different phone - featuring a huge 5.3 inch screen, and he's writing on it . . . with a stylus. That's enough to get the bunch breaking through the barriers, dancing in the streets, with a shaggy haired rocker (Justin Hawkins from British band The Darkness) and gospel choir singing praises.
Jonathan Takiff
Even the most hyperactive, multi-tasking of Super Bowl XLVI fans will be put to the test this Sunday, juggling the host of sites and apps connected to the game.
Computer View: NBC is finally making the game accessible live, on line to computer users in the U.S. Even more intriguing are the "second screen" enhancements that will drive many users to have both the PC and their big screen TV on game watch, simultaneously. Available at both www.NBCSports.com and www.NFL.com, the computer viewers will be offered additional camera angles, in-game highlights, statistics, and interactive feedback with some "DVR-style" control functionality. If you are planning on webbing-in, get there early in case your computer needs upgrading with Silverlight (video streaming) software.
Pads and Phones: Verizon has made an exclusive deal to stream the game to mobile phones and tablets enabled with Verizon wireless data service. Everybody else with a tab or smart phone is pretty much out of luck, unless you have a Slingbox app that's remotely connecting to a Slingbox device. (And the latter, in turn must be hardwired to a cable or satellite box tuned to the game.) Cautionary note to potential Verizon viewers - unless you have a very deep bucket of unused data minutes, the cost of streaming the game to your phone/tablet will be redunkulous. But hopefully, the app will also connect you guys off the Verizon grid, on a Wi-Fi network (which costs nothing.)