Tech and Gaming
Eric Smith
William Stallwood and Dain Saint have high hopes.
When Cipher Prime released their first title, Auditorium, they found themselves with a smash hit on their hands, an immediate darling in the indie game community. Challenging gamers to create music by bending beautiful streams of light through complex puzzles, Auditorium won numerous awards and was an honoree at the Webby Awards.
And now, they're getting ready to develop a sequel. Auditorium: Duet.
Eric Smith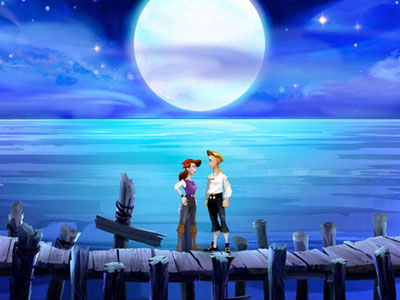 Whether we are searching for our princess through seemingly endless number of castles (she's always in another one!) or romancing aliens while crossing the galaxy to save mankind… us gamers, we're romantics. We cried at the end of Final Fantasy X. We battled an array of giant living colossi for love in Shadow of the Colossus. We traveled back in time to save a bratty princess, and consequently, saved the world in Chrono Trigger.
So you better believe we appreciate Valentine's Day.
One of the many great things about the iTunes store, aside from the vast library of music, movies, and games, is that you can gift purchases to friends, and perhaps more importantly, loved ones. Struggling to find the perfect little gift for that lovely gamer in your life?
Why not gift them one of these many games, each with a wonderful love story all its own?


The Super Nintendo classic from the golden age of Square Enix hit the App store back in December, and its transition from the 16-bit console to iOS devices was nothing less than perfect. And the story, over a decade later, still holds up.
While exploring his town's Millennial Fair, the game's young protagonist, Crono, literally runs into the beautiful Marle, a fearless blonde spitfire. After volunteering to try out the latest invention from Lucca, Crono's best friend, Marle is transported four centuries back in time. Crono bravely chases after her, and what unravels is one of the best stories in video game history, traveling from the past, to the future, and to the end of time.
The port of the game even includes the two bonus areas from the Nintendo DS re-release of the game. With memorable characters, an outstanding soundtrack, and a heartwarming love story, this is the perfect title to gift on Valentine's Day.


Before Tim Schafer was leaving us in stitches with games like Psychonauts and Brutal Legend, he was writing some of the funniest games during the golden age of LucasArts, including Day of the Tentacle, Full Throttle, and of course, the classic Monkey Island series. The re-released special edition of the original, which is also available on Xbox Live & the Playstation Network, dishes out updated graphics for the groundbreaking point-and-click adventure.
In The Secret of Monkey Island, gamers are introduced to the bumbling Guybrush Threepwood, a determined but haphazard wanna be pirate. As he undergoes a series of trials to become a pirate, he quickly becomes the enemy of LeChuck, a notorious ghost pirate, and becomes absolutely smitten with the governor of the island, Elaine Marley. Can he defeat LeChuck and win the gal? You'll have to play the game to see.
We've all been that good natured, disaster-of-a-person whilst trying to win over someone. Every Valentine will see a little of themselves in Guybrush.
Note: And hey, if you really like your Valentine, pick them up Monkey Island 2: LeChuck's Revenge. It's also available, and also only $2.99.


Look at that adorable robot holding hands with the lady robot. LOOK AT HIM.
Feel your heart melting? Good. Let's continue.
Much like Secret of Monkey Island, Machinarium is a point and click adventure story, requiring you to solve an array of puzzles to progress through the game. Set in the world of Machinarium, you play as Josef, a robot tossed out for scrap, on a mission to stop three evil robots from destroying the city's tower. Along the way he has to help the others robots in Machinarium, as well as… you guessed it, save the girl.
One look at some of the screenshots, and you'll understand why this title won numerous awards when it came out back in 2009. It's an absolutely beautiful game, from the gorgeous artwork to the fantastic soundtrack.
Note: Before you go rushing to pick this game up this specific iOS title will only work on the iPad 2. If you still want to get it but lack the latest iPad, it is available for PC, Mac, and Playstation 3.
Eric Smith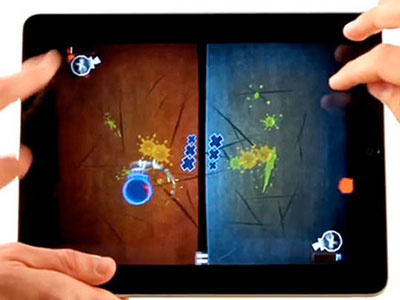 Every gamer has, at one point in their romantic life, heard "don't worry sweetheart, I like watching you play." And consequently, every gamer has been lied to. It's not fun. Whether you're the one asking questions or the one explaining, there's a one-sidedness that occurs in gaming that is far from entertaining.
So, as Valentine's Day approaches, I've whipped up a list of fun multiplayer iOS games for you and your beloved to play together.
I'm not talking turn-based board games (though EA's mobile versions of Scrabble, Monopoly, Risk, Battleship, and Life are absolutely fantastic) or any of the many With Friends titles (Words, Scramble, etc) that you can play online. I'm talking same device, head to head, one on one.
So now, let the battle begin.

Whether you're lying in bed or killing time on the SEPTA, the iPad version of Fruit Ninja (in HD!) is the ultimate competitive game for gaming couples either snuggling up on a chilly evening or squished together on the Regional Rail.
Yes, the premise is ridiculous. Numerous fruits fly through the air as you swipe at them, violently slicing across a hardwood background. There's no story, no deep character development. Just bright colorful graphics and shockingly addicting game play. And then there is the multiplayer.
The head to head multiplayer in Fruit Ninja HD splits the iPad screen down the middle, giving each player their own dojo. You'll both try to slice more fruit than the other, whilst attempting to sabotage each other with bombs. It gets intense; make sure your relationship is strong enough to handle it.
Note: You can also get this on the iPhone ($0.99), which supports Game Center multiplayer, and Fruit Ninja: Puss In Boots ($0.99), a tie in to the Dreamworks film that is a lot of fun and has Global Leaderboards.


Mirror's Edge, the celebrated EA title that we all want a sequel for, has a surprisingly great iOS adaptation that leaves behind the first person parkour in favor of a 2D side scrolling action game. And while the first person game is short, the multiplayer is a blast.
Like Fruit Ninja, you'll get a split screen on which you can race head-to-head in two different multiplayer modes. One challenges you to race each other, while the other pits you against each other to hunt down hidden packages.
The graphics are stunning, the gameplay is simple, and the racing gets intense. Definitely a fun title to play with your significant other… just don't admit you have a slight crush on Faith. Rawr.
Note: Yes, $9.99 is ridiculous, but don't get turned off by the price. EA loves putting their iOS games on sale. Chances are around the holidays, you'll be able to nab this game for $1.99. Snag it when it goes on sale.


I remember playing the original Worms on an ancient 486 PC in my parents' basement. My friends and I were obsessed with these sorts of competitive artillery games, pouring hours into games like Scorched Earth and laughing all the while.
Worms made the genre even more fun with quirky animations and outrageous weapons, like the Holy Hand Grenade from Monty Python and the Holy Grail.
The idea behind Worms is simple. You have a team of several heavily armed worms, each of which can fire an array of wild weaponry. You'll take turns moving them around and strategically positioning them while firing madly at each other. The team that loses all their worms, loses the battle.
So go ahead. Name your worms after your mutual friends and battle it out. Your standard game will probably take 20 minutes or so, and you'll likely spend all those minutes laughing and yelling at each other.
Note: Concerned that you're missing the highly cerebral storyline if you don't play the first one? Worried that you'll have lots of questions? Relax. These are worms shooting at each other with bazookas, not Magnolia.
Eric Smith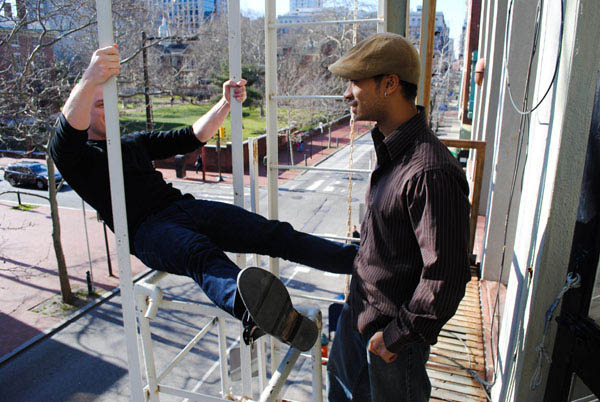 It's First Friday. The Old City art galleries are bustling with a fine mix of genuine art lovers and college kids feigning interest, the latter of which are just eager to grab some free cheese and wine. Both groups are swarming into the small boutiques and studios that line 2nd St, each a tiny refuge from the chilly Philly Autumn air. As I stroll down 2nd, making my way towards Chestnut, I spot a small line forming outside of one of my favorite First Friday venues… the office of Drink Philly.
Tucked away above Paradigm and nestled on the second floor, Drink Philly's annual First Friday gallery and party never fails to disappoint. On this particular day, there is a whole roast pig being carved up in their kitchen as glasses of wine and half-pint cups of microbrew beer make their way around the room. Beautiful people talk and laugh, eat, and ogle the local art on the walls. The smell of roast pig wafts through the air, and I sigh, turning away to visit the office that shares the second floor with them.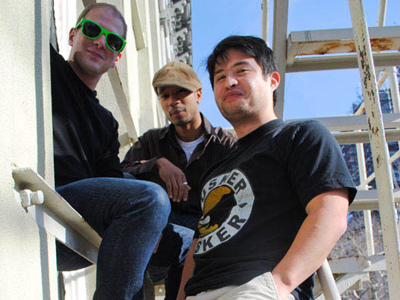 Jonathan Takiff
Netflix stock is up today, on news that America's favorite source for video rentals has reversed course on an unpopular marketing move announced less than a month ago. But the headlines notwithstanding, Netflix hasn't really "killed" its "plan to split off DVD rentals." Just the way you order them.
CEO Reed Hasting announced via a blog that Netflix won't be spinning off its DVD-by-mail rental operation into a new company called Qwikster, with its own website and ordering procedure.
That means the same Netflix website and sign-in procedure used to order instantly streaming movies on your computer will still be the place to also visit for mail order movie rentals. This is a good thing, as Netflix' library of hard disc movies is still way deeper (and more current) than the instant streaming options. So users of both services will find what they want/need without having to look here AND there.
Jonathan Takiff
Barnes and Noble is holding a press conference on Monday to announce its latest moves in the tablet war. But the cats have already crawled out of the bag. Internal memos, leaked perhaps by a B&N sales associate, are all over the Internet today, showing how the retailer plans to counter-punch the Amazon Kindles and iPads of the world.
The two-prong strategy starts with a $50 drop in price of the Android OS-based, 7-inch color screen Nook Color to $199, same as the similarly sized Kindle Fire.
B&N also will announce an upgrade of the device's software, underscoring Nook's partnerships with popular content suppliers, versus the more "Walled Garden" approach Amazon is taking with customized Kindle Fire apps. (Both devices do allow for web surfing.)
Jonathan Takiff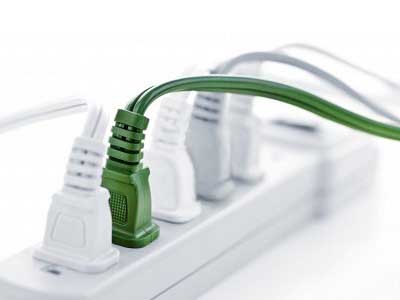 Two Billion Dollars. That's what U.S. consumers are overpaying every year in electric bills, to power their cable and satellite TV receivers when those boxes are theoretically "off."
This wastefulness has been calculated by a group of advocacy organizations, following up on a study by the Natural Resources Defense Council which found set top boxes consume virtually as much power when in standby mode (34 watts) as when in use (35 watts).
You can "feel" this reality yourself. Just put your hand on a cable or satellite tuner/recorder that's theoretically "off." While the power light indicator is dark, the box still feels hot. And how about that rumbling vibration? It's the hard disk drive inside, used for recording. It never really shuts off.
Jonathan Takiff
When a famous entertainer dies, we usually grieve in predictable ways. We watch a bunch of their TV specials, sit-in for a movie marathon, listen to a stack of their albums. Last night, the fickle finger of fate pointed me in another direction.
We bought the 21-inch iMac on Saturday, a major birthday present to me from my wife, after months of my self-inflicted doubt, debate and procrastination. (Yeah, I've been a PC guy forever.) The new thing had sat, boxed up, in my home office since then. I was dreading the dismantling of the old desktop system, to make room for the new. But last night, when I heard Steve Jobs had passed away, I took it as a sign and got to the task.
The upshot is that the cleaning up process took an hour, the install of the highly integrated iMac - including pairing of the Magic Trackpad, snapping of my on-screen ID photo (with multiple re-takes) and setting up of an email account - took all of ten minutes. I was up and running, first reading the outpouring of tributes from Apple fans far and wide, comparing the now gone Apple co-founder to the likes of Benjamin Franklin, Henry Ford and Thomas Edison.