Non-Comm got going in earnest on Thursday at the World Cafe Live.
For a better understanding of what exactly the left-of-the-dial radio confab is, let founder Dan Reeed explain it in my Inquirer story on the WXPN-hosted gathering and guest speaker agent provocateur Bob Lefsetz here.
Music was going on both levels Thursday of the University City club with acts alternating so as to not overlap. I missed the bell borttomed early 1970s Laurel Canyon video of Jonathan Wilson and Father John Misty, the Fleet Foxes drummer he produced, but got there in time for Lee Fields (pictured). The North Carolina bred old-school soul man who records for Truth & Soul records. Fields is a James Brown-Little Willie John style R & B shouter, like a make Sharon Jones, who sweat up a storm while a young horn happy band honked behind him. "Faithful Man," the title cut from his new album, is not what it seems: It's a cheating song.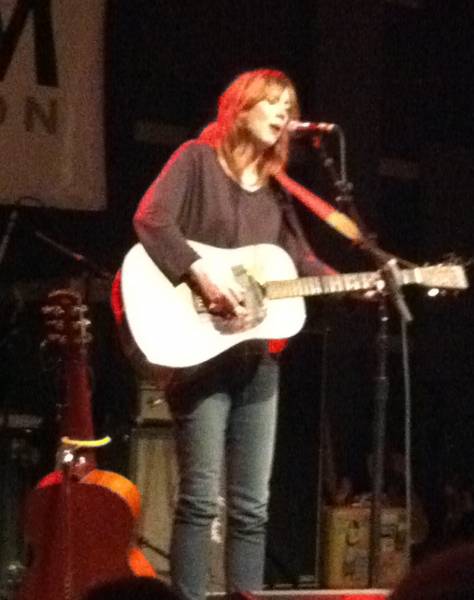 After Fields, it was downstairs for Beth Orton. The Brit folk singer who's been missing from the scene since 2006's Comfort of Strangers. Playing downstairs to to a sparse crowd, Orton sang solo, without any of the folktronic trappings that marked 1990s albums like Trailer Park and Central Reservation. She was quietly bewitching, when she could be heard abpove the schmoozers, nonetheless. New album due on Anti- in October.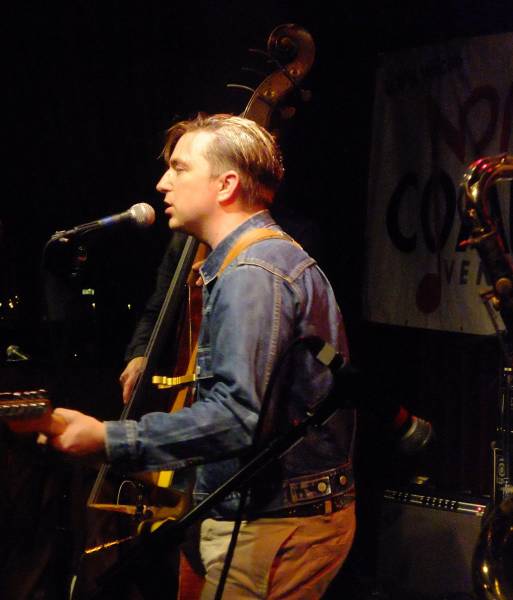 Next, upstairs for JD McPherson, the Broken Arrow, Oklahoma band leader and former art teacher whose four piece looks like they stepped out of a 1950s film noir. With upright bass, saxophone, guitar and drums, they kicked up a winningly stylized storm, mixing rockabilly and vintage R & B, and making the dance floor move. The surprise winner of the night. Signs & Signifiers is on Rounder. More infor here.
Back downstaris then for The War On Drugs, the Phiiladelphia local heroes fronted by Adam Granduciel who are still hard at work pushing their superb 2011 album Slave Ambient. A year on the road has the band's mix of Dylanesque poetics and surging atmospherics coming across sharper than ever. Onward and upward.
Lastly, I caught a few songs by the Barr Brothers, the Canadian folk foursome featuring Andrew and Brad Barr (formerly of The Slip), plus Sarah Page's very large harp. Their set was delayed by sound problems, and I found the first couple of songs to be pleasant but uninvolving. They were scheduled to be follow by Polica, the Channny Leaneagh-fronted Minneapolis buzz band praised by Justin Vernon of Bon Iver, among others. I caught them last summer when they were quite good opening Union Transfer, so I didn't feel too bad abut taking a pass, to go home and gear up for the big Willie Nelson-Norah Jones show at noon today.
Previously: RIP Donna Summer Follow In The Mix on Twitter