Archive: June, 2013
Gabrielle Bonghi
On July 8, Jay-Z will make an appearance on the Late Show with David Letterman both in the TV studio and on the studio's building. Yup.
The New York Post is reporting that Jay will perform on top of Ed Sullivan Theater's marquee, located in Times Square. The city and Mayor Bloomberg have reportedly given permission for the shutdown of Broadway between West 53rd and 54th, during rush hour. Oh and this is apprently a free, public show–we're predicting insanity!
The rapper's twelfth studio album, Magna Carta Holy Grail, is set for official release on July 4. This album might just outshine the actual holiday.
Gabrielle Bonghi
The touring diva shared some very personal, rare photos of baby Blue Ivy on her Tumblr page.
Some of the shots show Bey and baby Blue having a cute moment together and a close up of Blue in a fabulous purple velvet crown.
Our favorite? Although it's not a photo of Blue, we love the juxtaposition of the photo showing Beyoncé's feet fitting inside Blue's tiny pink baby heels. Talk about the adorable.
Jennifer Nguyen
"The Flying Tomato" is putting his halfpipe tricks on hold and taking his 1260º spins to the recording studio.
Two-time Olympic gold-medalist Shaun White is venturing into music with his new band, Bad Things, which signed its first major deal with Warner Bros. Records.
The professional snowboarder and skateboarder is one-fifth of the LA-based band with guitarist Anthony Sanudo and drummer Lena Zawaideh, who are White's long-time friends. David LeDuke will provide the leading vocals and Jared Palomar (of former band Augustana) will play bass.
Gabrielle Bonghi
The Ruff Ryder rapper who doesn't know how to use Google, created an amazing rendition of "Rudolph the Red Nosed Reindeer" and has been a controversial subject on Oprah's network reality TV show will be making an epic comeback on Friday, July 5 when he performs at The Blockley.
DMX has been through a lot over the years, seemingly being very misunderstood and under a lot of pressure to get his life in check. It's no wonder the rapper's music is often perceived as angry and brash.
Through his music, X finds a place of comfort and therapy–which is why he's gone on a short leg of tour dates, including a stop in Philadelphia. His latest album, Undisputed, was released in September of last year.
Gabrielle Bonghi
In the brand new video for Nine Inch Nails' single "Came Back Haunted," director David Lynch takes the audience on a seizure induced ride with some strange, dark imagery.
Their forthcoming album Hesitation Marks is due out September 13.
NIN will play Philadelphia's Made In America Festival during Labor Day Weekend. Tickets are available here.
Gabrielle Bonghi
The Pixies have surprised everyone by releasing a new song and video today. With the recent news of longtime bassist Kim Deal's departure from the group, this was not expected.
The new single is called "Bagboy" and it's their first release since 2004. The single was apparently recorded all the way back in October; which has us thinking a studio album is not too far off.
Watch the awesome video for the awesome single "Bag Boy," below.
Gabrielle Bonghi
The Glasgow indie-rock band is back after releasing their third-studio album back in 2009.
Franz Ferdinand is gearing up for a tour in support of their latest album, Right Thoughts, Right Words, Right Action, which is due out August 27.
The band will be making a tour stop at Tower Theater in Upper Darby on Saturday, October 19. Tickets went on-sale yesterday, so get them now!
Mike Bertha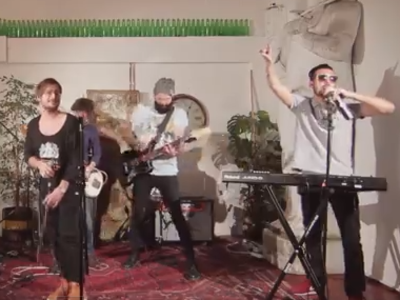 Moones is a band. They play music. Sometimes they drink beer. For a recent music video, the guys in Moones decided to play their song "Better Energy" while crushin' a bunch of brews. The subsequent YouTube video is more than an hour and 16 minutes long. The interface allows you to select which version of their song you'd like to see the band perform. Sober, 20 beers in, 40 beers in, 60 beers in, and 80 beers in are all options. There's also a handful of camera angles to choose from. SPOILER ALERT: The 80-beer version is a little loose.