Archive: May, 2012
Dan DeLuca

, Inquirer Music Critic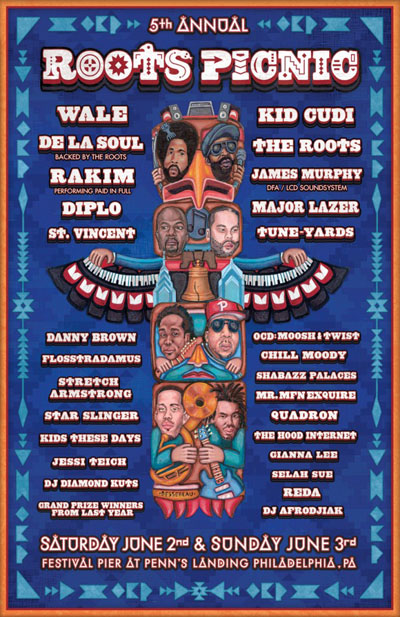 The fifth annual Roots Picnic is at the Festival Pier this weekend, expanding to two days in 2012.
For me, the day to be there is Saturday, what with De La Soul, Danny Brown, Wale, St. Vincent, Tunes-Yards, a DJ set by James Murphy, and The Roots themselves. Though Sunday with Diplo, Major Lazer, Kid Cudi and The Roots backing up Rakim on the entirety of Paid in Full, his 1987 classic album with Eric B., is nothing to sneeze at. (Sunday night, ?uestlove will be spinning at the Picnic afterparty at Silk City on Spring Garden Street.)
Last week, the good people at Okay Player posted a Roots Picnic mixtape, assembled by DJ Low Budget, that blends together a great deal of the music that will be heard on the Pier this weekend, from Shabazz Palaces to Flosstradamus.
Molly Eichel
Aaron Freeman, better known to music lovers as Gene Ween, told Rolling Stone that he's retiring the moniker, effectively ending the 25-year run of his band Ween. Freeman formed Ween with buddy Mickey Melchiondo (a/k/a Dean Ween) in New Hope in the mid-80s.
Freeman said there's no animosity between Melchiondo and himself. It was just time to stop using the name. "For me it's a closed book. In life sometimes, in the universe, you have to close some doors to have others open," Freeman told RS. "There's no, 'Goddamn that such and such!' For me, I'd like to think it's a door I can close finally."
Melchiondo might not feel the same way. "This is news to me, all I can say for now I guess," Melchiondo posted on his private Facebook page, according the AV Club. The site also reached out to Ween's publicist who similarly had no idea what was going on.
Aaron Freeman - As I Love My Own by Shore Fire Media
Dan DeLuca

, Inquirer Music Critic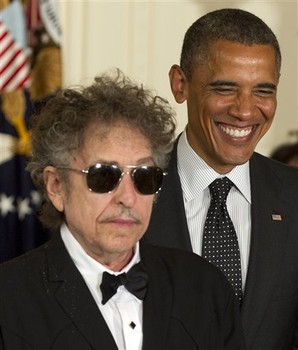 President Obama awarded the Medal of Freedom to Bob Dylan and a bunch of other worthies yesterday, including Toni Morrison.
The President said he read Morrison's Song of Solomon when he was "not just trying to figure out how to write, but also how to be and how to think... And I remember in college listening to Bob Dylan and my world opening up because he captured something about this country that was so vital."
According to Reuters, when Morrison received the award, "she smiled and embraced the President." Dylan played it rather coolly in comparison, wearing aviator sunglasses "and showing no emotion."
Jonathan Takiff
Ever wonder how the Philadelphia music biz "ticks" from a marketing/promotion and technical perspective? Some seasoned vets of the game will be sharing war stories in free events at Drexel University tonight (Wednesday) and then again next Wednesday.
Man With The Golden Touch: Kal Rudman, kingpin of the music industry tip sheet Friday Morning Quarterback, will tell tales out of school tonight about how he steered radio programmers to the next big things. Oh the stories he could tell – and we hope he will – about how record companies would, um, improve their odds for success. Rudman also had a highly public persona as a music tipster on the Merv Griffin and Today shows, and in his youth as a "Big Beat" radio DJ. And wasn't he also a color man for the WWF, for a while?
Dan DeLuca

, Inquirer Music Critic
Folk music giant Doc Watson remains in critical condition in Baptist Hospital in Winston-Salem, North Carolina. The 89 year old guitarist had colon surgery last week, and also suffered a fall recently, according to his daughter, Nancy. The web site Bluegrass Today reports that Watson remains in the hospital's ICU unit and that his family has been called to his side.
Last year, when Watson came to Glenside to play the Keswick Theater in a rare appearance in the Philadelphia area, I interviewed him for the Sunday Inquirer. When asked about his health, Watson said this:
"My health, for a man 88 years old, is exceptionally good. But my thinking - I'm stressed out. My little wife has been sick since last November. She had a stroke and she was in the hospital and now she's in rehab. We're trying to get her speech straightened out.
Dan DeLuca

, Inquirer Music Critic
Doc Watson, the flat-picking guitar great from Deep Gap, N.C. who was one of the most revered and influential folk musicians of the the last half century, has died, according to his manager Mitchell Greenhill. He was 89.
Watson, who lost his sight as an infant, had an operation on his colon last week and also recently suffered a fall, his daughter Nancy said. at Wake Forest Baptist Hospital Medical Center in Winston-Salem, N.C. His Associated Press obituary is here.
The esteem with which Watson was held be his fellow musicians is perhaps bst expressed in Guy Clark's song "Dublin Blues," in which the Texas troubadour sang: "I have seen the David," Clark sings. "And the Mona Lisa, too / And I have heard Doc Watson play 'Columbus Stockade Blues.' "
Dan DeLuca

, Inquirer Music Critic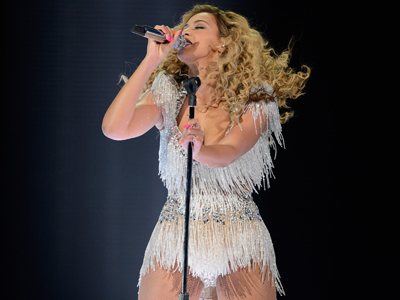 Towards the end of the second night of Beyonce's four-show Memorial Day weekend stand at the Revel casino and resort in Atlantic City on Saturday, as the hits were getting bigger and bigger, the singer and her 11 member all-female band turned their attention to a feminist club banger called "Run the World (Girls)."
With First Lady Michelle Obama and daughters Sasha and Malia seated in a box to her left at Revel's impressive 5050 capacity Ovation Hall, the pop and R & B world's ruling Queen Bee declared herself - and her Sisters - to be "Smart enough to make these millions, strong enough to bear the children / And get back to business."
For Beyonce, these shows at the $2.4 billion new resort whose success is thought to be so crucial to Atlantic City's economic future were an opportunity to do just that. The 30 year old singer did not tour behind her 2011 album 4, and these are her first performances - she's due back on stage Sunday and Monday nights - since giving birth in January to Blue Ivy Carter, her daughter with husband Jay-Z, the other half of the foremost power couple in pop music.
Dan DeLuca

, Inquirer Music Critic
Philadelphia says Happy 71st Birthday to Bob Dylan at Rembrandt's tonight when 40 singers sing that many different songs written by the man born Robert Zimmerman on this day in 1941, starting with Kenn Kweder doing "Love Minus Zero / No Limit" at 7 and finishing off with Jan Zarkin's "Knockin' On Heaven's Door" probably round about midnight.
This year's highlights will likely include organizer Jon Houlon's "Born In Time," as well as renditions such as John Wesley Harding's "Abandoned Love," the Philadelphia Ukelele Orchestra's "The Man In Me," Mia Johnson's "The Mighty Quinn," Andy Pratt's "Masters Of War," Patrick Berkery's "Jammin' Me" (co-written with Tom Petty) and Pete Rydberg's "Fourth Time Around." The annual event is in not its fourth but tenth time around, and is always a chaotic carnival, and a great way to sample local singer-songwriters, albeit not singing their own songs. Details here.
"I Want You" is below.