Archive: February, 2012
Dan DeLuca

, Inquirer Music Critic

Davy Jones, one of the four members of the much-loved 1960s pre-fab pop group The Monkees, died from a heart attack in a hospital in Martin County, Florida this morning, TMZ has reported.

Jones, 66, was the British Monkee in an otherwise all-American band whose other members included Michael Nesmith, Mickey Dolenz and Peter Tork. The band was put together for the NBC TV show The Monkees, by Bob Rafaelson and Bob Schneider, with music supervision by behind the scenes music mahoff Don Kirschner.

The meta-music series ran from 1966 to 1968, and the band scored several hits that have stood the test of time including the John Stewart-penned "Daydream Believer" and "I Wanna Be Free," both of which featured Jones, the band's principal heartthrob, on lead vocals.
THE MONKEES - DAYDREAM BELIEVER
by huntylch
Molly Eichel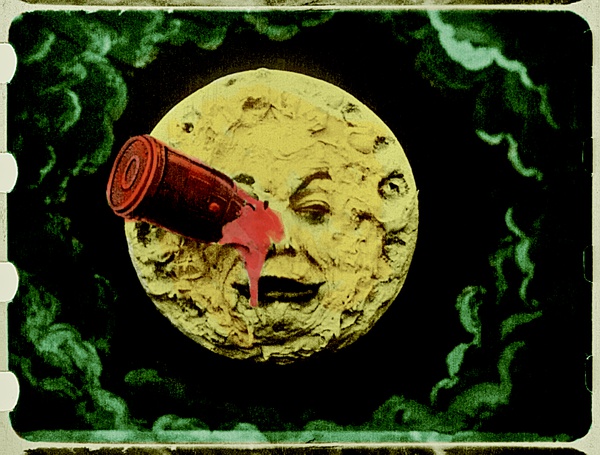 "The Artist" may have taken Oscar gold, but we preferred the other critically-lauded homage to early cinema: Martin Scorsese's "Hugo," which comes out on DVD and Blu-Ray today.
Georges Melies' sci-fi film "Le Dans la Lune"/"The Voyage to the Moon" is at the heart of "Hugo." Despite being released a century ago, it's still quite amazing to watch.
Dan DeLuca

, Inquirer Music Critic

Radiohead began its North American tour last night in Miami, and the British art-rock band performed two new songs. This being 2012, both of those songs, "Cut A Hole" and "Identikit" are already available for your YouTube viewing pleasure. The band plays the Coachella Festival in April and Bonnaroo in June, but at this point, there are no further east coast dates.

Previously: Springsteen on Fallon, Night One Follow In The Mix on Twitter here
Dan DeLuca

, Inquirer Music Critic
Late Night with Jimmy Fallon kicked off Bruce Springsteen week on Monday, with the Boss and the E Street Band doing "We Take Care Of Our Own," and "Wrecking Ball," the title track to the album due out next Tuesday.
The latter performance is embedded below, "We Take Care Of Our Own" is here, and a very funny clip of Fallon, The Roots and NBC news anchor Brian Williams slow jamming and double entendre-ing the news on the subject of Super PACs is on the Fallon web site. Kenny Chesney is on the show tonight, John Legend tomorrow, and Elvis Costello on Thursday, with Springsteen returning on Friday to close out the week.
Previously: President Obama on Muddy Waters and Alan Lomax Follow In Thh Mix on Twitter here
Dan DeLuca

, Inquirer Music Critic

The star-studded In Performance at the White House: Red, White & Blues special that was taped last Tuesday airs tonight at 9 on WHYY and other PBS stations. As was widely reported last week, Barack Obama joined in at the end on an all-hands-on-deck version of "Sweet Home Chicago," along with B.B. King, Buddy Guy, Mick Jagger, Shemekia Copeland, Jeff Beck, Gary Clark Jr., Trombone Shorty, and a whole bunch of other. Here's a clip of POTUS putting on his rock-critic hat and eloquently talking about the fateful meeting between folklorist Alan Lomax and McKinley Morganfield, a.k.a. Muddy Waters, on Stovall's Plantation in Mississippi in 1941, before he introduced King to the White House crowd.

Previously: Esperanza Spalding at the Oscars Follow In The Mix on Twitter
Dan DeLuca

, Inquirer Music Critic
Esperanza Spalding has risen to the stature of an international symbol of cultural enlightenment. The Berklee educated (and educating) jazz bassist has played the White House, and the Nobel Peace Prize ceremony. Her first name means "hope." Last year, she enraged Beliebers by winning the best new artist Grammy. Last night, she got to sing Louis Armstrong's "What A Wonderful World" during the In Memoriam segment of the Oscar telecast.
Otherwise, there wasn't a whole lot of worthwhile music of note at the 2012 telecast, with Flight of the Conchords' Bret McKenzie's trophy-snagging best song winner - out of an inexplicably slim category of two nominees - "Man or Muppet?" not even getting a performance slot. But the splendiferously Afroed Spalding handled her assignment with understatement and class, providing the soundtrack for the show's one between-awards segment that didn't feel like unnecessary padding, while paying tribute to dearly departed silver screen presences such as Elizabeth Taylor, Jane Russell and Whitney Houston.
Spalding's Radio Music Society comes out March 20. She plays the Electric Factory on May13. The audio from her Oscar performance is below.
Molly Eichel
Country music doyenne Taylor Swift is all about living the fairy tale. Today, she's making a fairy tale for one South Jersey teen suffering from cancer.
Kevin McGuire, who is battling leukemia, asked Swift to the prom at Sterling Regional High School, in Somerdale, Camden County. Swift unfortunately couldn't make it. "Kevin, I'm so sorry but I won't be able to make it to your prom," Swift posted on her Facebook page. "But I was wondering, the ACM Awards are coming up.. Would you be my date?"
Instead, she did the next best thing: Swift invited McGuire to be her date for the Academy of Country Music Awards April 1 in Las Vegas.
Dan DeLuca

, Inquirer Music Critic
Tuesday was Mardi Gras, but on this third day of Lent, the celebrations go on for traveling New Orleans party starters like formidable funk aggregation Galactic and new school NOLA brass band the Soul Rebels.
The latter open for the former (who are pictured to the left) at Union Transfer tonight, and will undoubtedly play together, as they do in the 2007 video below of "From The Corner To The Block," with gold-toothed Crescent City rapper Juvenile. Galactic's just-out Carnivale Electros follows the band's catholic taste from Louisiana to Rio de Janeiro, with contributions from New Orleanians like Mystikal and Big Chief Juan Pardo and Brazilians such as Carlinhos Brown and Moyseis Marques. The Soul Rebels' latest ecumenical update on the traditional brass band sound is called Unlock Your Mind; watch a mini-documentary about the band here.
Previously: The Barack Obama Blues Band Follow In The Mix on Twitter here