Archive: September, 2013
Gabrielle Bonghi

, Philly.com
Late yesterday, Justin Timberlake unleashed the audio for his latest Timbaland-produced single "TKO" off of his forthcoming sequel to The 20/20 Experience.
The second album will be released on September 30 and will also feature "Take Back The Night." You can also purchase The Complete Experience – basically a box set containing both albums. You can pre-order now.
Timberlake will embark on his solo "20/20 Experience World Tour" that will be stopping in Philadelphia on Sunday, November 10 at the Wells Fargo Center. Tickets can be purchased here.
Gabrielle Bonghi

, Philly.com
A$AP Ferg, the latest star coming out of the A$AP Mob, has just released his debut album, Trap Lord, and along with it has announced a huge tour called "Turnt x Burnt."
The North American tour will kick off in late October and make its way to Philadelphia on Saturday, December 7 at the TLA along with the A$AP Mob, Joey Fatts, Aston Matthews, Overdoz, and 100s.
Tickets go on sale Friday, September 20 at noon.
Gabrielle Bonghi

, Philly.com
After Washed Out performs at Union Transfer on Thursday, the after party is happening over at Morgan's Pier.

Ernest Greene (aka Washed Out) will join ThomZilla along the waterfront for a spectacular evening DJ set. The event is free for all ticketholders from the Union Transfer show and $5 for everyone else.

Thursday, September 19 Morgan's Pier, 221 N. Columbus Blvd 9 PM -2 AM, 21+, More Info
Gabrielle Bonghi

, Philly.com
Every Thursday, STUNTLOCO hosts the ultimate weekend kick off party featuring the musical magicianry of DJ SYLO and Luke Goodman. This hip-hop heavy weekly is a time honored tradition in the Philly nightlife scene and everyone who is anyone can be found tipping back some beverages and letting loose on the dance floor.
This week the STUNTLOCO crew is welcoming in a special guest for one night only; NYC's own Brenmar. Brenmar is currently one of the freshest, sought after producers and DJs in the scene. He's remixed music icons like Kanye West, Rihanna, Beyoncé, and Justin Timberlake. He's also worked with big dance music names like DJ Sliink, Fiinesse, Nina Sky and Mykki Blanco.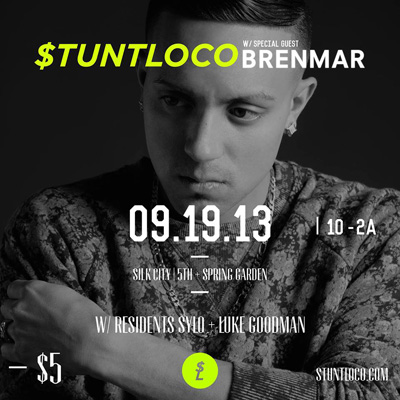 Thursday, September 19 Silk City Bar & Lounge, 5th & Spring Garden 10 PM – 2 AM, $5, 21+ More Info
Gabrielle Bonghi

, Philly.com
Today marks the day that MGMT released their new self-titled album, a new video and announced a string of tour dates that will bring the psychedelic indie rockers to the city of Philadelphia.
According to Consequence of Sound's post, MGMT will be making not one but TWO stops in Philadelphia, one of which will take place at the Electric Factory on December 3, the other, listed for December 2, just reads as a 'TBA' venue.
Tickets for the Electric Factory show go on sale Saturday, September 28 at noon. Listen to their new album, MGMT, below the tour dates.
Gabrielle Bonghi

, Philly.com
If you attended this year's Made in America Festival in Philadelphia, you got to see huge acts like Beyoncé, Phoenix, and Nine Inch Nails put on legendary performances.
The Jay Z-curated annual two-day event caters to music fans across the spectrum; touching on rock, pop, hip-hop, dance and more. This year welcomed a very diverse lineup, toting such rock bands as Queens of the Stone Age and Nine Inch Nails as the final players on the main stage.
The crowd drastically thinned out when QOTSA went on late Sunday evening – most of the hip-hop acts had wrapped earlier that day and people were weary from the day's heat. So it comes as no surprise that the band recently voiced their distaste for their MIA experience.
Gabrielle Bonghi

, Philly.com
The Deli Philly is one of the best sources for great hyper local Philadelphia music news. On Saturday, October 5 at PhilaMOCA, The Deli will be celebrating their five-year anniversary with a special soiree featuring some fabulous local acts.

Doylestown-based pop vibers Night Panther, and Austin transplants, Literature, and others will headline the evening, delivering stellar performances for all who attend. The invite requests that you dress in vintage attire, preferably that of the Mad Men era. This includes a free cocktail hour prior to the start of the live showcase – plenty of martinis and "hard stuff on the rocks or neat" will be served.

The Deli will be giving away a lot of cool prizes to those who are "best-dressed" such as some R5 Production show passes, a personal bottle of Jameson and other fun gifts.

Saturday, October 5 PhilaMOCA, 531 N 12th StDoors at 7 p.m., show at 8 p.m. - $10
More Info
Gabrielle Bonghi

, Philly.com
This isn't anything new, Beyoncé fans are hardcore – especially those lucky enough to absorb her presence at a concert from the front row. One fan in Brazil, this weekend, was overwhelmed by Bey's performance and got a little handsy!
During "Irreplacable," the singer bent down to interact with her fans when a shirtless, male audience member reached up and tried to grab the singer off of the stage. Security immediately rushed over and yanked Beyoncé out of his grip and was escorted out of the area.
Of course, in true Queen Bey fashion, she kept going on with her song until the end. But, before security guards could kick the 'attacker' out, Beyoncé yelled at the staff and told them he could stay and even introduced herself. All in a days work for the fabulous singer.