Archive: August, 2012
Dan DeLuca, Inquirer Music Critic
Madonna was late for the start of her own American tour on Tuesday night, showing up at the Axl Rose-ian hour of 10:30 before a packed house at the Wells Fargo Center.
There were some boos while her fans got tired of waiting for the pop star to appear for a show with an 8 p.m. start time on the ticket, and only a DJ in between. But all was pretty much forgiven by the time she finished off an 1 hour 45 minute set with the one-two punch of the gospel choir powered "Like A Prayer" and pulsing dance workout "Celebration."
Opening with "Girl Gone Wild" off this year's MDNA. Madonna played around with toy guns, took a cheap shot at Lady Gaga (singing "She's not me!" during an "Express Yourself" / "Born This Way" mash up), stripped down to writhe on the ground while singing "Like A Virgin" as a waltz, and showed off a well muscled back inked with the words: "No Fear."
Dan DeLuca, Inquirer Music Critic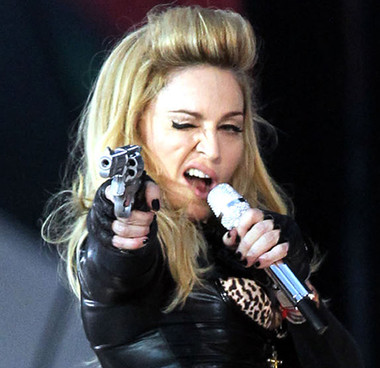 Madonna opens the North America leg of her MDNA tour at the Wells Fargo Center in South Philadelphia tonight.
As she's played around the world on a tour that began in May in Tel Aviv, Madonna has raised eyebrows and drawn criticism for a show that uses Nazi swastika iconography and in which the pop star totes a fake AK-47 and revolver during the early choreographed segments of the show.
At a time when the country has been hit by a wave of mass shootings, American audiences will get their first chance to see the show - which plays Boardwalk Hall in Atlantic City on Sept. 15 - tonight.
Dan DeLuca, Inquirer Music Critic
Does anyone really believe that Beyonce isn't going to show up on the Benjamin Franklin Parkway for the inaugural year of her husband's Made in America festival?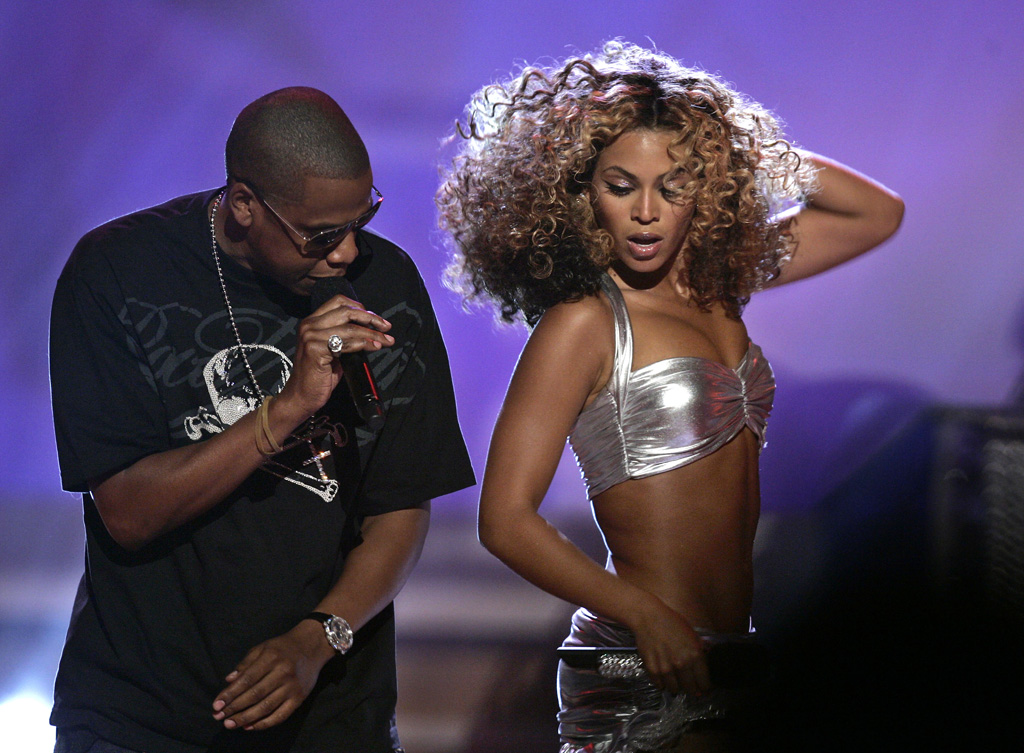 The rumoring has officially begun, with no less an authority than the Huffington Post's Naughty But Nice Rob reporting that an insider anonymous source told him: "Beyonce will hit the stage in a surprise performance at her hubby's festival next weekend. The performance is top secret but it will be filmed for Jay's documentary about the event. It's going to be epic."
Dan DeLuca, Inquirer Music Critic
Bob Dylan's 35th studio album, Tempest, comes out on Sept. 11. That title might have something to do with The Tempest, Shakespeare's last play. Or it might not. The first of Tempest's songs to go public is the lead track, Duquesne Whistle," an old timey swinger which NPR Music started streaming this morning. Hear it here.
In addition to Dylan, NPR also has first listens streaming today of entire new albums by Catpower and Animal Collective. Click on the links to hear them.
Previously: RIP, Byard Lancaster Follow In The Mix on Twitter
Dan DeLuca, Inquirer Music Critic
Byard Lancaster, the prolific Philadelphia jazz saxophonist and multi-instrumentalist known for his avant-garde work in the early 1970s and more recently, his successful battles with SEPTA to be able to play his music on subway concourses, died on Thursday after a battle with cancer. He was 70.
The obituary from Saturday's Inquirer is here. Vibes player Khan Jamal said on Friday: "He was a damn good player. He could do everything. From avant-garde to funk to straight jazz. And in music, you have guys who are takers and guys who were givers. He was a giver."
Below, a day in Lancaster's life in 2008, from the Zion Baptist Church in North Philadelphia to playing the National Anthem at the Sixers game.
Dan DeLuca, Inquirer Music Critic
Blonde rapper Nicki Minaj will join America Idol as a judge next season, US Weekly reported this afternoon. The Trinidadian MC, born Onika Tanya Maraj joins Mariah Carey as a new regular on the declining ratings giant.
What's good for Nicki is not so good for Randy Jackson, the last remaining member of the original AI troika of judges, along with Paula Abdul and Simon Cowell. Jackson will move to a "mentoring role" on the show, according to an US source. Among the other music celebs rrumored for a seat on the panel are Jonas bro Nick Jonas, Neptunes producer-singer Pharrell Williams, and still not married to Anna Kournikova heartthrob Enrique Iglesias.
With Minaj, AI will get two judges in one, if she brings along her outlier alter ego Roman Zolanski, showcased on this year's Pink Friday: Roman Reloaded album and her train wreck performance on this year's Grammy telecast.
Dan DeLuca, Inquirer Music Critic
The women of the Russian feminist art-punk band Pussy Riot have released a new song whose title translates at "Putin Lights Up The Fires."
It's unclear how the balaclava-wearing band managed to record the defiant song - whose lyrics include the lines "Seven years isn't enough, give us 18!" - since three band members have been in custody in Moscow since February and were sentenced to two years in prison on Friday for performing an anti-Putin song on the altar of a Russian church. It should be noted however, the Pussy Riot is a collective which iincludes more members than the three imprisoned women, Nadezhda Tolokonnikova, Maria Alekhina and Yekaterina Samutsevic, who were sentenced last week.
The new song, whose title is short for "Putin lights the fires of revolution," taunts the Russian President as "the sexist who botoxed his cheeks and pumped his chest and abs." It has been released via a video compiled by the British newspaper The Guardian. Watch it below, and check out more Pussy Riot music on Slacker.com's protest channel here. Read a Tolokonnikova letter from detention here.
Kevin Riordan
The postmodern multi-media personality Andrew W. K. gives his signature white outfit and whiter teeth a South Jersey workout in his new video, "It's Time to Party."
Now showing on the Onion's A.V. Club, YouTube and the rocker/actor's website, the high-octane clip was shot during a single June weekend in Maple Shade, Cherry Hill and other locations. I wrote about the shoot in my June 10 column; director Shawn Caple's company, From Start to Film, is based in Franklinville, Gloucester County.
"I'm extremely proud and happy with the way the entire thing went, and how it turned out," says Caple, 27. "To have Andrew give his seal on it is super-awesome."