Archive: July, 2013
Gabrielle Bonghi
Hot Chip are a British indie-electronic band that gained international recognition when they first punctured the surface of dance floors with infectious hits like "Over and Over", "Ready for the Floor" and "Shake a Fist."
The band hasn't released an album since 2012, but they've been hot on the tour circle and peaking with multiple media outlets about plans for their next big record. Until then, the members are dabbling in side projects and spinning a DJ set on any given evening.
This Wednesday, at The Dolphin Tavern, vocalist, synth-player and percussionist Joe Goddard–better known from Hot Chip as Ulysses–will be spinning a very special DJ set for Philadelphia along with funk, disco resident, Greg D.
Gabrielle Bonghi
On Friday, July 26, local Philadelphia artists got the opportunity to take the stage in front of a packed house to open for Azealia Banks as part of Philadelphia's inaugural Red Bull Sound Select Presents Showcase.
Red Bull Sound Select is an ongoing effort to support local music scenes and give up-and-coming artists career-starting opportunities to play stages alongside noteworthy headliners. Friday's show, hosted by Melanie Cotton, was just the beginning. Philadelphia will continue to host monthly showcases to elevate and tell the story of local musicians.
The multi-talented Khari Mateen started the night off strong, as he rocked the crowd with his signature song Full Moon, and surprised everyone by bringing out special guest, STS to rap a verse. "I'm so happy right now it's crazy," said Mateen told the crowd, "there is nothing more special than [to] play music for new people!"
Gabrielle Bonghi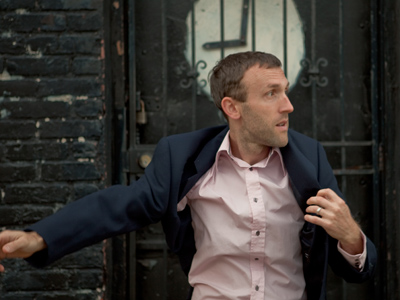 Philadelphia-based hip hop producer RJD2 is entering back into the music world with his fifth studio album, More Is Than Isn't, on October 8.
RJD2 got a big boost in fans when his song "A Beautiful Mind"was chosen as the theme for AMC's Emmy-winning series Mad Men. Since then he's been keeping it on the low, deep in his West Philadelphia studio working on the songs for his forthcoming record. This will be his first studio album since The Colossus in 2010.
RJD2 plays Morgan's Pier Thursday, August 1. Tickets are available here.
Gabrielle Bonghi
R. Kelly is prepping for the release of his twelfth studio album, Black Panties.
This album is the sequel to the 1993 album 12 Play. There is no word on a debut date for Kelly's new album but he's been making the rounds at festivals, shows and releasing new material every so often. He also released his autobiography, Soulacoaster: The Diary of Me, in June of 2012.
R. Kelly has just put up a new track featuring 2 Chainz called "My Story." Listen below.
Jennifer Nguyen
They Might Be Giants is back on the road and will headline the third annual WHYY Connections Festival on September 7 and 8 at Penn's Landing.
The alternative-rock band will perform classic songs like "Birdhouse in Your Soul" as well as new tunes from their most recent album, Nanobots.
The festival will celebrate the arts with a fantastic lineup of film screenings, musical performances, kids' activities and more.
Teresa McCullough
The 6th annual Mad Decent Block Party was held at the Great Plaza at Penn's Landing in Philadelphia on Saturday, July 27. The event featured performances by Major Lazer, Riff Raff, Dillon Francis, Flosstradamus and more.
Gabrielle Bonghi
Animal Collective postponed a number of July tour dates due to illness. Despite their set back, Union Transfer has just announced that the neo-psych group will be coming to Philadelphia in the fall.
Their latest album, Centipede Hz, came out in 2012. No word on whether or not the band plans to release a record in 2013.
Animal Collective will play at Union Transfer on Monday, October 28 along with Baltimore electro artist Dan Deacon. Tickets go on sale Friday, July 26 at noon.
Jennifer Nguyen
Popped a Molly and sweated? Ginuwine denies it.
The R&B singer best known for hits like "In Those Jeans" and "Pony" is brewing in the middle of controversy after a cringe-worthy performance on WLNY's The Couch with fellow TGT band mates Tyrese and Tank. Ginuwine's bizarre behavior led to fans accusing the singer of being under the influence of Molly during the performance on July 19.
The trio performed their new single "I Need" from their upcoming album, Three Kings, but it seems like no one really paid attention to the song. And apparently neither did Ginuwine.