Archive: June, 2012
Dan DeLuca, Inquirer Music Critic
There's not a band in the world better at projecting post-millennial unease on a grand scale than Radiohead, the six man art-rock outfit from Oxford, England that spent Wednesday making beautifully jittery music on a lovely late spring evening in Camden.
All century long, ever since the career-redefining Kid A in 2000, Radiohead have been turning inward, relying on fractured polyrhythms, ambient textures and Thom Yorke's elegantly alienated vocals to convey a sense of sublime digital-age anxiety.
At the Susquehanna Bank Center on the final night of a U.S. tour that began in February, Radiohead played a terrific 23 song set. It began with the glitchy typewriter-tapping groove of "Bloom" and ended just over two hours later as the enveloping "Everything In Its Right Place" - which, for Radiohead, means everything is in a constant state of flux - fractured into electronic clutter.
Dan DeLuca, Inquirer Music Critic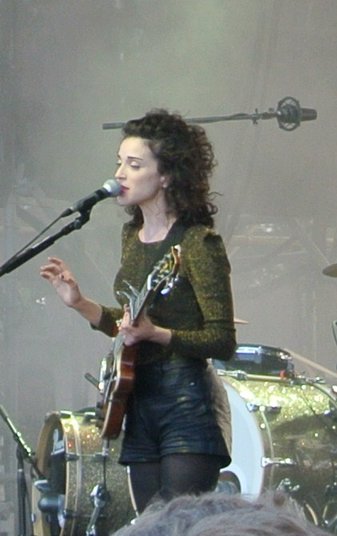 Cool show alert for the Fall: Annie Clark a.k.a. St. Vincent and David Byrne, late of the Talking Heads, have recorded an album together called Love This Giant which will be released on September 11, according to Pitchfork. On September 27, the duo will play the Tower Theater in Upper Darby. A track that's either called "Who" or "Love This Giant" is downloadable via the widget below. That's a picture I took of Clark playing guitar at the Roots Picnic earlier this month.
Previously: Review: Radiohead at the Susquehanna Bank Center Follow In The Mix on Twitter
Dan DeLuca, Inquirer Music Critic
British art-rock band Radiohead closed out its American tour on Wednesday night at the Susquehanna Bank Center in Camden.
The Thom Yorke fronted sextet played for just over two hours, opening with "Bloom" from last year's The King Of Limbs and closing it out with "Everything In Its Right Place" from their career shifting 2002 album Kid A.
The light show, featuring a wall of bulbs built from 14000 recycled plastic bottles, was spectaculaly sharp, and the band sounded pretty darn good as well.
Dan DeLuca, Inquirer Music Critic
The music magazine The Fader is putting on a free show at the historic site of Sigma Sound Studios on 12th Street tonight with Wu-Tang rapper GZA and Austin, Texas all-purpose Latin funk ensemble Grupo Fantasma, who have also backed up Prince one more than one occasion. DJ Caesar will be spinning as well. And people, it's free. Go here to RSVP. The whole business is sponsored by Captain Morgan, so they'll probably be a dude there just up like a pirate with an eye patch.
Previously: Listen: Fiona Apple's The Idler Wheel... Follow In the Mix on Twitter
Dan DeLuca, Inquirer Music Critic
Fiona Apple's first album in seven years, The Idler Wheel Is Wiser Than The Driver of The Screw and Whipping Cords Will Serve You More Than Ropes Will Ever Do, comes out next Tuesday. It's streaming over at NPR Music right here and right now. I'll have a review of it in Sunday's Inquirer.

This month, she explained to Pitchfork what the album title means: "I came up with it in a total rush. After having stayed up all night on deadline, it just came to me right after the sun rose. I didn't realize people would be like, "Oh shit, another poem." It just came out to be what it was-- sorry.
"If you think about it, the driver of the screw has one job and he is always trying to change things. But the idler wheel is there and has this great effect on what the gears do; the idler wheel knows the machine much better than just this one thing that's performing this one task."
Dan DeLuca, Inquirer Music Critic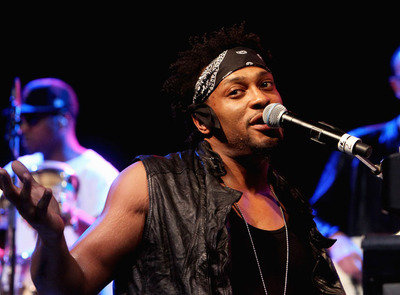 Roots drummer Ahmir "?uestlove" Thompson led a session called Questlove's Superjam at the Bonnaroo Music & Arts Festival this weekend in Manchester, Tenn., and the surprise guest was D'Angelo, the much-loved neo-soul singer who had not played a gig in the U.S. for 12 years.
D'Angelo, who is on the schedule for the Made In America festival in Philadelphia on Labor Day weekend and the subject of this GQ magazine profile, played a 90 minute set filled with covers of Led Zeppelin, Ohio Players, The Time (who's trenchcoat-wearing Jesse Johnson played guitar), Jimi Hendrix and Beatles covers. One of them, "She Came In Through The Bathroom Window," is below. the quality, shot from the side of the stage, is not great. If better clips show up, I'll post them. The audio is here, via OkayPlayer.com and funkit.com.
UPDATE: Higher quality video of the last two minutes of the jam added below.
Jonathan Takiff
Last night the charming Irish folk-flavored "Once" scored multiple Tony Awards - including Best Musical. And today you can grab a free sneak peak of show composer Glen Hansard's latest album project.
The auspicious timing comes courtesy of NPR Music, delivering Hansard's solo debut "Rhythm and Repose" as one of this week's "First Listen" streams. You can find it at an NPR Music app, at NPR.ORG/music or most directly right here.
Based on the semi-autobiographical film also called "Once" in which Hansard played a struggling Dublin busker befriended and inspired by a tough nosed Czech pianist (played by Marketa Irglova), the film won the duo an Academy Award for best song (the melencholy "Fallling Slowly") and also sparked a touring/recording version of the couple as The Swell Season. And while he now seems to have given up on his prior, rocking group The Frames, Hansard recently scored a couple high profile, more vigorously uptempo contributions to "The Hunger Games" soundtrack.
Dan DeLuca, Inquirer Music Critic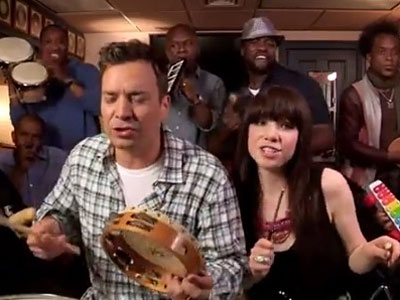 With their Picnic behind them, it's been back to work on Late Night with Jimmy Fallon this week. For your Friday afternoon viewing pleasure, here's the Philadelphia band playing classroom instruments along with Fallon and Canadian Idol alum Carly Rae Jepson, doing her pure pop hit "Call Me Maybe." Check out the smile on Black Thought's face, and the kazoo in ?uestlove's mouth.
Previously: Latin Jazz Grammy restored Follow In The Mix on Twitter