Archive: April, 2012
Dan DeLuca

, Inquirer Music Critic

Bob Dylan, who first started playing music with Levon Helm in 1965, posted this on his web site today in response to the death of The Band's drummer yesterday at age 71.

"He was my bosom buddy friend to the end, one of the last true great spirits of my or any other generation. This is just so sad to talk about. I still can remember the first day I met him and the last day I saw him. We go back pretty far and had been through some trials together. I'm going to miss him, as I'm sure a whole lot of others will too."

The two are pictured to the left, with Rick Danko in the middle. Below, handheld footage of Dylan and The Band playing together at the Isle of Wight Festival in 1970. That's Levon singing on the opening "The Weight," though it takes the cameraman a couple of minutes to find him. My obituary of Helm from Friday's Inquirer is here.
Molly Eichel
We were deeply saddened by the news that legendary Band singer/drummer Levon Helm passed away today. While Helm will forever be known as one of the best timekeepers of ever, he also left his mark on the silver screen. Helm brought a certain Southern strength to movies he was in, like a character actor version of Tommy Lee Jones (in fact, Helm would act with Jones a few times, including "Coal Miner's Daughter," Jones' feature directorial debut "The Three Burials of Melquiades Estrada" and in Helm's final film "In the Electric Mist").
Helm never took a starring role, but always popped up at the movies oftentimes when we least expected him to. "Is that Levon Helm!?" we cried upon first witnessing Bob Lee Swagger (Mark Wahlberg) visit Helm's firearms expert in 2007's "Shooter." If you've seen the (partly shot in Philly) film, you know the below clip is the best part (the language in this clip may not be suitable for work):
Dan DeLuca

, Inquirer Music Critic
Levon Helm died today.
My obituary of the drummer (and singer and mandolin player) for The Band, who succumbed to a long fight against cancer that began when he was first diagnosed in 1997, is here.
Below are various clips of the barnstorming Arkansas musician singing and playing over the years, from back in his days with Levon & the Hawks to Martin Scorsese's The Last Waltz with The Band to his 2007 album Dirt Farmer and live album Ramble at the Ryman to an appearance at the Solid Sound Festival with Wilco in 2011.
"Up On Cripple Creek," with The Band, from The Last Waltz
"Honky Tonk," Levon & the Hawks, with Richard Manuel on vocals, 1965
"Anna Lee," from Ramble at the Ryman
"Atlantic City," from PBS series The Road 1994.
"Evangeline" and "Down South in New Orleans," with Rick Danko iin Portland Oregon, 1973
"Only Halfway Home," a short film inspired by the 2007 album Dirt Farmer
"The Weight," with Wilco, 2011
Molly Eichel
He dipped his diphthongs! (Of course, Dick Clark was from New York and didn't have an accent, but we'll let Batman slide on this one.)
Dan DeLuca

, Inquirer Music Critic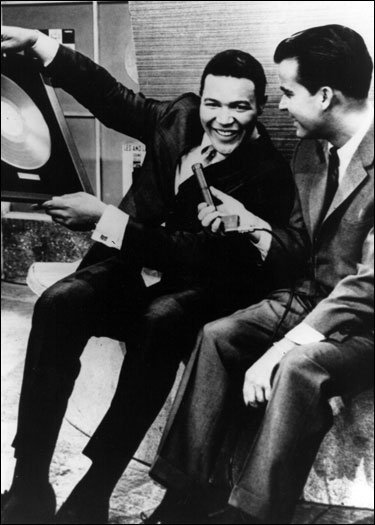 "I was 16 years old, when I first met Dick,' Chubby Checker said on Wednesday, shortly after he found out that his friend of over 50 years had died. "It was about two years before we did 'The Twist." I was in the studio with him. He was doing a Christmas project, and I was at the piano doing a Fats Domino impression. I was Ernest" - Ernest Evans, his real name - "but I was also called Chubby at the time. And Dick's wife came up with my name. Chubby became Chubby Checker."

Checker first went on American Bandstand with his song "The Class," and appeared again and many times more with "The Twist" a song that had previously been recorded by Hank Ballard & the Midnighters, but which became a massive hit for Checker, thanks in no small part to the exposure Clark gave it on Bandstand.

Together, Checker says, he and Clark changed the way people danced.

"History was made the day Chubby Checker went on Bandstand with 'The Twist'," says Checker. "Because with "The Twist," you were looking at your girl, and she was looking at you. And "The Twist" did that. And it was all because of Dick Clark."

American Bandstand was the forerunner of all the music shows on TV that followed it, Checker says, from Soul Train to MTV.

"What happened on his show is still going on everywhere in the world. When somebody came on and mimed their record on TV, that was a video. And dancing as we know it today is because of the way they danced on American Bandstand.

"He was the man who played the music, and the people who heard the music danced to the music. The king of the deejays died today, and his name was Dick Clark."

Trying to make it as a singer in the Philadelphia at that time, Checker says, there was no greater goal than getting on Bandstand.

"Being on Bandstand was like getting a Nobel Prize ," he says. "From 3 o'clock in the afternoon until 5:30, nobody was on the street. They were watching Bandstand. Can you imagine that?"

After "The Twist," Checker had another enormous hit with "Let's Twist Again," again due largely to performing it on Bandstand. That song, which was written by Kal Mann and Dave Appell, was awarded a Grammy for Best Rock & Roll Recording in 1962, the first time that particular trophy was given out.

"The man is permanently engraved in my life," Checker, who's 70, says. "I always told him, 'Your fame is my fame.'"

The secret to Clark's success, Checkers says, was "his persona. His attitude. I believe that everyone was very comfortable when they were around him. Everybody could get excited around him because he was so comfortable. That's why he was so successful."

In the years when Clark was kingmaker before Bandstand moved to Los Angeles in 1964, Checker says, "American Bandstand was Philadelphia, and Philadelphia was music. There was no other place on the planet. Ed Sullivan had a little taste. But it was really 46th and Market Street, and that was it. And Philadelphia should be proud."

"The Rock and Roll Hall of Fame is in Cleveland, because of Alan Freed, and he did a lot of things for the black kids. The black kids gave us rock and roll. And Alan Freed made sure people heard their music. It's a great tribute to him that the Rock and Roll Hall of Fame is in Cleveland. What he did was great, but not as great as Dick Clark. He was the first. He was the George Washington of the disc jockeys. It's a special day."
Previously: Dick Clark, This Is Your Life Follow In the Mix on Twitter here
Dan DeLuca

, Inquirer Music Critic
Without waiting to see if the first one will sell out, Bruce Springsteen & the E Street Band have added a second show at Citizens Bank Park. In addition to the September 2 show scheduled to take place while the Phillies are away in Atlanta, the band will also play on Labor Day, Sept. 3.
Tickets for both shows go on sale at 10 a.m. Saturday through ComcastTix.com or at 800-298-4200 or at the ballpark box office.
That's a photo I took of Springsteen crowd surfing at the Wells Fargo Center during Wilson Pickett's "634-5789" in March. The clip below is of "Talk To Me," from a recent tour stop in Tampa.
Jonathan Takiff
What a week for Dead-heads! More than 38 hours of Grateful Dead concerts are newly gathered and available today on a DVD box set. There's a just opened GD exhibit at the Rock and Roll Hall of Fame. And this Thursday the tribes will be gathering at theaters here and nationwide for a "Meet Up at the Movies" concert special.
Out today from Shout! Factory, the 14 DVD, 38 hour+ Grateful Dead box set "All the Years Combine: The DVD Collection" gathers everything the band has ever officially issued on VHS, Laserdisc and DVD, packed into a compact box and (relatively) bargain priced at $99. Special come-ons include the DVD premiere of the hour-long conceptual video "So Far," a program book with informative notes by Blair Jackson and a bonus video disc, The latter boasts five previously unreleased performances plus Justin Kreutzmann's 1992 documentary about dad's band "Backstage Pass" and a brand new interview with Grateful Dead archivist David Lemieux. The latter hints, as does Jackson. that there's still "thousands" of hours of performance audio and video footage hiding in the vaults.
Wanna try before you buy? Shout! Factory has kindly posted a bunch of videos from the box set. "Uncle John's Band" is a personal fave and leads to the others.