Archive: February, 2012
Dan DeLuca

, Inquirer Music Critic

Last night on Late Night with Jimmy Fallon, the NBC host donned a grunge wig and pretended to be Pearl Jam's Eddie Vedder, turning the Seattle rock band's trademark angster "Jeremy" into "Jeremy (Lin)," a tribute to the New York Knicks' celebrated Harvard-educated point guard. You know, the super-hyped Sports Illustrated Cinderella story cover guy who shot 1 for 11 against the Miami Heat and had eight turnovers to go with his three assists last night. Watch the clip below.

Previously: Galactic with the Soul Rebels at Union Transfer Follow In The Mix on Twitter here
Dan DeLuca

, Inquirer Music Critic
That was quite the line-up of blues all-stars playing behind President Obama at the White House for the PBS Red, White & Blues event on Tuesday night. Supporting POTUS as he did for Robert Johnson's "Sweet Home Chicago" what he had previously done for Al Green's "Let's Stay Together" earlier this month was a super A-list ensemble that included leading living legends B.B. King and Buddy Guy, senior citizen blues-loving British Invaders Mick Jagger and Jeff Beck and next generation standouts Gary Clark Jr., Shemekia Copeland, Keb Mo, Trombone Shorty, Susan Tedeschi and Derek Trucks. Kudos to the 1600 Pennsylvania Avenue booking agent.
And bravo to the great Buddy Guy, who did his fellow Chicagoan a solid by urging the Commander in Chief to loosen up and show off his vocal chops hile playing a Man of the People card in celebrating the Windy City in a song that originated with the long-gone King of the Delta Blues singers. (Johnson would have turned 101 in May had he not been poisoned to death by a jealous husband in 1938.)
Obama has now adeptly covered the Mississippi blues and Memphis soul in a month's worth of musical campaigning. What's next? Going cosmic country with Willie Nelson? Singing jazz standards with Wynton Marsalis? Freestyling with Jay-Z? With Pennsylvania in play in the general election in the fall, I suggest he hook up with Gamble and Huff and the O'Jays for a whistle-stop ride on the Phillly soul classic "Love Train."
Molly Eichel
Santigold hasn't been a Philly girl for quite some time, but we still dig her sound. "Disparate Youth" is the second song off her long awaited sophomore LP "Master of My Make-Believe" (our Inky buddy, Dan DeLuca, posted the first single, "Big Mouth," in January). No word yet on when the full LP is out but a full "Disparate Youth" EP will be available for download via iTunes tomorrow.
Stevie Wonder will sing at the private funeral of Whitney Houston on Saturday in what promises to be a very musical service. Publicist Kristen Foster also confirms that invitations went out to Houston's ex-husband, Bobby Brown; her co-star in "The Bodyguard," Kevin Costner; and Oprah Winfrey.
Houston's longtime musical mentor, Clive Davis, will speak at the funeral. The eulogy will be given by gospel singer and longtime family friend Marvin Winans. Others who will be part of the program include Donnie McClurkin, Tyler Perry, Kim Burrell, Rickey Minor, Alicia Keys, Dionne Warwick and Cece Winans, Foster said.
Houston died Saturday in Beverly Hills, Calif., at the age of 48.
Tirdad Derakhshani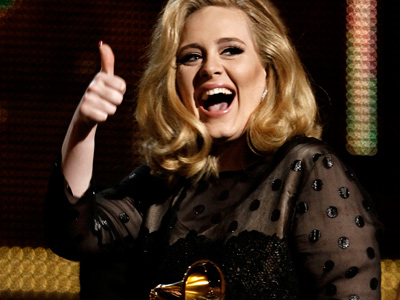 Just when we showed her how much we love her, how much we care for her, how much we need her – and in the most Grammy-rific way possible – Adele decides to abandon us all to our note-less, a-rhythmic loneliness, our dark night of the soul, our misery ...
AOL.com's Music news blog Spinner.com says, with a touch of hysterics, that Adele plans to take the next four or five years off from music!
That she wants to leave you, me and the muses so she can concentrate on her relationship with her new boyfriend, "get married. Have some kids. Plant a nice vegetable patch."
Photos by Teresa McCullough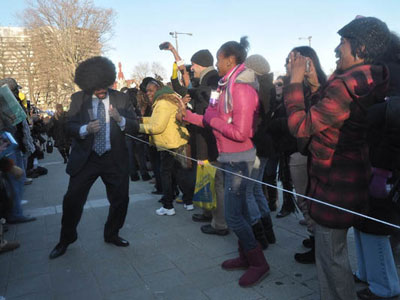 In an effort to commemorate the life of Soul Train creator Don Cornelius, hundreds of Philadelphians including Mayor Nutter, gathered on the Art Museum steps today and successfully danced through what is now the world's longest Soul Train line.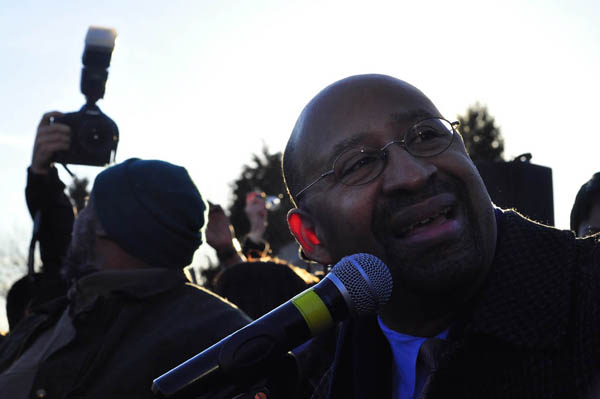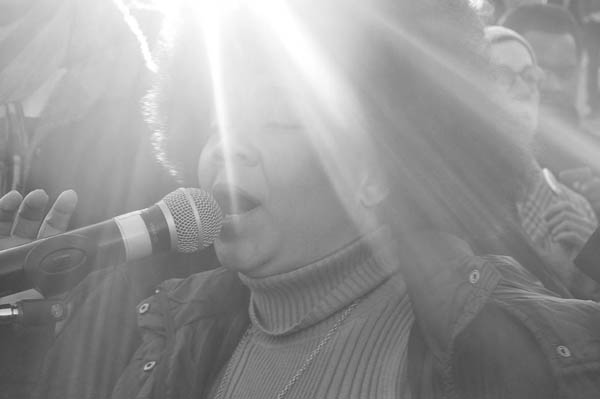 Dan DeLuca

, Inquirer Music Critic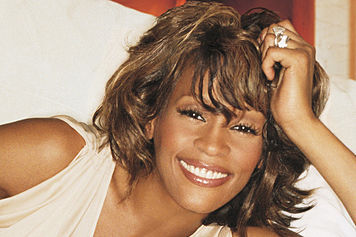 Whitney Houston's death this weekend reminded me of a Houston show I saw at the Trump Taj Mahal in Atlantic City in 1998. It was pretty disastrous, and hard to look away from, as I recall. Here's the review, which ran in the Inquirer on November 18, 1998, in its entirety. It natters on for a while about her then-new album, My Love Is Your Love, but gets to the part about the troubled diva falling apart on stage towards the bottom.
The sticker on Whitney Houston's My Love Is Your Love, which arrived in stores this week, shouts out the news: "Whitney, like you've never heard her before!"
And there is some truth to the hype about My Love, which - if you don't count the soundtracks to The Bodyguard (1992), Waiting to Exhale (1995) and The Preacher's Wife (1996) - really is the singer's "first studio album in eight years!"
Ellen Gray
A Grammy Awards show fueled by tributes to Whitney Houston drew monster ratings Sunday night, with CBS, citing preliminary Nielsens reporting the largest audience for the show since 1984 and the second-highest viewership for the show ever. (According to Entertainment Weekly, that's a 44 percent increase from last year.)
The network said that preliminary reports indicated that the show drew more than 39 million viewers between 8 and 11 p.m.