Archive: January, 2013
Jim Teti
Aiden James, the openly gay Philadelphia native who is currently soaring to worldwide appear, will bring his singing and songwriting talents to the Tin Angel this Saturday, January 25th.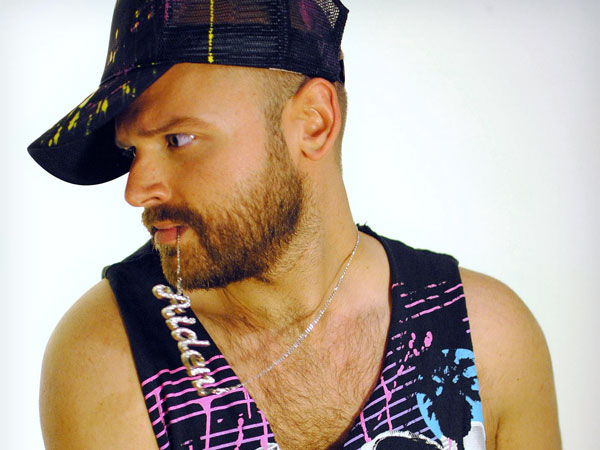 James, who has recently released his album "The Trouble With This", has garnered major popularity on both the iTunes Hot 100 and album charts. The album debuted in the top 30 after release.
Jim Teti
For those who get a pang of nostalgia every time they recall memories of Club Shampoo on a Friday night long ago, prepare to get excited.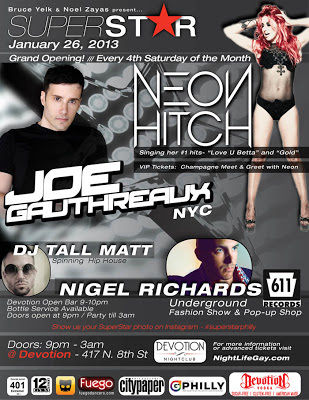 This Saturday January 22nd, the newly re-launched Devotion nightclub will host Superstar, a high charged glamour party with enough pulsing heat and glitter for even the rowdiest party boys.
Blaire Monroe
On January 26th, join Philadelphia's own Mic Stewart and Max Swan for their live set in Manayunk. The pair will be joined by DJ QBall with a few other special guests.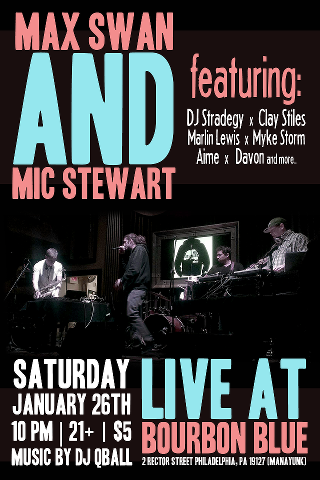 If you haven't heard yet, both Mic Stewart and Max Swan are rocking with some pretty smooth sounds. Stewart, a national freestyle champion, and Swan, an award-winning saxophonist and well-versed producer, make for the perfect performing duo.
Colin Kerrigan
The lineup for the 2013 Governors Ball Music Festival was announced today and to be blunt, it's pretty amazing. The lineup includes Kanye West, Kings Of Leon, Gary Clark Jr, The Lumineers, Grizzly Bear, Local Natives, The XX, Kendrick Lamar, Polica, Feist, The Avett Brothers, just to name a few of many. Keep in mind, they haven't even announced the third headliner yet.
The festival will be held over a three-day weekend from June 7-9 on Randall's Island in New York City. It's not Philly, but it's only two hours away so there's really no excuse. Tickets can be found HERE and the complete lineup is below.
Colin Kerrigan
Sky Ferraira, a model-turned-singer, and How To Dress Well, an electronic R&B artist, announced today that they will go on a co-headlining tour together this spring. The announcement comes on the heels of a big 2012 for How To Dress Well where he released a very well received sophomore album, Total Loss, abd where Ms. Ferraira burst on to the scene with an EP, Ghost, which included "Lost In My Bedroom" and "Everything Is Embarrassing". Check out videos from both artists below.
Their tour will make a stop in Philadelphia on Saturday, March 23 at Johnny Brenda's. Tickets are bound to go rather quickly so get them sooner rather than later. They go on sale this Friday(01/25) and will be found HERE.
Mike Bertha
Get ready to raid Pop Pop's closet, Macklemore and Ryan Lewis will play the Roots Picnic this year.
The hip-hop duo will join the likes of Gary Clark Jr., Solange, Grimes, Naughty by Nature, and, obviously, The Legendary Roots Crew for the sixth annual outdoor concert this summer. Check out the rest of the lineup below the videos.
The 6th annual Roots Picnic will be held June 1, 2013 at Fesitval Pier.
Gary Clark Jr.
Macklemore & Ryan Lewis
Grimes
Naughty by Nature
Solange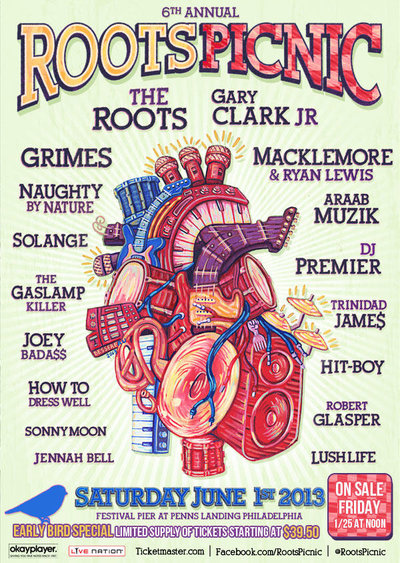 Colin Kerrigan
Before Radiohead's producer Nigel Godirch gets into full out Atoms For Peace mode with Thom Yorke and company for their record Amok, he'll head out on tour with his side-project band, Ultraista. The project features Godrich with singer Laura Bettinson and Beck drummer Joey Waronker. On first listen, their tunes are very remniscent of Yorke's solo album, The Eraser, which isn't a big surprise since Godrich had a hand in that record as well. Don't worry, it's not a bad thing at all.
In anticipation of their mini tour, the trio released a new video for "Wash It Over" off their debut self-titled record which was released last fall. You can watch that and listen to "Gold Dayzz" below.
The tour kicks off here in Philadelphia this Wednesday(01/23) at Underground Arts with Prefuse 73. Tickets for the show are still on sale and can be found HERE.
Lucy Briggs
Hometown hero Diplo played Soundgarden Hall on Sunday, Jan. 20, 2013 as part of Trap Hawk Down, a four cities in one day tour. Starting in Baltimore at 6pm, next to Philly, Atlantic City, and ending up in NYC at 3:30am, this wild tour brought to fans an equally wild experience. Supported on the bill by BHB, Ethan Dubb, Schmohawk, Love City DJs, and Aaron Ruxin, this tour pushed the limit.