Archive: January, 2012
Dan Deluca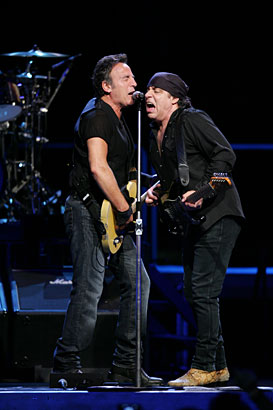 The Bruce Springsteen and the E Street Band Wrecking Ball world tour kicks off March 18 in Atlanta and will come to the Wells Fargo Center in South Philadelphia on March 28 and 29. Tickets go on sale this Saturday.
The 19 date tour is an all-arena jaunt, including two dates each in Madison Square Garden and East Rutherford, N.J., except for one outdoor show at the New Orleans Jazz & Heritage Festival on April 29. Before heading to Europe, the final U.S. date is at the Prudential Center in Newark on May 2.
Interestingly, the official band line-up released this morning includes no replacement for sax player Clarence Clemons, who died last year. That's the Boss with Steven Van Zandt, to the left.
Dan Deluca
I've got a Robert Earl Keen interview in today's Inquirer in which the Texas songwriter, who plays Union Transfer with his band on Wednesday, talks, among other things, about "The Road Goes On And On," his song dis directed at Toby Keith.
The story is that Keen's trademark song "The Road Goes On Forever," which was released on his 1989 album West Textures and later covered by both Joe Ely and The Highwaymen, bears a strong resemblance to "Bullet In A Gun," Keith's 2010 hit which shares a similar cadence and is also a tale of a romantic couple of runaway bandits.
When Keith's song came out, Keen cell phone blew up with messages from friends wondering how he was going to respond. Averse to suing, he instead wrote "The Road Goes On And On," which is on his new album Ready For Confetti, in which he gets in a series of stinging body blows on his unnamed target.
Dan Deluca
"I'd love to speak with Leonard, he's a sportsman and a shepherd / He's a lazy bastard living in a suit." Those are the whispery first words to Old Ideas, the new album by the 77 year old Leonard Cohen, which sounds pretty spiffy on first listen and comes out a week from Tuesday. It's streaming starting today at NPR Music, along with locally connected songwriter Adam Arcuragi's Like A Fire That Consumes All Before It..., which shares a named with a great Cy Twombly painting in the Philadelphia Museum of Art. Listen to the Cohen here, the Arcuragi here and new albums by Gotye and Ana Tijoux here.
Previously: Oh Baltimore Follow In The Mix on Twitter here
Dan Deluca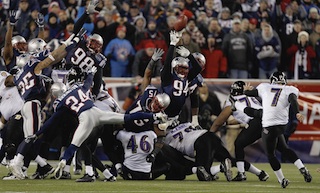 Randy Newman's "Baltimore," dedicated to Billy Cundiff. "Man it's hard, just to live."
Previously: Etta James, RIP Follow In The Mix on Twitter here
Dan Deluca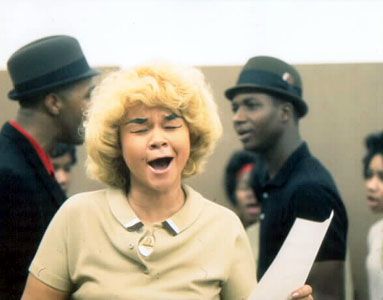 The one and only Etta James has died. Her obituary is here. Below, "I'd Rather Go Blind," "Roll With Me Henry," "A Sunday Kind Of Love," Jimmy Reed's "Baby, What You Want Me To Do," and a cover of Randy Newman's "God's Song." (Thanks to Andy Schwartz for the latter.)
Previously: Linda Chorney, Grammy Underdog Follow In The Mix on Twitter here
Dan Deluca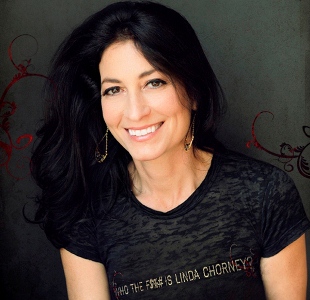 I've got a story coming in Sunday's Inquirer A & E section about Linda Chorney, the Sea Bright, N.J. singer-songwriter whose album Emotional Jukebox is improbably up for best Americana album at the Grammy Awards next month in Los Angeles. Chorney's nomination in the usually more roots-country oriented cetegory, in which she's competing against Ry Cooder, Lucinda Williams, Emmylou Harris and Levon Helm, has caused a kerfuffle. Read my interview with Chorney here to learn the answer to the question posed in the T-shirt she's wearng in the photo ot the left.
Below, are a couple of Chorney video clips - one from a performance from the Light of Day benefit concerts in Asbury Park last weekend, and one for her song "Cherries." Below that, you'll find a Soundcloud player with several of her Emotional Jukebox tunes.
Previously: RIP, Johnny Otis Follow In The Mix on Twitter here
Dan Deluca
Etta James called Johnny Otis "my guru." The bandleader, musician and entrepreneur, who died yesterday at age 90, was instrumental in the careers of Esther Phillips, Gladys Knight & the Pips and Big Mama Thornton.
A Greek-American born John Veliotes in Vellejo, California and raised in an predominantly black neighborhood in Berkeley, he told the San Jose Mercury News in 1994, "Genetically, I'm pure Greek. Psychologically, environmentally, culturally, by choice, I'm a member of the black community." He gave Sugar Pie DeSanto her stage name and was the father of Shuggie Otis.
According to the San Francisco Chronicle, in the latter years of his life he lived on a fruit ranch in Northern California "that featured three life-size body casts of the women who used to sing with his band as the Three Tons of Joy."
Dan Deluca
At a fundraiser in Harlem on Thursday night with the Rev. Al Green in the house, President Obama sang a few lines from "Let's Stay Together," which had the sound of an unofficial re-election campaign theme song - "whether times are good or bad, happy or sad" - in this context. Not bad, POTUS.
Previously: Springsteen's Wrecking Ball coming in March Follow In The Mix on Twitter here