Molly Eichel, Daily News Staff Writer
"Mob Wives" star Natalie Guercio dropped a teaser for the music video for her single, "Delicious," featuring Ryan Banks and Teknartist (Guercio performs under the name Vegas).
The teaser reps Philly hard, with shots of the Mummers, 2 Street and Broad Street. And is that fellow "Mob Wives" star Alicia DiMichele in a cameo?
The single, which you can purchase on iTunes, will air in its entirety after the "Mob Wives" reunion episode.
Gabrielle Bonghi, Philly.com
Using popular musicians as a tool for learning isn't unheard of, especially at Rutgers University.
Last year, Bruce Springsteen was part of a Rutgers theology course that examined the parallels between his work and religion. Now, Beyoncé is the taking center stage in the classroom.
The New Brunswick, NJ higher learning institute is offering a course called "Feminist Perspectives: Politicizing Beyoncé." The class instructor, Kevin Allred, is a white, male PhD student and lecturer in Rutgers' Department of Women's and Gender Studies. "This isn't a course about Beyoncé's political engagement or how many times she performed during President Obama's inauguration weekend," he says. "Rather, the performer's music and career are used as lenses to explore American race, gender, and sexual politics."
Molly Eichel, Daily News Staff Writer
Certain events tend to dominate the social media -- awards shows, big sporting events, "Scandal." Last night's State of the Union address was no exception, generating at 1.7 million tweets (although, most of them were about that "Mad Men" shout out.)

Philly hometown heroes Boyz II Men were no exception to the tweeting masses, offering a suggestion (albeit one with an incorrect hashtag) about how to zazz up the next State of the Union.
The nation and the #STOU needs a live televised performance from @BoyzIIMen !

— Boyz II Men (@BoyzIIMen) January 29, 2014
Sean Woods
If you've never seen Motley Crue live, this may be your last chance to watch Tommy Lee tear up his legendary 360 degree drum rollercoaster. The band announced its final tour and ultimate retirement during a press conference Tuesday with the aptly named "The Final Tour" that includes two stops in our area. The rockers will play the Susquehanna Bank Center in Camden on August 23, and the Borgata in Atlantic City on October 25.
I know, I know. An aging rock band announcing their "final" tour? We've heard that one before. But the Crue signed a Cessation of Touring Agreement at a press conference today, preventing them from any future, unauthorized touring. In doing so, lead singer Vince Neil, guitarist Micki Mars, bassist Nicki Sixx, and Lee became the first band to sign such an agreement.
The band has embodied the sex, drugs, and rock n' roll lifestyle for over 30 years, producing such hits as "Girls, Girls, Girls," "Shout at the Devil," "Dr. Feelgood," and "Kickstart my Heart."
Gabrielle Bonghi, Philly.com
Two of the emo/alt-rock generation's biggest bands, The Used and Taking Back Sunday, and heading out on a co-headlining North American tour and will be making two local stops. Both bands are touring in support of their forthcoming albums – Taking Back Sunday's Happiness Is and The Used's Imaginary Enemy.
First, they'll stop at Philadelphia/Upper Darby's Tower Theater on Sunday, April 13 and then heads to Bethlehem's Sands Bethlehem Event Center on Saturday, April 19.
Tickets for both shows go on sale this Friday, Jan. 31 at 10 a.m. and will be available at Ticketmaster.com, Ticketmaster Outlets or by-phone at 800-745-3000.
Gabrielle Bonghi, Philly.com
Barry Gibb, one third of early '60s pop musical sensation the Bee Gees, is headed out on limited six-show "Mythology: The Tour Live."
With Mythology, The Tour Live Barry has designed the tour as a salute to his brothers creating what is sure to be an emotional journey as he draws from every era of their timeless catalogue and huge international success achieved by The Bee Gees. The tour will feature his incredible band that includes Barry Gibb's son, guitarist/vocalist, Stephen, Maurice's daughter, Samantha and Beth Cohen.
Gibb's short showcase will come to Philadelphia at the Wells Fargo Center on Monday, May 19. Tickets for the general public go on sale Monday, Feb. 3 will be available at Ticketmaster.com, Wells Fargo Center Box Office or by-phone at 800-298-4200.
Gabrielle Bonghi, Philly.com
Even though he's excelling in etiquette lessons, Meek Mill still has a flavor for partying.
TMZ is reporting that the Philadelphia rapper hosted a party at a rented out mansion in the Hollywood Hills 'in honor of' the 56th annual Grammy awards.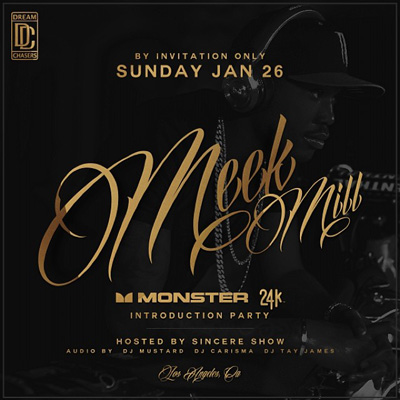 Gabrielle Bonghi, Philly.com
You saw him at Sunday night's Grammy Awards, and now John Legend is coming to Philadelphia for his "The All of Me Tour" on Tuesday, May 20 at Kimmel Center's Verizon Hall. The nine-time Grammy winner will be on the road in support of his album, Love in the Future. He'll also be in Wilkes-Barre at the Kirby Center For The Performing Arts on Thursday, June 5.
Tickets go on sale Friday, Jan. 31 at 10 a.m for both Philadelphia and Wilkes-Barre.
John Legend 2014 tour dates: