Allie Volpe, philly.com
Aside from the rather well-known beginnings that are rooted in Philadelphia — the founding of the country, the first U.S. Mint, Made in America — one of the lesser known Philly foundations is British musician Adam Bainbridge's disco turned R&B, neo-soul project Kindness. A musical history that saw Bainbridge playing bass as a teenager in unfulfilling bands to DJing as a young adult, a musical residency at The Philadelphia Institute for Advance Study brought the Brit to the states and, thus, Kindness was born.
What began as a friendship with an "eccentric character" in Berlin in 2004 turned into an invitation to stay in Philadelphia and create in a collective artist warehouse in 2007. Bainbridge found it impossible to say no.
"I had a hard time making collaboration work in London, where people are a little less generous and a little more careerist," he said. "And I'd seen similar things in New York where New York pushes everyone to be an instant overnight success."
Allie Volpe, philly.com
Following up on their sold-out two-night stand at the Mann Center last summer, improvisational jam band Phish are coming back for round two. Perhaps aiming to out-vibe themselves, the foursome will make their Philly comeback, again at the Mann, on Tuesday, Aug. 11 and Wednesday, August 12.
Tickets go on sale at 10 a.m. on Thursday, April 2, though you can now begin requesting them now through Sunday, March 29.
Phish's Trey Anastasio is also set to perform at The Grateful Dead's final performances in early July at Chicago's Soldier Field.
Allie Volpe, philly.com
The excitement is building leading up to Firefly 2015. Following last month's lineup announcement, organizers have released a day-by-day outlook for the festival, running Thursday, June 18 through Sunday, June 21 in Dover, Del.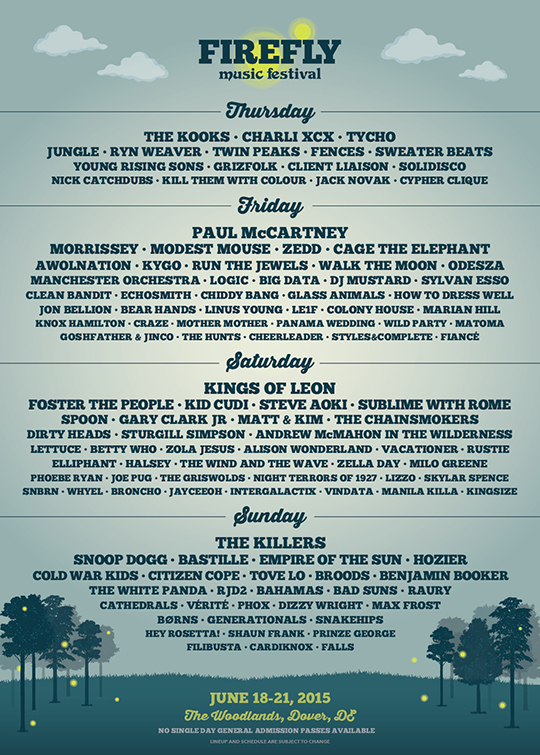 Better get your passes quickly, too. In an email, organizers stated "Based on current weekend pass sales, Firefly will sell out at 90,000 attendees this year."
Allie Volpe, philly.com
"I'm not a lecturer," said Nadezhda "Nadia" Tolokonnikova, one half of the founding duo of Russian punk-political activists Pussy Riot.
Despite such claims, they did lecture eloquently — mostly in Russian.
Tolokonnikova, alongside Maria "Masha" Alyokhina, the pair are the leaders of the Russia-based, all-female, feminist musical protest collective (fans of Netflix's House of Cards might recognize them from their recent Season 3 appearance, disrupting a White House dinner), and Pyotr Verzilov — Tolokonnikova's husband, who also served as translator — came to the University of Pennsylvania on Tuesday, March 17, for a free screening of their first-ever English song "I Can't Breathe" and a discussion on art, politics and protest.
Allie Volpe, philly.com
Among the massively impressive list of collaborators on Kendrick Lamar's To Pimp a Butterfly, released Monday — like Rock and Roll Hall of Famer George Clinton, bassist Thundercat, Flying Lotus as producer on the record's opening track, jazz pianist Robert Glasper, MC Rapsody, Snoop Dogg, just to name a few — one has strong Philly roots.
Neo-soul singer Bilal, who made a breakthrough during the early 2000s R&B-funk fusion movement, lends his vocals to a few tracks on the record including "Institutionalized" and "These Walls."
The Philadelphia-born, New York City-based artist, who's also collaborated with The Roots, Common, Beyonce and Kimbra, credits frequenting jazz clubs in Philly with his father and performing at the Blue Moon Café in his early teens as his first forays into music, according to an interview with East Bay Express.
Allie Volpe, philly.com
WXPN's yearly festival, held at both the Susquehanna Bank Center and Wiggins Park in Camden, N.J., has announced the headlining roster for this summer's XPoNential Festival, Friday July 24 through Sunday, July 26.
Headliners for Saturday, July 25's show at the Susquehanna Bank Center are My Morning Jacket and St. Vincent.
Tickets are on sale Friday, March 20 at 1 p.m. WXPN Members will have access to a pre-sale starting Wednesday, March 18 at 10 a.m.
Allie Volpe, philly.com
Having home field advantage at The Mann Center, Philly singer-songwriter Amos Lee is set to co-headline the stage with fellow solo singer David Gray.
The pair will come for a Friday night concert on June 19 with tickets available on Saturday, March 21 at 10 a.m.
Claiming that he lives a fairly "anonymous life" here in Philly, Lee is still riding the wave of his 2013 album Mountains of Sorrow, Rivers of Song while Gray released his tenth LP Mutineers this summer.
Allie Volpe, philly.com
Led Zeppelin's Robert Plant and The Sensational Space Shifters, a six-piece of multi-instrumentalists, are heading out on the road supporting lullaby and … The Ceaseless Roar, the 10th solo album for Pant and the first with The Sensational Space Shifters.
Closing out the tour, Plant makes his way to Philadelphia on Wednesday, June 17 at the Mann Center. Another nugget of goodness: The Pixies are set to offer support. Tickets are available come 10 a.m. on Friday, March 20 and will include a physical copy of lullaby and … The Ceaseless Roar.
Those looking for more Robert Plant and the Sensational Space Shifters can anticipate a limited-edition Record Store Day 10" vinyl. Out on Saturday, April 18, the EP features three tracks, "Turn It Up"/"Arbaden," "Poor Howard" and "Whole Lotta Love" and will be limited to 10,000 copies.