Mare McKeever
Taylor Swift fans can finally rejoice! After working for two years on a new album, the singer officially announced her new album titled "1989," along with the new single "Shake It Off" during a Yahoo! Live Event Monday.
This is her first official pop album, which goes on sale October 27.
Swift also debuted the music video for "Shake It Off" during the live event where she dances alongside a number of professional dancers throughout the video.
WENN Newsdesk
Demi Lovato is to open up about her battle with bipolar disease on the inaugural Mental Health Listening & Engagement Tour.
The singer, who has been candid about her own health woes following a spell in rehab, will further address how she copes with the mood disorder condition she was diagnosed with in 2011, after announcing she'll be part of a new U.S. tour that aims to raise awareness about mental health issues.
In a public service announcement released on Friday, Lovato revealed she'll be connecting with experts and reaching out to those who are struggling.
Mare McKeever
Longtime Philly rapper Gillie Da Kid has become entangled in a heated Twitter feud with fellow rapper Soulja Boy, which erupted Monday night and has spiraled out of control.
Soulja Boy, 24, a Chicago native, had trouble letting the war of words go and at one point, tweet-threatened "Umma shoot that n----- right in his bald head. ... I'll be in Philly ASAP." This is apparently not their first beef. Here's a look at today's lowlights, blow-by-blow: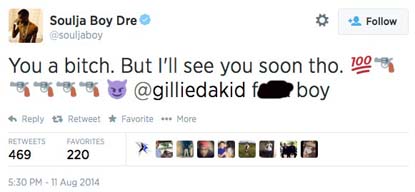 Serge Levin
On Friday, August 8, 2014, the annual Mad Decent Block Party took over Festival Pier at Penn's Landing for the first time since its inception (in Philadelphia) back in 2008.
Heavy-hitting EDM acts like Flosstradamus, Dillon Francis, and hometown hero Diplo put on an energetic show to the sold out crowd.
WENN Newsdesk
Country stars Lady Antebellum are set to be inducted into the Georgia Music Hall of Fame.
The "Need You Now" hitmakers will be recognized in the performer category, alongside fellow honorees including rockers Wet Willie, songwriter Ed Roland, blues singer Francine Reed and comedian Jeff Foxworthy.
Gospel star Wally Fowler will be inducted posthumously, 20 years after his death.
Sarah Paolantonio
The narrative of Fight Club revolves around one scene in the movie. Tyler Durden is sitting across from The Narrator in a bar. Earlier that night, The Narrator came home to find his apartment burnt down and all his possessions gone, "Flaming into the night." Tyler Durden is comforting The Narrator over pitchers of beer. Durden says to The Narrator, "I say, let's evolve. Let the chips fall where they may."
And then he delivers the line. "The things you own, end up owning you."
What we need most in life isn't frivolity or possessions. We own our ideas and ourselves.
Gabrielle Bonghi, Philly.com
On Friday Mad Decent regretfully tweeted that budding up-and-comer Chance the Rapper would no longer be featured at Friday's sold out Mad Decent Block Party showcase in Philadelphia. Due to exhaustion, the 21-year-old artist had to also pull out of the Brooklyn, Boston, and Toronto dates. He has been replaced by Chicago rapper Vic Mensa.
While Chance was pulled for medical reasons, one of the local block party's main staples each year since its inception in 2008, DJ Sega, is no longer on the roster of heavy-hitting EDM acts (see before and after flyer below) and the spot seems to have been filled by Gent & Jawns.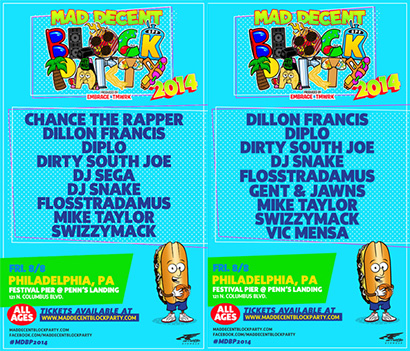 WENN Newsdesk
Bosses at an aircraft rental company in the have launched legal action against rapper Lil Wayne, accusing him of failing to pay his jet bills.
Executives at The Signature Group have filed suit against Wayne, real name Dwayne Carter, Jr, and his Young Money Entertainment partners, demanding $1 million.
In documents obtained by Courthousenews.com, the firm's lawyers write, "As with many such artists, Mr. Carter appears to enjoy the finer things in life: expensive cars, a mansion in La Gorce Country Club on Miami Beach, and private aircraft travel for himself, his agents, and members of his entourage, to worldwide destinations of his choice. Naturally, the enjoyment of such luxuries is not free, and Mr. Carter and his putative Florida limited liability, defendant Young Money, have failed to live up to their obligations and now owe plaintiff, Signature Group, over one million dollars in fees and charges relating to Mr. Carter's jet-setting around the globe on private aircraft leased to him by plaintiff."