We've all been in that compromising situation where you're waiting in line for the event of your life, and you suddenly realize you've left your tickets in that envelope pinned to corkboard above your desk. What do you do now? Well Philadelphia-based online ticket sales company Ticketleap is changing the way you get in the door with the introduction of… the Selfie Ticket.
It's as easy as it sounds. After you download the Ticketleap app for your iPhone or Android, purchase your tickets, the system will prompt you to choose the regular method of ticketing or you can go for the Selfie Ticket. You then take a photo of yourself and shortly after you'll receive the personalized e-ticket featuring your portrait. No barcodes mean no scanning necessary.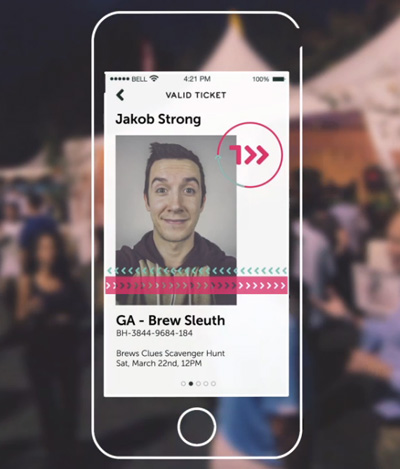 The company's CEO, Tim Raybould, is proud to have this technology be a part of the new Ticketleap, which focuses on treating customers not like transactions but more like the humans they are. "We'd go to a Ticketleap event and no one would be scanning tickets at the door with the hot new iOS app we built," Raybould said in a statement. "They didn't have a problem with app, they just weren't using it. Somehow it didn't fit them."
As you may have already guessed, the Selfie Ticket is only valid and available for Ticketleap events but we think this new method of ticketing could soon catch on elsewhere. But one thing folks might be worried about is the potential for false duplication of tickets since there is no scanable barcode. I spoke with someone from Ticketleap's marketing department and they said that it isn't much of a concern since they are catering to smaller, more community-based events as apposed to large concerts or sports games. "The purpose of the events we do ticket sales for is to generate a sense of community, so an event may only have about 50 people there," like a BBQ or beer tasting for frequent clients like Yards or Dogfish Head. "The purpose of these events are to build a sense of community," so they doubt it will attract the type of ticket scammers who go to events like Phillies games or performances at the Tower Theater.
If you want to find out more about how this technology works, visit Ticketleap's FAQ.