We all have our personal preferences when it comes to music and it's usually affected by our environment and upbringing. People who live in the urban areas might have more of a varied taste while those residing in the suburbs probably listen to more mainstream, top 40 artists (this is based on my own experience of growing up in the suburbs then transplanting to the city). But, have you ever wondered what the majority of your state is listening to?
The Echo Nest is a leading music intelligence company that works with companies like MTV, Spotify, BBC, and Twitter to provide music listening statistics to help create "smarter music experiences." A recent study they conducted, using the information gather from their clients, reveals the most popular artists for each state in the U.S.A.
For Pennsylvania, the jingly jangly folk tunes of Edward Sharpe & the Magnetic Zeros dominate user listening preferences while in New Jersey the prize goes to its beloved Bruce Springsteen. Below us, Delaware has an ear for Canadian rockers Rush while Maryland digs the soulful sounds of ex-Destiny's Child-er Kelly Rowland.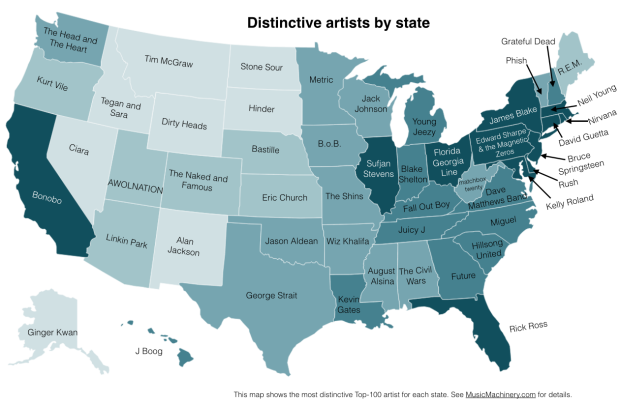 Philadelphia gets some opposite coast love as hometown folk crooner Kurt Vile is Oregon's most-listened to artist.
Check out their site to see how they determined each state's official band.
[CoS]