On Friday Mad Decent regretfully tweeted that budding up-and-comer Chance the Rapper would no longer be featured at Friday's sold out Mad Decent Block Party showcase in Philadelphia. Due to exhaustion, the 21-year-old artist had to also pull out of the Brooklyn, Boston, and Toronto dates. He has been replaced by Chicago rapper Vic Mensa.
While Chance was pulled for medical reasons, one of the local block party's main staples each year since its inception in 2008, DJ Sega, is no longer on the roster of heavy-hitting EDM acts (see before and after flyer below) and the spot seems to have been filled by Gent & Jawns.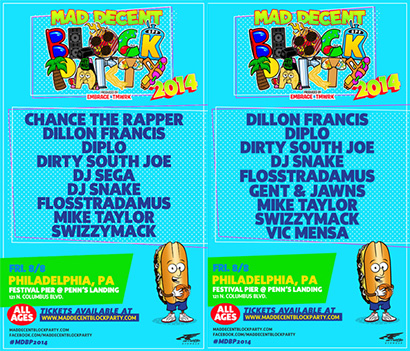 Sega (real name Robert Taylor) was signed to Mad Decent's record label in 2007, when the collective still held its humble roots on the block of 12th and Spring Garden streets. A year later the first ever block party was held in front the Mad Decent Mausoleum, which was both Diplo's home and a recording studio for his artists. Each year the event gained popularity so much it outgrew the block ('08-'10) and was then moved to the Piazza ('11), Great Plaza at Penn's Landing ('12, '13), and this year finds its home at Festival Pier. Diplo (real name Wes Pentz) reportedly involved himself in a heated Twitter exchange with Sega when the B'more club music pioneer was seeking help from his famous predecessor.
Taylor has not only struggled with the takeoff of his DJ career, but also shares the burden of being a caretaker for his disabled mother and mentally-challenged uncle. Two months ago misfortune hit when the City of Philadelphia condemned the house he shared with his family and had mere days to get their belongings off the property. He immediately began a crowdfunding campaign to help cover the expenses of temporary living and storage, with a set goal of $1,500 (which to date he raised over $6K). When Diplo was confronted about his lack of generosity to his Mad Decent family over social media–from many angles–he had this reaction (which was later deleted):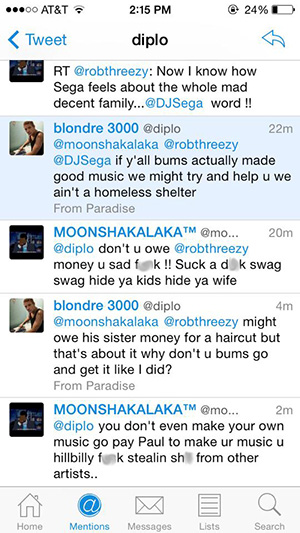 In addition to the extreme lineup changes, and high levels of tension in the air, this weekend at the festival's Baltimore, Md. stop at Merriweather Post Pavilion, two attendees have been reported dead while 20 were hospitalized, all of which are suspected to be drug-related. CBS DC also reports that authorities delivered 50 citations for under-age drinking and made three arrests: one for assaulting a cop, one for domestic assault, and one for possession to distribute marijuana.
Our hearts go out to everyone impacted by yesterday's event. We are saddened by the news.

— MAD DECENT (@maddecent) August 2, 2014