On Friday Mad Decent regretfully tweeted that budding up-and-comer Chance the Rapper would no longer be featured at Friday's sold out Mad Decent Block Party showcase in Philadelphia. Due to exhaustion, the 21-year-old artist had to also pull out of the Brooklyn, Boston, and Toronto dates. He has been replaced by Chicago rapper Vic Mensa.
While Chance was pulled for medical reasons, one of the local block party's main staples each year since its inception in 2008, DJ Sega, is no longer on the roster of heavy-hitting EDM acts (see before and after flyer below) and the spot seems to have been filled by Gent & Jawns.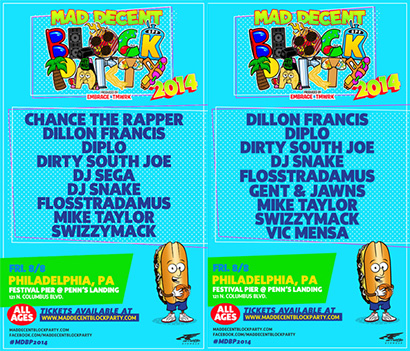 Sega (real name Robert Taylor) was signed to Mad Decent's record label in 2007, when the collective still held its humble roots on the block of 12th and Spring Garden streets. A year later the first ever block party was held in front the Mad Decent Mausoleum, which was both Diplo's home and a recording studio for his artists. Each year the event gained popularity so much it outgrew the block ('08-'10) and was then moved to the Piazza ('11), Great Plaza at Penn's Landing ('12, '13), and this year finds its home at Festival Pier. Diplo (real name Wes Pentz) reportedly involved himself in a heated Twitter exchange with Sega when the B'more club music pioneer was seeking help from his famous predecessor.