On Saturday, Aug. 1, local musician Joshua Thomas will perform Joni Mitchell's Blue and Hejira albums in their entirety during "I Am on a Lonely Road", a special tribute concert to the Canadian singer-songwriter at the First Baptist Church of Philadelphia (123 S. 17th St.).
"I came up with the idea to do one album start to finish," Thomas told me. "I had the idea because I think it is really important to set it up so people will hear something as a cycle – the way the artist intended it to sound." The folk music legend recently suffered from an aneurysm – reports say her condition is improving – but the timing seems fitting for fans seeking some comfort.
Thomas' obsession with Mitchell stemmed from his grandparents sharing with him the work of a female jazz artist: Diana Krall. He heard "A Case of You" on a live album and was moved. "For a while I thought Diana Krall wrote it. I just didn't know. I knew it wasn't a jazz standard. I looked in the liner notes and saw the name Joni Mitchell."
He discovered the song was on Mitchell's 1971's Blue. He bought the album from the record store he worked in Marlton, New Jersey. He soon graduated from jazz and Mariah Carey to guitar and singer-songwriter music. He began covering Mitchell and recorded his performances for YouTube when the site first launched in 2006.
Thomas has lived in Philadelphia for six years, five years longer than he thought he would. He initially moved here after struggling in New York City. While he was trying to pursue music professionally, he wasn't making enough to meet cost of living demands.
In his six years in Philly, Thomas has become a local figure in our city's burgeoning coffee scene (a manager at Menagerie in Old City), performed countless times at venues (he often plays for MANNA's Shut Up and Dance), and released two EP's. His latest, The Harboring, deals with his coming out.
"When I first came out, a lot of people didn't know it. You are generally loud about it and you are proud of it. This is who I am. When you are coupling that with something artistic or creative, it's a personal experience and you are going to want to talk about it. At the start, I was like, 'Gay singer songwriter!' When that label is placed on you, it boxes you into a certain thing."
He continued, "As I get older, I want people to know I am a musician. Not a gay musician."
No surprise, Thomas draws parallels between himself and Mitchell. "She was a female trying to do something that was really different from anyone else. At the time and still today, she is often considered the 'female Bob Dylan.' Which really is a ridiculous thing." He points out that Mitchell is often refered to as the 'greatest female singer-songwriter,' but you don't often, if at all, hear someone refer to the 'greatest male singer-songwriter.' This struck a chord with him.
So, has Thomas ever met his idol? At a 2006 release show in New York at a quaint gallery called Little Italy, he eagerly waited outside for her arrival.
It was worth it.
"I forget what I said exactly but it was something like 'You changed my life.' She stopped me and said 'I recognize you. My friend showed me your videos online. They were so great and so true to the original." Mitchell then grabbed his hand and brought him in to the event with her, past bodyguards and hordes of gawking fans.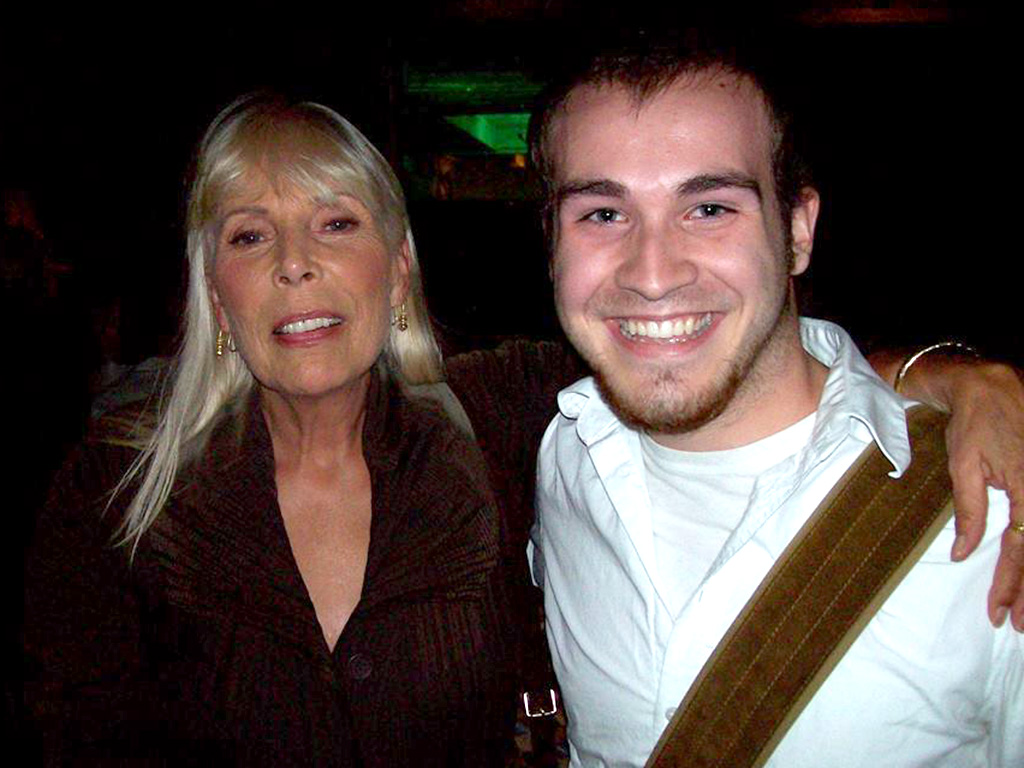 Joshua meets his idol, Joni Mitchell, in New York City (Courtesy photo)
Mitchell and Thomas eventually lost each other as they mixed and mingled. But, at the end of the event, on her way out, there was one more exchange of words. Thomas thanked her for the night, and she replied "Thank you for paying such close attention to detail."