In 2013, Brian Hart Cassidy began hosting music discussions at the Philadelphia Art Alliance in front of a live audience. The monthly event brings in special guests to examine the most defining musicians and bands of all time, which is recorded as a podcast.
The CaveCast, as it's called, was initiated by well known Philadelphia-based DJ collective Universal Cave. To kick off the new year, the late night series will be returning with a discussion on legendary English rock band, New Order. On Friday, Jan. 17, the public is invited to join in as host Brian Hart Cassidy examines the roots, influences and legacy while listening to some of the group's highlight records.
Following CaveCast, the evening will turn into a like-minded, two room dance party, "GONE," featuring music by Universal Cave, Robotique, and The Magic Message.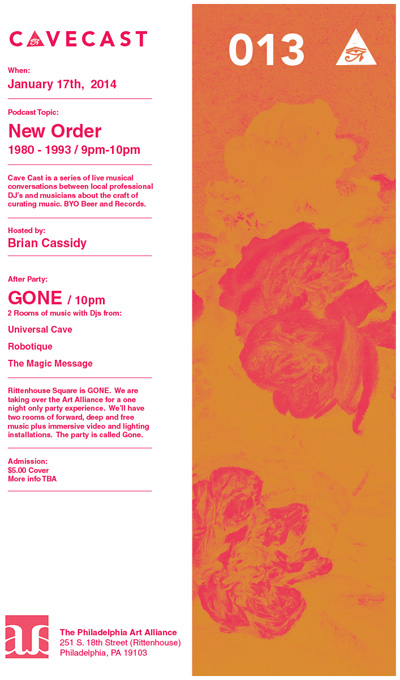 There will be complimentary PBR available and guests are encouraged to BYO. Attendees are also invited to bring their own records and join in on the conversation.
You can subscribe to the Universal Cave podcasts here. To get a taste of what you can expect, listen in on this vintage CaveCast discussion, "Funk from NOLA to Philly," below.
Friday, Jan. 17
Philadelphia Art Alliance, 251 S. 18th St.
Podcast discussion: 9 – 10 p.m.
Dance party: 10 p.m. - late
Admission: $5 - More Info