Around 30,000 people are estimated to be in attendance at this year's Firefly Music Festival in Dover, DE. It's only the event's second time around and the weather is calling for an amazing weekend!
The 3-day festival kicks off Friday so here are our recommendations for music, food, drink and activities to keep yourself busy from dusk until dawn.
EAT
There are going to be plenty of places for festival-goers to refuel at. Firefly's website is touting a wide variety of delicious food options that include vegetarian and vegan eats. To keep you feeling right all weekend, they've also promised that they are bringing in healthier menus.
DRINK
Dogfish Head has crafted a custom brew just for Firefly–the Firefly Ale! It won't be your only chance to taste the themed beverage but how often are you going to get a chance to sip on a beer named after the festival you're at? Also don't forget to load up on caffeine at The Coffee House–which is a full café provided the Bearclaw Coffee Company–and The Vineyard, an on-site wine bar.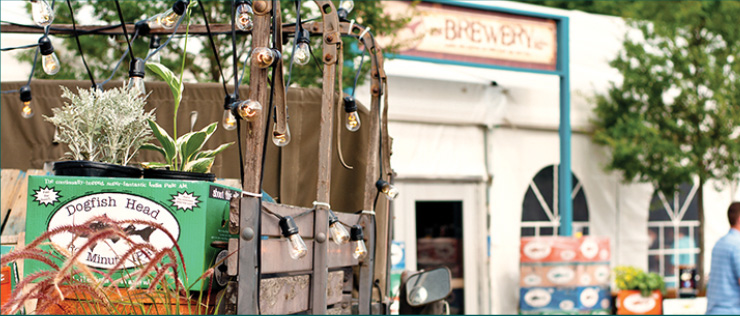 DO
If the large crowds around the main stages are a bit overwhelming, maybe you'll find yourself more comfortable and free to move about at the Heineken Domes–a space that will be hosting a number of renowned DJs and putting on a spectacular audiovisual experience. A roster of amazing acts will be going live from 12 p.m. until 10 p.m. every single day.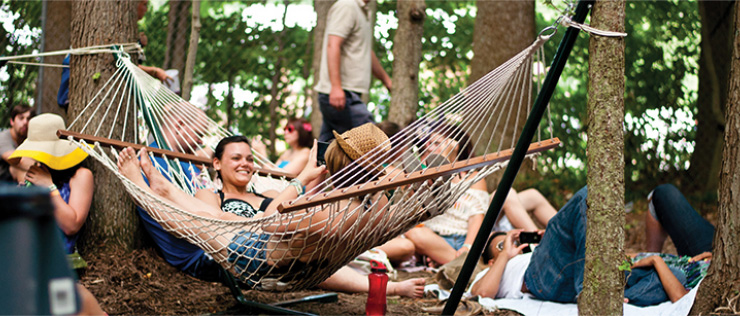 You might start to feel a little exhausted and just want to take it easy for a while. Head over to the Hammock Hangout where you can kick back with your buddies or go solo for a bit. Tucked away not to far from HH is the Forest Cinema where they'll be screening classic black and white silent films. When the sun goes down, you may want to set your sights on checking out The Pathway–an outdoor light and video installation that is the ultimate nighttime sanctuary.
Maybe you're looking for a little bit of thrill? What's more thrilling than an Arcade in the woods? Firefly's Arcade boasts a number of vintage games including pinball, skeeball, foosball and so much more. The best part? They are totally free!
TOMS Style Your Sole booth is an awesome to way to give back to yourself, others and your shoes. Purchase a pair of TOMS and you can work with an on-site expert to create the coolest customized kicks. Every pair purchased donates a pair to a child in need.
MUSIC
This is what you're here for, right? Here are our recommendations.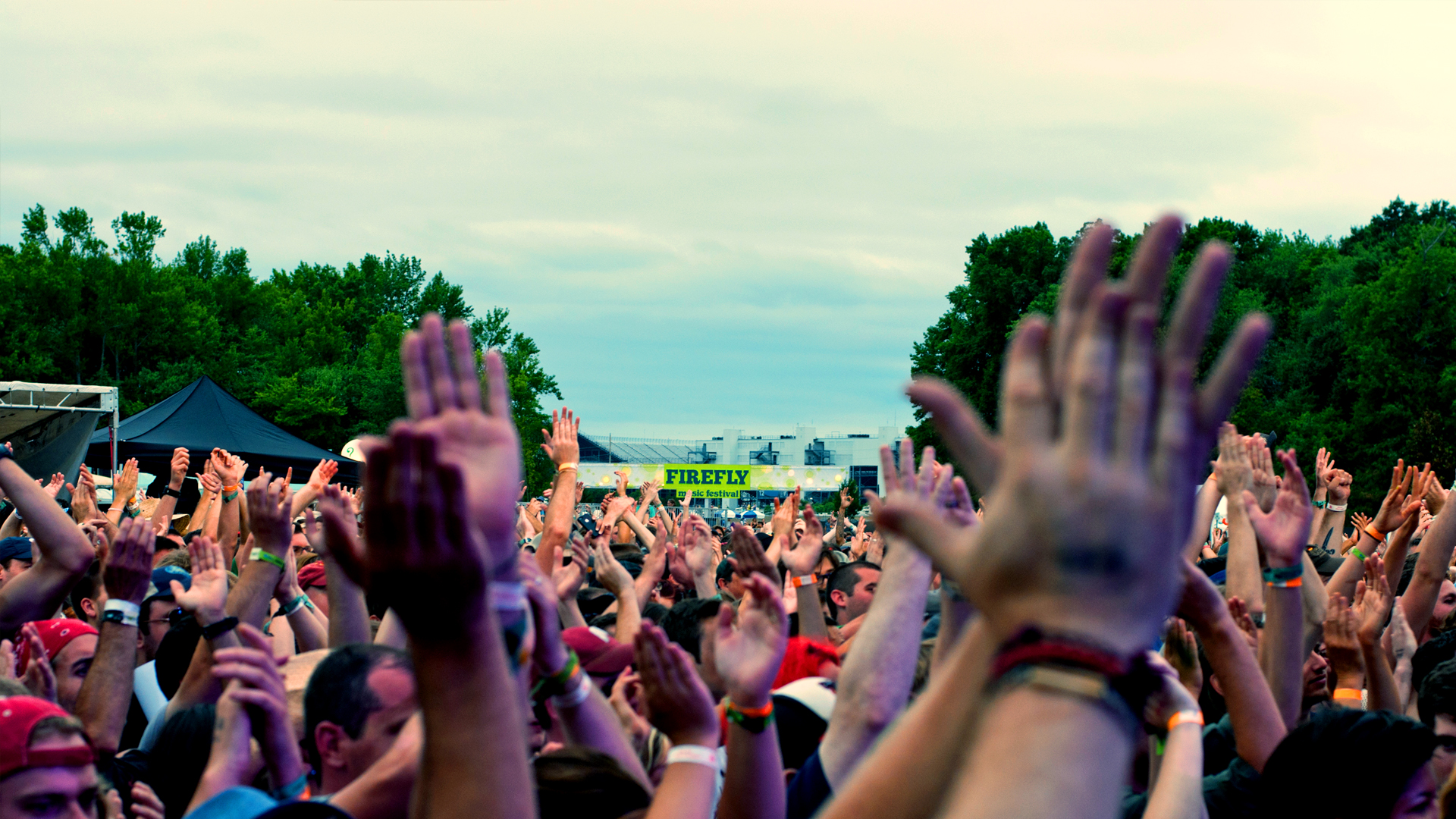 FRIDAY
Main Stage
Dr. Dog - 5 – 6 p.m. The Avett Brothers - 7:15 – 8:45 p.m. Red Hot Chili Peppers - 10:30 – 12 a.m.
The Lawn
Wild Belle - 2:15 – 3 p.m. Atlas Genius – 4 – 5 p.m. Ellie Goulding – 6 – 7:15 p.m. (The Lawn) Calvin Harris – 8:55 – 10:25 p.m. (The Lawn)
The Backyard
Public Enemy – 7:15 – 8:30 p.m. Grizzly Bear – 9:15-10:15 p.m.
The Porch
Action Bronson – 5 – 5:45 p.m. Dragonette – 8:30 – 9:15 p.m. Earl Sweatshirt – 10:45 – 11:45 p.m. Dan Deacon – 12:15 – 1 a.m.
SATURDAY
Main Stage
Japandroids - 1:30 – 2:15 p.m. Jim James – 3 – 4 p.m. Alabama Shakes 5 – 6 p.m. Yeah Yeah Yeahs – 7:15 – 8:45 p.m. Tom Petty and the Heartbreakers – 10:10 – 11:55 p.m.
The Lawn
Kendrick Lamar – 4 – 5 p.m. Edward Sharpe and the Magnetic Zeros – 6 – 7:15 p.m. MGMT – 8:45 – 10 p.m.
The Backyard
Chvrches - 5:45 – 6 p.m. Azealia Banks - 9 – 10 p.m. Big Gigantic – 12 – 1 a.m.
The Porch
St. Lucia – 3:30 – 4:15 p.m. Crystal Fighters – 6:30 – 7:15 p.m. The White Panda – 12:15 – 1 a.m.
SUNDAY
Main Stage
The Lumineers – 4 – 5:15 p.m. Passion Pit – 6:30 – 7:45 p.m. Foster The People – 9:30 – 11 p.m.
The Lawn
Matt and Kim 3 - 4 p.m. Dispatch 5;15 – 6:30 p.m. Vampire Weekend – 7:45 – 9:15 p.m.
The Backyard
Delta Rae -12:30 – 1 p.m. The Walkmen – 6:30 – 7:15 p.m. Zedd – 8:30 – 9:30 p.m.
The Porch
Robert DeLong – 4:15 – 5 p.m. Toro Y Moi – 5:45 – 6:30 p.m. Amanda Palmer and the Grand Theft Orchestra 7:15 – 8 p.m.
Also make sure to check out the full schedule here. And to keep tabs of when your favorite artists are playing and for access to everything you'll need, download the Firefly app for Android and for iPhone.
Camping and lodging information can be found here.
If you haven't grabbed your tickets yet, what are you waiting for? Single-day passes are still available.
Last, but certainly not least, here is a map so you don't get lost. Stay safe, stay hydrated and have a great time!