Drake needs to check his ego at the door.
The 27-year-old rapper has a feature in the upcoming March issue of Rolling Stone, in which he revealed that he thinks Macklemore's apology text to Kendrick Lamar after the Grammy Awards "was wack as f**k."
Now Drake is caught up in another piece of drama and it has to do with the magazine's cover. Instead of pinning the musician for the cover, as originally planned, Rolling Stone decided to go with Philip Seymour Hoffman instead.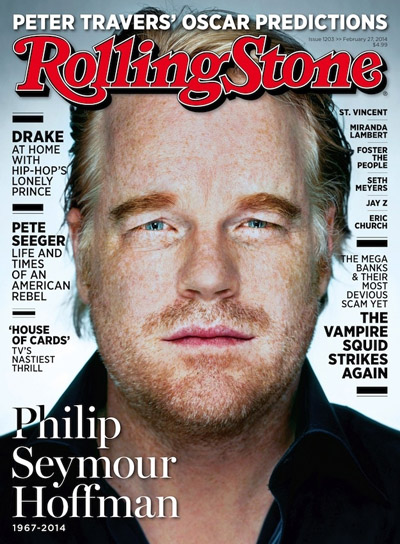 Any other person would respectfully accept that, but not Drake. He tweeted, which have now since been deleted:
"I'm disgusted with that. RIP to Phillip Seymour Hoffman. All respect due. But the press is evil."
"I'm done doing interviews for magazines. I just want to give my music to the people. That's the only way my message gets across accurately."
Drake is also claiming that he was misquoted in the magazine concerning his comments about Kanye West's album, Yeezus. He reportedly commented on West's lyrics saying:
"There were some real questionable bars on there. Like that, 'Swaghilli,' line? Come on man. Even Fabolous wouldn't say some s**t like that."
A rep for Rolling Stone stands by the quotes and says they're real.
UPDATE: Drake took to his blog to address the incident:
"I completely support and agree with Rolling Stone replacing me on the cover with the legendary Phillip Seymour Hoffman. He is one of the most incredible actors of our time and a man that deserves to be immortalized by this publication. My frustration stemmed from the way it was executed. The circumstances at hand are completely justifiable (on the magazines behalf), but I was not able to salvage my story or my photos and that was devastating. They ran the issue without giving me a choice to be in it or not. I would have waited until it was my time because I understand the magnitude of the cover they chose but I just wasn't given that option and that made me feel violated. I apologize to anybody who took my initial comments out of context because in no way would I ever want to offend the Hoffman family or see myself as bigger than that moment. I am still the same person. Today I was forced out of my character and felt the need to react swiftly."