Despite getting her hair getting caught in a fan, Beyoncé showed her "fans" that setbacks shouldn't stop the show from going on.
As the superstar sang "Halo" to a crowd Monday night in Montréal, Beyoncé got just a bit too close to one of her stage fans and it caught a lock of her hair. Seeming absolutely unfazed by it, she continued performing while a guard unattached her hair from the contraption. (VIDEO BELOW)
Later she posted "Halo" parody lyrics poking fun at the incident.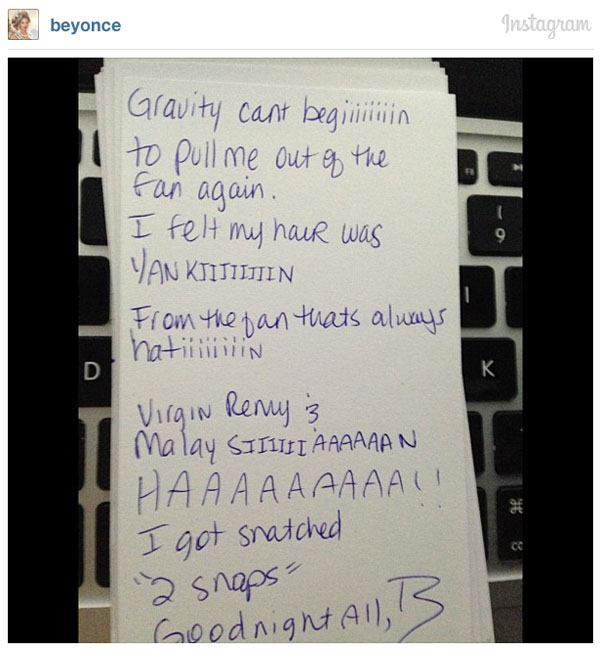 This isn't the only memorable moment Bey has had while on her Mrs. Carter World Tour.
A super fan in the front row of a recent show got a special interaction with her when she held on to his hand and gave him a huge hug–the fan passed out onto the floor shortly after. (VIDEO BELOW)
It's hard not to attend a concert these days without seeing a sea of cellphone users obstructing the view while trying to snap photos and videos of their memorable night. Beyoncé had enough of it at a recent show so she proceeded to command that a fan put down their phone and live in the moment with her. (VIDEO BELOW)
Queen Bey takes the stage at Philadelphia's Wells Fargo Center on Thursday, July 25. Tickets are still available, but you'll want to grab them quick!