Sean Woods
It's only an odd pairing when you consider their personal history. When you look at their musical history, it makes perfect sense.
Nine Inch Nails and Soundgarden officially announced a co-headlining summer tour Saturday night that will bring the bands to Camden. Death Grips will open on most dates. The tour includes a July 30 stop at Camden's Susquehanna Bank Center.
The announcement comes 20 years after the release of Soundgarden's 'Superunknown' and Nine Inch Nails' "Downward Spiral," both breakthrough albums for the rock bands that came out on March 8, 2014 and shot to the top of the charts.
Gabrielle Bonghi, Philly.com
"Backstreet's back, alright!"
After performing a show at the Susquehanna Bank Center back in August, the popular '90s boy band returns once more. The Backstreet Boys has just announced that due to popular demand they've extended their "In A World Like This" tour and will be making a stop in Camden, NJ at the Susquehanna Bank Center on Saturday, Jun. 21 with supporting act Avril Lavigne.
Tickets will go on sale Saturday, Mar. 22 at 10 a.m. and will be available at Ticketmaster.com, Susquehanna Bank Center Box Office, Live Nation Box Office, Ticketmaster Outlets or by-phone at 800-745-3000.
Gabrielle Bonghi, Philly.com
When you can't decide which one of Beyoncé's amazing songs to cover, you just do them all.
Mitch Grassi and Scott Hoying, both budding musicians from Los Angeles, covered the pop diva's entire new album a cappella-style in just a little over 5 minutes.
It's beautiful, well constructed, and sent all sorts of chills up my spine. Enjoy.
Gabrielle Bonghi, Philly.com
On Thursday, in the wee hours of the morning, a suspected drunk driver plowed through a crowd of people gathered outside of Austin, TX nightclub the Mohawk. A SXSW showcase, featuring rapper Tyler, the Creator, had attracted a large gathering of music fans attending the week-long annual festival. What happened at 12:30 a.m. was a complete shock. A car was speeding down the wrong direction on a one-way street hit a moped, a taxi, a van, and a large group of pedestrians. The driver had broken through a police-monitored festival barricade then drove two more blocks before he reached the site of the accident. As of right now two people have been pronounced dead and 23 people suffered injuries, five of which are critical.
Colin Kerrigan, a Philly.com staff photographer, was visiting the festival and had just left Stubb's BBQ, located a block from the accident, where he was shooting photos of St. Vincent. "I exited the venue and saw police and cops cars with their lights on everywhere. There didn't seem to be anyone documenting what was going on so I just started shooting photos." Kerrigan was one of the first people, if not THE first, to publicly report of the incident, taking to his Twitter account to share an eyewitness photo:
Here's the scene outside of Mohawk right now at #sxsw after a car ran through dozens of people. pic.twitter.com/XwdspxOf3o

— Colin Kerrigan (@colinkerrigan) March 13, 2014
Gabrielle Bonghi, Philly.com
Odd Future's goofball frontman Tyler, the Creator is embarking on a U.S. tour very soon and he will make a stop at the TLA in Philadelphia on Wednesday, Jun. 11 in support of his 2013 album, Wolf.
No official ticket sale date has been announced but you'll be able to find them here when they go on sale.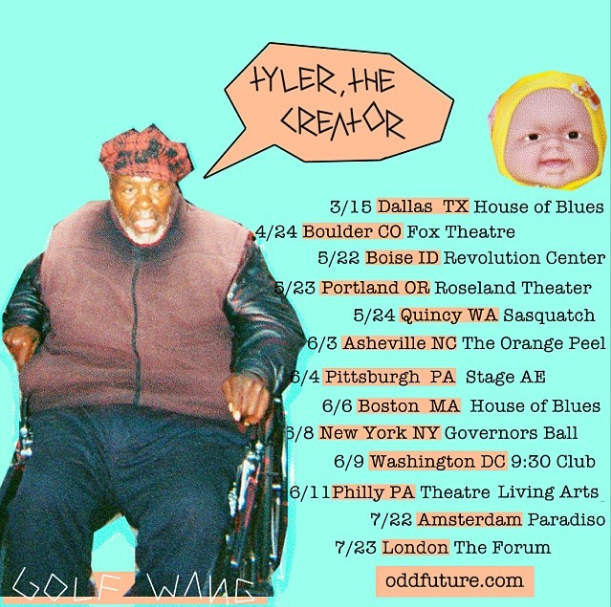 Gabrielle Bonghi, Philly.com
Jam band season is almost upon us, and it just wouldn't be summer without the groovin' sounds of Phish.
The band has just announced that they will embark on a late summer tour, which includes two Philadelphia dates at the Mann Center on Tuesday, Jul. 8 and Wednesday, Jul. 9.
An online ticket request period is currently underway, but general public tickets will go on sale Thursday, Mar. 27 at 10 a.m.
Gabrielle Bonghi, Philly.com
It's been a very long time since we've heard from Washington state's Modest Mouse. The group has not released an album since 2007's We Were Dead Before the Ship Even Sank, but it looks like that's all about to change!
With a full-length record in the works, Modest Mouse will be embarking on a tour during the month of May and will perform in Bethlehem, PA to kick off the new "Yuengling Summer Concert Series" at SteelStacks on Wednesday, May 21.
Tickets go on sale Tuesday, Mar. 11 at 10 a.m., for ArtsQuest Members, and Friday, Mar. 14 at 10 a.m. for the public. For the "Yuengling Summer Concert Series" performances, the Levitt Pavilion at SteelStacks will be gated with a standing-room-only capacity of 3,000.
Gabrielle Bonghi, Philly.com
In support of the sultry pop singer's forthcoming album, Ultraviolence, Lana Del Rey is embarking on a North American tour with a stop at Philadelphia's Skyline Stage at the Mann Center on Sunday, May 11.
Tickets go on sale Friday, Mar. 14 at 10 a.m.