Nick Vadala, Philly.com
Break out the zoot suit and shine up your axe, but, please, don't flip your lid—the Center City Jazz Festival is gearing up for its April 19 debut with the announcement of its fairly extensive lineup. Some 16 acts across six hours never sounded so good—especially for $15.
April, after all, is Jazz Appreciation Month, so a little Philly love for the art form is more or less requisite. Luckily, showing that love is pretty easy with all the venues being within walking distance of one another. From Fergie's Pub to Chris' Jazz Café (duh), April 19 will serve as a reminder that jazz is alive and well—at least in Philly.
Performer highlights include avant-garde guitartist Mary Halvorson, the beloved Miss Ida Blue, and performers from the Kimmel Center's Creative Music Program. Check out the full lineup below:
Nick Vadala, Philly.com
Lately, the trend in the music world has been to announce your new album just weeks or days before its release date, and superstar producer/immortal Pharrell Williams is the latest to join in. His latest effort, G I R L, will hit the web March 3.
Williams made the announcement via a YouTube video and iTunes preview, which shows that his Despicable Me 2 hit track, "Happy," will appear on the album. A good thing, considering that the single has already hit #1 on iTunes and is well on its way to doing the same on the Billboard digital charts. Unfortunately, though, no other songs are currently listed—though there will be 10 total.
Pharrell's teaser trailer shows the producer working in the studio, having run, and—yes, you saw that right—shedding a righteous tear at his creation's final form. Clearly, this is something to behold.
Gabrielle Bonghi, Philly.com
Hailing from the streets of New York, modern vogue and ballroom dance scene savior MikeQ is about to make his way to the City of Brotherly Love the inaugural party "Super Friends."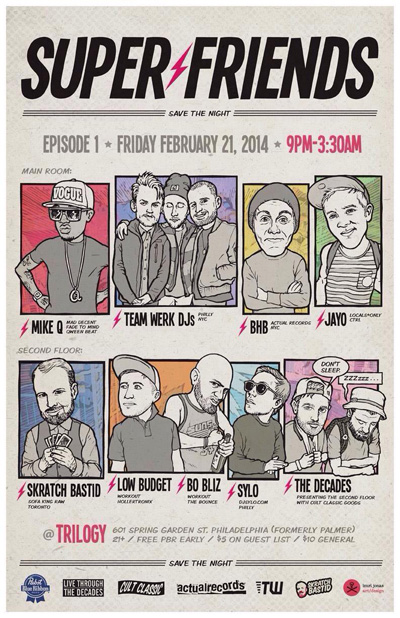 This Friday, Feb. 21 at Trilogy Night Club (601 Spring Garden St.), our local pals are cooking up a major two-floor dance party experience.
Gabrielle Bonghi, Philly.com
TMZ is reporting that Devo's founding guitar member, Bob "Bob 2" Casale, has passed away at the age of 61 due to heart failure.
Devo posted a message on their official Facebook page:
"Very sad news to report today. Bob Casale of Devo. Born: July 14th, 1952 . Deceased: February 17th, 2014
Gabrielle Bonghi, Philly.com
Willie Nelson & Family and Alison Krauss & Union Station, joined by Jerry Douglas, have just announced that the groups will be co-headlining a show at Philadelphia's Mann Center on Friday, Jun. 13 with an opening performance by Grammy-winning country singer Kacey Musgraves.
Tickets go on sale Friday, Feb. 21 at noon.
Gabrielle Bonghi, Philly.com
One of hip-hop's greatest threesomes, De La Soul, is offering their entire catalog of music for free today, on the Valentine holiday. For an entire 25 hours, you can grab every track from 3 Feet High and Rising, De La Soul is Dead, Stakes is High, and even more.
"It's been too long where our fans haven't had access toe everything," member Posdnous told Rolling Stone. "This is our way of showing them how much we love them." The band has struggled with getting their work out on digital services because of their heavy use of samples, so they though it best to just give it away.
On March 3 of this year, De La Soul will celebrate the 25th anniversary of 3 Feet High and Rising, the group's debut album.
Gabrielle Bonghi, Philly.com
While most are attacking Drake for being upset over Rolling Stone's choice to go with a Philip Seymour Hoffman cover, instead of featuring the rapper as originally planned, music man Questlove is chiming in to give his two cents.
He airs out his frustrations through a series of tweets:
man, @Drake is a better man than i. RS can't be playing w/ someone's emotions like that. anytime we given a scrap that is historical.

— Questlove Jenkins (@questlove) February 14, 2014
Gabrielle Bonghi, Philly.com
Drake needs to check his ego at the door.
The 27-year-old rapper has a feature in the upcoming March issue of Rolling Stone, in which he revealed that he thinks Macklemore's apology text to Kendrick Lamar after the Grammy Awards "was wack as f**k."
Now Drake is caught up in another piece of drama and it has to do with the magazine's cover. Instead of pinning the musician for the cover, as originally planned, Rolling Stone decided to go with Philip Seymour Hoffman instead.