Dan DeLuca, Inquirer Music Critic
It's a Bob Dylan bonanza.
On Nov. 4, the six disc motherlode of The Basement Tapes, drawn from the 1967 Saugerties, N.Y. sessions between the Bard and the band that would become The Band, will be released in their most complete ever form. The 138 song set will include 30 never before released tracks including,a cover of Hank Williams "My Bucket's Got A Hole In It," alternate takes of classic Dylan songs like "One Too Many Mornings" and one I'm most eager to hear called "See You Later, Allen Ginsberg."
Two and half weeks later, Dylan will be pulling into Philadelphia for a three night stand at the Academy of Music from Nov. 21 to 23, according to BobDylan.com. It's part of a 31 date tour that includes multiple nights in major cities including Seattle, Chicago and New York, where Dylan will play the Beacon Theatre on Nov. 28-29 and Dec. 1-2.
Philly.com
What are you doing this Labor Day weekend?
How about spending it outdoors on the Ben Franklin Parkway catching some of the hottest live acts like Kanye West, King of Leon, Tiesto, The National, Pharrell Williams, and Steve Aoki?
This year marks the third annual Budweiser Made in America Festival in Philadelphia (8/30/14-8/31/14) and we want you to be a part of one of this summer's biggest shows.
WENN Newsdesk
One of Nicki Minaj's backing dancers was hospitalized after she was bitten by a snake during rehearsals for the MTV Video Music Awards, according to a U.S. report.
The Super Bass hitmaker is scheduled to perform her new single Anaconda during the music prizegiving ceremony on Sunday and was rehearsing for the live show with her dancers and a large snake this week.
Minaj and her team were onstage as the six-foot reptile slithered up to a female performer and sunk its fangs into her, according to TMZ.com.
Allie Volpe
Records aren't just for parents and hipsters anymore. For the past year, Lansdowne, Pa. record shop Vinyl Revival has been planting the seed for the retro, trendy hobby, and they're celebrating a year of sales and world-class in-house shows with a weekend-long birthday bash.
At 7 p.m. on Friday, Aug. 22 Austin, Texas folk singer Betty Soo along with Bob Beach perform in support of her latest release "When We're Gone" in the store's "Vault," a limited-seating venue. For $15, you can grab tickets online or at the door.
Organized crime in the record industry? The battle over radio airtime is outlined in the documentary "Wages of Spin II," which gets three screening times — noon, 2 p.m. and 7 p.m. — on Saturday, Aug. 23. General admission tickets are $8 and can be purchased at the door.
Mare McKeever
Taylor Swift fans can finally rejoice! After working for two years on a new album, the singer officially announced her new album titled "1989," along with the new single "Shake It Off" during a Yahoo! Live Event Monday.
This is her first official pop album, which goes on sale October 27.
Swift also debuted the music video for "Shake It Off" during the live event where she dances alongside a number of professional dancers throughout the video.
WENN Newsdesk
Demi Lovato is to open up about her battle with bipolar disease on the inaugural Mental Health Listening & Engagement Tour.
The singer, who has been candid about her own health woes following a spell in rehab, will further address how she copes with the mood disorder condition she was diagnosed with in 2011, after announcing she'll be part of a new U.S. tour that aims to raise awareness about mental health issues.
In a public service announcement released on Friday, Lovato revealed she'll be connecting with experts and reaching out to those who are struggling.
Mare McKeever
Longtime Philly rapper Gillie Da Kid has become entangled in a heated Twitter feud with fellow rapper Soulja Boy, which erupted Monday night and has spiraled out of control.
Soulja Boy, 24, a Chicago native, had trouble letting the war of words go and at one point, tweet-threatened "Umma shoot that n----- right in his bald head. ... I'll be in Philly ASAP." This is apparently not their first beef. Here's a look at today's lowlights, blow-by-blow: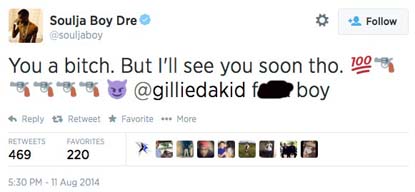 Serge Levin
On Friday, August 8, 2014, the annual Mad Decent Block Party took over Festival Pier at Penn's Landing for the first time since its inception (in Philadelphia) back in 2008.
Heavy-hitting EDM acts like Flosstradamus, Dillon Francis, and hometown hero Diplo put on an energetic show to the sold out crowd.