Archive: April, 2012
Steven Rea, Inquirer Movie Columnist and Critic

There are hallway walk-and-talks, and gym locker showdowns, and ruminations about romance, to be sure, but also weightier stuff, too: stories of living with cystic fibrosis, about racial tensions, about the discovery of a grandfather's World War II diary.
Now in its fourth year, the Greenfield Youth Film Festival is an ambitious undertaking that brings together students form 26 area high schools – from Berks, Bucks, Chester, Delaware, Montgomery and Philadelphia counties – offering equipment, technical instruction and encouragement as they wield tripods and lights, cameras and mikes, putting their dreams and dilemmas, ideas and images on screen.
On Tuesday, May 1, from 7pm to 9pm at the Keswick Theater, in Glenside, the results of this year's competition – sponsored by the Greenfield Foundation, in partnership with the School District of Upper Dublin – will be screened for students, families and the public at large. Admission is free. Festival organizers cull from around 200 entries, and will hand out honors in three categories -- fiction narrative, documentaries and experimental. There are also awards for actor and actress, for director, cinematography, score, animation, screenwriting, editing, sound design, visual effects and "best use of a teacher in a movie."
Molly Eichel, Daily News Staff Writer
We were deeply saddened by the news that legendary Band singer/drummer Levon Helm passed away today. While Helm will forever be known as one of the best timekeepers of ever, he also left his mark on the silver screen. Helm brought a certain Southern strength to movies he was in, like a character actor version of Tommy Lee Jones (in fact, Helm would act with Jones a few times, including "Coal Miner's Daughter," Jones' feature directorial debut "The Three Burials of Melquiades Estrada" and in Helm's final film "In the Electric Mist").
Helm never took a starring role, but always popped up at the movies oftentimes when we least expected him to. "Is that Levon Helm!?" we cried upon first witnessing Bob Lee Swagger (Mark Wahlberg) visit Helm's firearms expert in 2007's "Shooter." If you've seen the (partly shot in Philly) film, you know the below clip is the best part (the language in this clip may not be suitable for work):
Molly Eichel, Daily News Staff Writer
He dipped his diphthongs! (Of course, Dick Clark was from New York and didn't have an accent, but we'll let Batman slide on this one.)
Steven Rea, Inquirer Movie Columnist and Critic
It's called Artsploitation Films, its first three releases hail from India (Gandu), Japan (Hard Romanticker (Hâdo romanchikkâ) and Russia (Bullet Collector), and it's based here in Philadelphia. Ray Murray, one of the founding partners of TLA Entertainment and for many years the artistic director of the Philadelphia Film Festival, has assembled a group of investors to back Artsploitation, which plans to release 24 titles a year on DVD and VOD, with the occasional theatrical run thrown into the mix.
Murray, a globe-hopping film festival junkie, is looking for international titles "with an edge" – horror, action, thrillers, offbeat romances. Right now the company's website is just a logo with contact info, but expect a burgeoning roster of intriguing titles in the coming weeks and months.
Molly Eichel, Daily News Staff Writer
The Awesome Fest is partnering up with Tribeca Film to bring a selection of films to Philly on April 30 and May 1 (including "Death of Superhero" pictured above). All screenings will be a the Trocadero Theatre and are completely free. The features range from a rom com to a crooked-cop thriller.
If you can't make the screenings, don't fret. Each movie will be available for Video on Demand.
Dan Deluca
You won't be able to hear a pin drop during the screening of the 1920 Douglas Fairbanks-starring The Mark of Zorro at The Rotunda in West Philadelphia tonight. And you're not likely to be able to sit still, either.
That's because the swashbuckling action flick depecting the daring adventures of masked Mexican Robin Hood Don Diego Vega - a.k.a. Zorro - will be accompanied by a zesty pan Latin musical score written by Brendan Cooney of the West Philadelphia Orchestra. It will be performed live by a musical consortium consisting of members of said brass band, plus players from tango group Oscuro Quintet and rock band TJ Kong and the Atomic Bomb.
Tickets are $10 for tonight's Not-So-Silent-Cinema screening and performance, which begins at 8. The movie and a live performance of Cooney's score will be paired togther one more time, at the Bryn Mawr Film Institute on May 22. More info about both shows here. There's a clip below of the trailer for the film, and of a rehearsal for tonight's big show.
Steven Rea, Inquirer Movie Columnist and Critic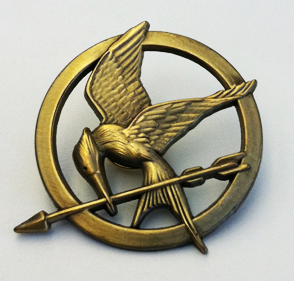 Watching the beautifully restored edition of To Kill a Mockingbird on the USA network Saturday night, with its eloquent intro from President Obama, a touching scene that heretofore didn't seem all that significant took on a new dimension – as in: was author Suzanne Collins watching this when she dreamed up The Hunger Games?
It's the scene when little Walter Cunningham (Steve Condit) -- a struggling farmer's son whose father has been paying off Atticus Finch's legal fees with foodstuffs from the fields – is invited to have dinner with the Finches. There sits Gregory Peck's upright lawyer, Atticus, Mary Badham's tomboy Scout, and her brother, Jem (Philip Alford), watching Walter as he pours syrup all over his plate. But as the roast is being passed around, and the diners all dig in, there's a discussion about mockingbirds and blue jays – it's a sin to kill the former, but all right to kill the latter, those pesky birds.
And as millions of readers and moviegoers know, the mockingjay of The Hunger Games and its subsequent two books, Catching Fire, and, yes, Mockingjay, figures prominently -- and metaphorically -- in the dystopian Young-Adult series. But there's more: as young Walter forks into his meal, he tells the Finches that it's the first piece of beef he's had in ages. He and his father have been subsisting on "squirrel and rabbit" -- the same diet that Catnip Evergreen, oops, I mean Katniss Everdeen, supplies to her struggling and famished family in District 12.
Steven Rea, Inquirer Movie Columnist and Critic
Narrated by Olivia de Havilland, the Oscar-winning actress who has long lived in France (very long -- she's 95) I Remember Better When I Paint – Treating Alzheimer's through the Creative Arts is an award-winning documentary that has its area premiere Tuesday evening at the College of Physicians, 19 South 22nd Street.
The screening, sponsored by the College's Section on Medicine and the Arts, starts at 6:30 p.m. and it's free-- but registration is required. A panel discussion follows, with Anjan Chatterjee, Professor of Neurology and a member of the Center for Cognitive Neuroscience, and the Center for Neuroscience and Society at the University of Pennsylvania, and Berna Huebner, co-director of the documentary and founder of the Hilgos Foundation, which is dedicated to the art therapy approach depicted in the film.
To register, and for more info, go to: http://better.eventbrite.com or call (215) 563-3737