Archive: March, 2012
Molly Eichel, Inquirer Staff Writer
Pulp Cinema hosts a screening of "David and Lisa," a film about two deeply-damaged teens who fall in love, on Monday, April 2 at the Broad Street Ministry, free of charge, at 7 p.m. The 1962 film was shot in and around Philadelphia and features some nice scenes of old school Philly.
The film, directed by Frank Perry and written by his then-wife Eleanor, starred Keir Dullea (a/k/a David Bowman from "2001: A Space Odyssey") as David, a teenager who is convinced that he will die if anyone touches him. He communes with Lisa, a young woman with split personalities; one can only speak in rhyme, while the other can only write down her thoughts.

Steven Rea, Inquirer Movie Columnist and Critic
Was Steven Soderbergh's latest release really a box office flop? Well, yes, if you're talking about Haywire, the globe-hopping hitwoman thriller starring mixed martial arts goddess Gina Carano that came and went early this year. But not if you're talking the record-breaking mega-hit The Hunger Games.
True, director Gary Ross was the man in charge of the first installment of the adaptation of Suzanne Collins dystopian Young Adult book trilogy, but Soderbergh's name is there on the credits (way down, as Second Unit Director). And, indeed, he was way down there -- in North Carolina, last year -- shooting a key sequence of the Jennifer Lawrence-starring tale of a deadly competition between a gaggle of post-apocalytic teens.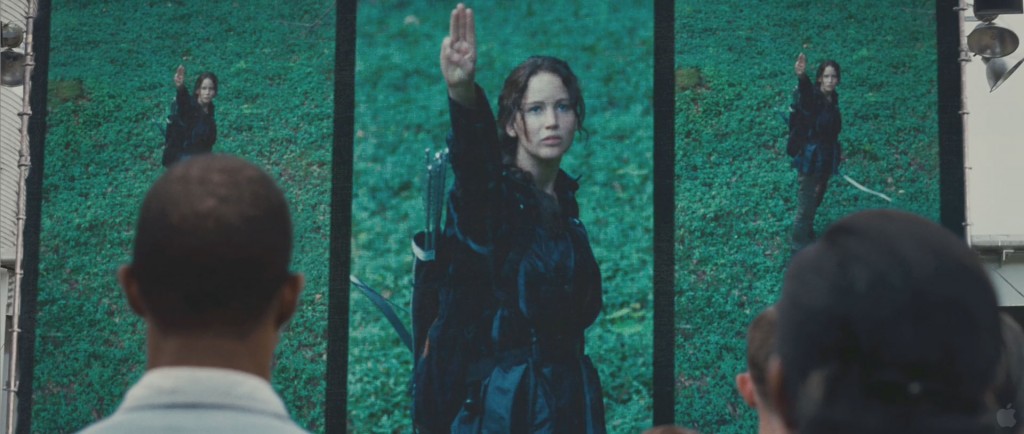 Molly Eichel, Inquirer Staff Writer
Happy birthday Awesome Fest!
To celebrate its one year anniversary, the Awesome Fest, a city-wide, year-round film festival, will honor actor/director/comedian Bobcat Goldthwait with a lifetime achievement award on April 26.
Steven Rea, Inquirer Movie Columnist and Critic
Although Nina Jacobson, the veteran Hollywood exec-turned-producer, has been cautious when it comes to talking sequels for The Hunger Games, the writing is on the wall -- and all over the Internet. On Wednesday, Fandango, one of the leading online movie ticket outlets, reported that the $100 million Lionsgate release, an adaptation of Suzanne Collins' bestselling young-adult novel, was the top-selling franchise opener and non-sequel in the company's 12-year history, on track to become one of the top-selling movies of all time. (Note the term "franchise opener.")
Jacobson, who acquired the film rights shortly after The Hunger Games was published by Scholastic in 2008, did say in an interview last week that Lionsgate has "planted their flag" for Catching Fire, the second installment in Collins' Hunger Games trilogy. The studio's designated release date: Thanksgiving, 2013.
"If everything goes well, that's when we plan to release the next movie, so we have our work cut out for us," Jacobson said from London last week. "But we're also trying to take it one step at a time and make sure that audiences ask for a sequel, because ultimately that's really up to them. And hopefully they will, and we'll be there to give it to them."
Molly Eichel, Inquirer Staff Writer
"The Cabin in the Woods," the new film from Joss Whedon, director of the upcoming "The Avengers" and cult TV hero, and Drew Goddard, writer of "Cloverfield," is getting the sneak peek out treatment from film company Lionsgate.
"The Cabin in the Woods" is about five friends who travel to the titular isolated abode. But like many Whedon properties, it will play with genre conventions in ways not oft seen in more rote horror outtings. Philly is getting a chance to see the flick early, courtesy of entertainment site Hitfix.com, on April 9.
Steven Rea, Inquirer Movie Columnist and Critic
WXPN, the area's preeminent alternative radio station, and the Philadelphia Film Society, producers of the annual Philadelphia Film Festival, are partnering up for the XPN Music Film Festival, set to run for four days, April 26 through 29, with most of the programs playing at the Annenberg Center for the Performing Arts. A kind of expanded spinoff of the PFF's "Sight and Soundtrack" program, the titles in the Music Film Fest are likewise being programmed by the PFF's Michael Lerman. Although opening and closing night titles haven't yet been announced, the lineup thus far offers an eclectic mix of rock docs, fiction films, concert flicks and a feature about Gustav Mahler's "Resurrection" Symphony.
Here's the roster of titles, with more announcements of films and special events, to come:
California Solo Robert Carlyle of Trainspotting and The Full Monty, stars as Scottish rocker trying to rehab his life on an organic farm outside L.A.
Molly Eichel, Inquirer Staff Writer
Bruce Springsteen gave the keynote address at Austin's South by Southwest festival, in which we talks about his career and the history of pop music. It's one of the more endearing things we've ever seen. Bruce starts at about 5:00 in, and he uses some colorful language so be forewarned.
Give it up for him the Boss below:
Tirdad Derakhshani
He's approaching the one-decade mark, but film star Uggie, isn't slowing down.
The Jack Russell Terrier, who helped make French director Michel Hazanavicius' otherwise totally marginal sleeper The Artist, the most relevant films of the decade, will do the red carpet at the Humane Society of the United States' 26th Genesis Awards March 24 at The Beverly Hilton, in Beverly Hills.
Uggie, who was rescued by trainer and talent spotter Omar Von Muller at a shelter, also will be one of the presenters at the kudofest which will be hosted by dancer and Dancing With the Stars judge Carrie Ann Inaba.