Archive: November, 2012
Steven Rea, Inquirer Movie Columnist and Critic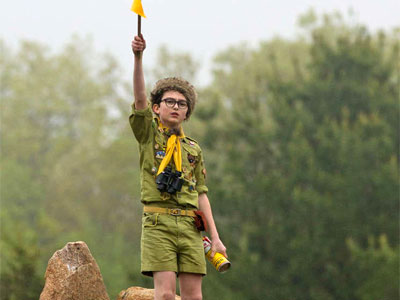 Silver Linings Playbook, David O. Russell's mood-swinging Philly-centric romance, and Moonrise Kingdom, Wes Anderson's oddball tweenage elopement romance, led the pack with five nominations each as the Indie Spirit Award contenders were announced today. The nominated films, and stars, and directors, run the gamut: established Hollywood types (Bradley Cooper, Jennifer Lawrence, Bruce Willis) and a first-time kid actor from New Orleans (Quvenzhané Wallis).
Here are the major noms. The awards will be handed out on Saturday, February 23rd, the night before the Academy Awards.
2013 FILM INDEPENDENT SPIRIT AWARD NOMINATIONS
BEST FEATURE
"Beasts of the Southern Wild"
"Bernie"
"Keep the Lights On"
"Moonrise Kingdom"
"Silver Linings Playbook"
BEST DIRECTOR

Wes Anderson - "Moonrise Kingdom"
Julia Loktev - "The Loneliest Planet"
David O. Russell - "Silver Linings Playbook"
Ira Sachs - "Keep the Lights On"
Benh Zeitlin - "Beasts of the Southern Wild"
BEST SCREENPLAY

Wes Anderson & Roman Coppola - "Moonrise Kingdom"
Zoe Kazan - "Ruby Sparks"
Martin McDonagh - "Seven Psychopaths"
David O. Russell - "Silver Linings Playbook"
Ira Sachs - "Keep the Lights On"
BEST FIRST FEATURE

"Fill the Void" - Director: Rama Burshtein
"Gimme the Loot" - Director: Adam Leon
"Safety Not Guaranteed" - Director: Colin Trevorrow
"Sound of My Voice" - Director: Zal Batmanglij,
"The Perks of Being a Wallflower" - Director: Stephen Chbosky
BEST FIRST SCREENPLAY

Rama Burshtein - "Fill the Void"
Derek Connolly - "Safety Not Guaranteed
Christopher Ford - "Robot & Frank"
Rashida Jones & Will McCormack - "Celeste and Jesse Forever
Jonathan Lisecki - "Gayby
BEST FEMALE LEAD

Linda Cardellini - "Return"
Emayatzy Corinealdi - "Middle of Nowhere"
Jennifer Lawrence - "Silver Linings Playbook"
Quvenzhané Wallis - "Beasts of the Southern Wild"
Mary Elizabeth Winstead - "Smashed"
BEST MALE LEAD

Jack Black - "Bernie"
Bradley Cooper - "Silver Linings Playbook"
John Hawkes - "The Sessions"
Thure Lindhardt - "Keep the Lights On"
Matthew McConaughey - "Killer Joe"
Wendell Pierce - "Four"
BEST SUPPORTING FEMALE

Rosemarie DeWitt - "Your Sister's Sister"
Ann Dowd - "Compliance"
Helen Hunt - "The Sessions"
Brit Marling - "Sound of My Voice"
Lorraine Toussaint - "Middle of Nowhere"
BEST SUPPORTING MALE

Matthew McConaughey - "Magic Mike"
David Oyelowo - "Middle of Nowhere"
Michael Péna - "End of Watch"
Sam Rockwell - "Seven Psychopaths"
Bruce Willis - "Moonrise Kingdom"
BEST DOCUMENTARY

"How to Survive a Plague"
"Marina Abramovic: The Artist is Present"
"The Central Park Five"
"The Invisible War"
"The Waiting Room"
BEST INTERNATIONAL FILM

"Amour" (France) Director: Michael Haneke
"Once Upon A Time in Anatolia" (Turkey) Director: Nuri Bilge Ceylan
"Rust And Bone" (France/Belgium) Director: Jacques Audiard
"Sister" (Switzerland)" - Director: Ursula Meier
"War Witch" (Democratic Republic of Congo)" - Director: Kim Nguyen
Steven Rea, Inquirer Movie Columnist and Critic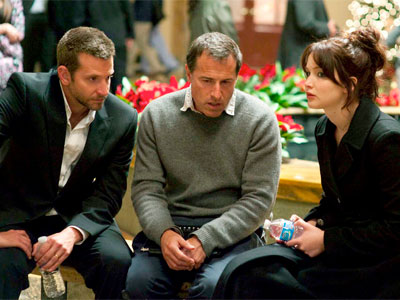 "That was a first for me," says David O. Russell, writer and director of Silver Linings Playbook . (And director of Spanking the Monkey, Flirting with Disaster, Three Kings, I Heart Huckabees and The Fighter.) He's talking about casting his leading lady via Skype: Jennifer Lawrence, in her parents' home in Louisville, Kentucky, a year and a half ago, sitting in front of a computer and auditioning for the role of Tiffany Maxwell, the young, messed-up widow who falls for the not quite as young, but more than as much messed-up character played by Bradley Cooper . Silver Linings goes into wide release Wednesday, Nov. 21, and both Cooper and Lawrence are already getting lots of Oscar buzz.
"She had prepared for the role," Russell remembers in a recent interview. "She had put on the makeup as she imagined Tiffany to be described — they're very thorough over there at that house. You know, her mother discovered The Hunger Games, her mother reads the books and gives them to her….. And they both read the [Silver Linings] book and the screenplay.
"So she had on the heavy eye liner and she did this whole thing, she worked with me over Skype. Jennifer really not only showed her ability to take direction over Skype, but also showed her particular gifts and charms and just-being-herself toughness and humor and intelligence. It all came across. And it was a surprise, because we had already narrowed our field down to three other choices. And she was someone who was just a pro forma audition, out of courtesy."
Steven Rea, Inquirer Movie Columnist and Critic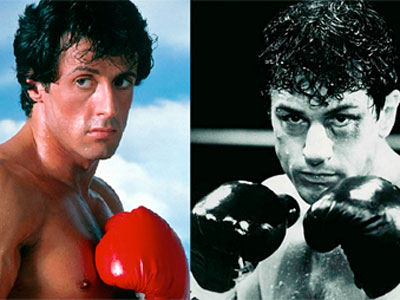 Fresh from the entirely expendable Expendables 2, which he co-wrote as well as starred in, Sylvester Stallone has lined up a slate of new projects, one of which revisits the pugilist arena of the franchise that made him famous (and rich): namely, Rocky. The 2013 fight film is called Grudge Match, and Stallone is booked to star opposite Robert De Niro. The duo play aging boxing rivals enticed by a promoter (Kevin Hart) to go back into the ring one more time. Think Rocky Balboa vs. Jake LaMotta, as senior citizens, and think comedy. Peter Segal (50 First Dates, Get Smart) is directing.
The other titles on Stallone's soon-come list: Reach Me, an indie written and directed by Stallone's Cobra co-star John Herzfeld, and also starring rapper Nelly, Omari Hardwick, Elizabeth Henstridge, Danny Aiello and Rebekah Chaney; Bullet to the Head, with Walter Hill directing, based on the Alexis Nolent graphic novel about a cop and a hit man who join forces, and The Tomb which teams Stallone with The Expendables cameo-ing former California governor, Arnold Schwarzenegger.
Molly Eichel, Daily News Staff Writer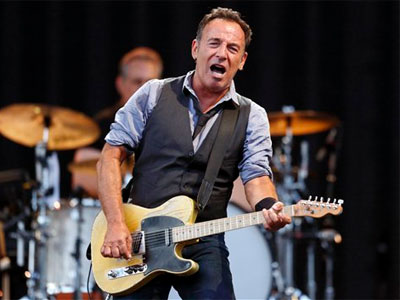 Calling all Springsteen fans: Want to be a in movie with the Boss?
Inspired by the crowdsourced documentary "Life in a Day," the new project, "Springsteen and I," is calling on fans to submit their "most personal insights, abstractions and reflections on how Bruce Springsteen and his music has affected your life."
We're thinking a certain local governor will be up for submitting a video.
Steven Rea, Inquirer Movie Columnist and Critic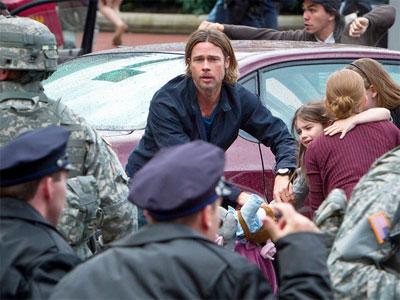 There are the twin spires of Liberty Place, the blue steel of the Ben Franklin Bridge, and a PWD truck careening out of control on a Center City byway, plowing into a Philly motorcycle cop as he barks an order at Brad Pitt to get back in his car.
Yes, the zombie apocalypse is upon us – or will be come June, 2013. Shot in Glasgow dressed up as Philadelphia (don't ask), World War Z has been directed by Marc Forster (Monster's Ball, Quantum of Solace), based on the book by Max Brooks. Watch the first trailer right here, right now.
Steven Rea, Inquirer Movie Columnist and Critic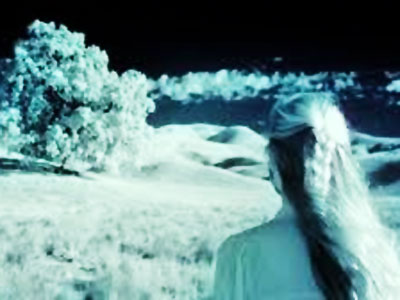 Guinea pigs in a clinical drug trial, two sisters tainted by tragedy, a Keith Haring-in-Philadelphia doc, the struggles of a Native American family, the struggles of an Iraq war veteran, a two-bit cable TV reporter uncovers a career-changing story on the streets of Fishtown, a cartoon about a boy who finds delectable treats on the surface of the moon….
FirstGlance Film Festival, the indie-centric, local-local-local weekend mini-fest, gets underway this Friday through Sunday, Nov. 9-11,with screenings – world premieres, Philadelphia premieres -- at the Franklin Theater in The Franklin Institute.
A few highlights: The Normals, Kevin Connors' comedy about a group of misfits participating in a clinical drug trial, with Brian Greenberg, Dan Hedaya, Frederick Weller and John Sayles… "When You Find Me," actress Bryce Dallas Howard's short film – she directs – about a mother remembering the childhood trauma she shared with her sister… Keith Haring: Heart of the Community, Scott Hatfield's doc about artist Keith Haring's collaboration with a 1987 'We The Youth' Philadelphia mural project in 1987… and Steve Phoenix: The Untold Story, Bill Haley's comedic feature about a cableTV reporter (Josh Lamon) who stumbles on a Fishtown rock band whose members are fronting for a secret underground org.
Steven Rea, Inquirer Movie Columnist and Critic
"Bond, James Bond." Ornithologist. Philadelphian. Bird man at the Academy of Natural Sciences. And the inspiration for author Ian Fleming, when he was looking for a name to give his British spy hero – Agent 007 of Her Majesty's Secret Service – for the first book in his series, 1953's casino Royale.
According to Everything or Nothing: The Untold Story of 007, the excellent EPIX documentary, Fleming was busy writing from his roost in Goldeneye, his house in Jamaica, when he scanned his study and saw a copy of Birds of the West Indies on the desk. The author's name? James Bond. Simple as that.
The rest is history. Dr. James Bond was born in 1900 and died in 1989 -- he's buried at the Church of the Messiah in Gwynedd Valley.