Movies
Sam Wood, Philly.com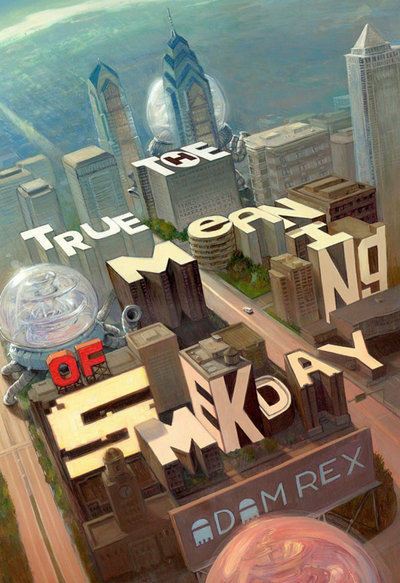 Home, the buddy comedy from DreamWorks Animation about an alien invasion, was born in West Philadelphia.
Set for release on Friday, the computer-animated family film is based on The True Meaning of Smekday, an uproarious children's novel penned by writer and illustrator Adam Rex. For eight years, Rex and his wife lived in West Philadelphia while she earned her Ph.D. in physics from the University of Pennsylvania.
In Smekday, a West Philly girl, voiced in the movie by Rihanna, embarks on a roadtrip to search for her mother who has been abducted by an inept race of aliens. Along the way, she meets up with an on-the-lam outcast (The Big Bang Theory's Jim Parsons in Home) who is hiding from his fellow intersteller invaders.
Rob Tornoe
It's moments like this I'm glad I'm a cartoonist. There's no way I could really express in words the profound effect "Star Trek" and, more specifically, Mr. Spock, had on me when I was a kid.
So hopefully my cartoon explains why the emotion I felt hunched over my drafting table this afternoon when I found out longtime Star Trek actor Leonard Nimoy passed away wasn't sadness, it was gratitude.
More than being sad about an actor that embodied a character that left an imprint on my childhood, I have to say I'm thankful that Nimoy was blessed with a long life and a large footprint that allowed him to stoke the imagination of countless people all over the world.
Mare McKeever

, philly.com

It's Oscars time! Join us now commentary from the Inquirer, Daily News and Philly.com staff members as we chat all Oscars everything. Starting with the red carpet until the very last award we'll discuss fashion, celebs, winners and more!
Mare McKeever

, philly.com
Terry Gross from NPR's program, "Fresh Air," sat down with Bradley Cooper recently and discussed not only his role as Chris Kyle in "American Sniper," but how he's responded to the criticism surrounding the film.
Right off the bat, Gross asks Cooper if he was expecting this film to become a "cultural lightning rod."
"Absolutely not. No, I did not at all think anyone could foresee something like that," Cooper acknowledged.
Variety.com
LOS ANGELES (Variety.com) - Charlie Hunnam will star in James Gray's "Lost City of Z" opposite Sienna Miller and Robert Pattinson. The project has just locked down financing from MICA Entertainment.
Sierra/Affinity will continue international sales at the Berlin Film Festival this week. CAA represents domestic rights.
Production is expected to start this summer. The project is based on David Grann's 2009 book of the same name.
Brent Lang
LOS ANGELES (Variety.com) - "American Sniper" is nearing the $250 million mark after picking up $31.8 million to set a new Super Bowl weekend record.

The previous high-water mark for football's big weekend was "Hannah Montana/Miley Cyrus: Best of Both Worlds Concert Tour," which nabbed $31.2 million when it premiered in 2008.

If it continues on this torrid clip, Clint Eastwood's biopic of Navy SEAL Chris Kyle could challenge "The Hunger Games: Mockingjay - Part 1" as the highest-grossing 2014 release and will pass "The Matrix Reloaded" to become the second-biggest R-rated release in history. It has earned $248.9 million -- an unbelievable result for an adult drama about such hard-hitting topics as war and its psychological effects.
Variety.com
LOS ANGELES (Variety.com) - After years of trying to spin off one of its most popular properties, Sony looks to be getting closer to getting a "Ghostbusters" movie off the ground.
Sources tell Variety that Kristen Wiig, Melissa McCarthy, Kate McKinnon and Leslie Jones are in early negotiations to star in the "Ghostbusters" reboot.
Paul Feig is directing with Katie Dippold penning the script. Feig tweeted a photo of Wiig, McCarthy, McKinnon and Jones on Tuesday.
By Ramin Setoodeh, Variety.com
LOS ANGELES - Will "American Sniper's" gargantuan box office make it a surprise favorite at the Oscars? The Clint Eastwood drama about Navy SEAL Chris Kyle is peaking just days before voters are about to receive their ballots on Feb. 6. The Warner Bros. release made an estimated $105.3 million over the long weekend, which is already more than any of the other best picture nominees.

The Academy is often stubbornly immune to popular sentiment, which is why "Avatar" lost to "The Hurt Locker" in 2010. And for that reason, I still think "Boyhood" is going to win best picture. It's the frontrunner that's picked up nearly every precursor award, and "Sniper" missed out on a crucial directing nomination for Eastwood. Only four films in Academy history (including 2012's "Argo") won picture without a director nomination.

But the buzz surrounding "Sniper" could help Bradley Cooper, who landed his third consecutive career acting nomination (after "Silver Linings Playbook" and "American Hustle"). Until now, the best actor race has been a two-man battle between Eddie Redmayne ("The Theory of Everything") and Michael Keaton ("Birdman"). Yet like Sandra Bullock in "The Blind Side," the crowd-pleasing nature of Cooper's portrait of Kyle -- a role for which he packed on 40 pounds and learned how to fire military rifles -- could result in a last-minute surge.