Archive: June, 2012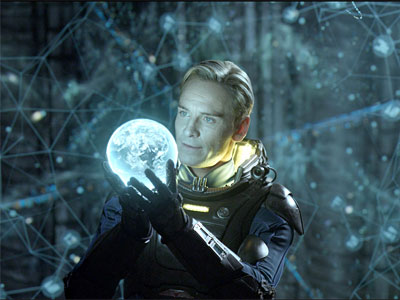 Steven Rea, Inquirer Film Critic:
"Unfortunately, as much as director Scott - an extraordinary visualist, if not visionary - would like to think Prometheus belongs in the company of 2001, it really doesn't."
Steven Rea, Inquirer Movie Columnist and Critic
CBGB is getting its own biopic. The famously squalid, seminal punk and New Wave venue – the Bowery boite where The Ramones, Patti Smith, Television, Blondie and a gang of now legendary acts launched their careers way back in the late '70s and early '80s– is the subject of a soon-coming feature, CBGB. (The name stood for Country, BlueGrass and Blues – the New York club finally shuttered in 2006.)
Foo Fighters drummer Taylor Hawkins, in his movie debut, will play shirtless wildman Iggy Pop. Rupert Grint, better known to most of the world as Ron Weasley from the wee little Harry Potter pics, is down to play Cheetah Chrome, guitarist with The Dead Boys. Others onboard include Malin Akerman, segueing from her big hair Rolling Stone reporter role in the '80s musical Rock of Ages, to playing Debbie Harry, frontwoman of Blondie. Brit thesp Alan Rickman (also a Harry Potter alum) has signed on to portray CBGB's colorful owner Hilly Kristal, Mickey Sumner (The Borgias) has been cast as Patti Smith, and Joel David Moore (nerdy Norm Spellman in Avatar) as Joey Ramone. Shooting starts this month, with Randall Miller (the California vintner flick, Bottle Shock) directing.
Molly Eichel, Inquirer Staff Writer
The new trailer for Quinten Tarantino's "Django Unchained" dropped today, featuring Jamie Foxx as a former slave-turned-bounty hunter and Leonardo DiCaprio as the colorful villain, a slave owner in possession of Foxx's wife (Kerry Washington, who we love). Christoph Waltz, who won an Oscar playing Tarantino's last colorful villain in "Inglorious Basterds," plays Foxx's partner-in-crime.
Spaghetti Western fans will recognize the Django moniker from the Franco Nero-starring film, but the character has been used in many unofficial sequels since its initial release. Whether Foxx will share the characteristics of the tight-lipped Django of yore has yet to be determined. But the original "Django," and many of its sequels, are known for their over-the-top violence, making Django the perfect surogate for Tarantino's bloody machinations.
"Django Unchained" is scheduled to open on Christmas Day. Are you pumped for another wordy, Tarantino bloodfest? Or will you skip this in favor of my family friendly fare.
Molly Eichel, Inquirer Staff Writer
The trailer for the long-awaited adapatation of Stephen Chbosky's "The Perks of Being a Wallflower" debuted last night during the "MTV Movie Awards." Logan Lerman ("Percy Jackson & the Olympians: The Lightning Thief") stars as Charlie, a shy, damaged teen trying to make his way through high school. He finds salvation in the form of siblings Emma Watson's Sam and Ezra Miller's ("We Need to Talk about Kevin") Patrick.
We loved this book when we were but youts, but haven't read it since. Could the material go all "Catcher in the Rye" on us and be not as good as we remember it being? Watson's Sam troubles us in particular, and that's no fault of Watson's. The trailer shoe-horns the character into this Manic Pixie Dream Girl archetype and we hope they travel beneath the shallow surface to find an actual character underneath. We could do without Lerman, but we're psyched about the rest of the cast, especially Miller, who was fantastic in "We Need to Talk About Kevin," and Mae Whitman ("Arrested Development," "Parenthood") as Charlie's first girlfriend, Mary-Elizabeth.
But perhaps we're being too sensitive due to the nature of the material. What do you think of the trailer?