Archive: April, 2012
Tirdad Derakhshani

Could Nicole Kidman really bring Grace Kelly to life on the big screen?
Sure, she's terrific, but does she possess that divine glow?
That exquisite ambrosial aura?
Steven Rea, Inquirer Movie Columnist and Critic
To Kill a Mockingbird, the 1962 Robert Mulligan-directed classic starring Gregory Peck and Brock Peters, will screen Saturday on the USA network -- a new digitally re-mastered version to be preceded by an introduction from President Obama.
A heartwrenching adaptation of the novel by Harper Lee, To Kill a Mockingbird is set in 1930s Alabama, in a small town where a black man is found guilty of raping a white woman, even though the evidence strongly supports his innocence. Peck plays Atticus Finch, the local lawyer who defends Peters' Tom Robinson. The issues of racism and justice raised by the film continue to resonate – witness the controversy over the shooting death of Florida teen Trayvon Martin.
In 1995, the Library of Congress selected To Kill a Mockingbird for preservation in the National Film Registry. In a statement issued Tuesday, Lee, now 85, said she was honored that Obama will introduce the film's USA showing, adding, "I'm proud to know that Gregory Peck's portrayal of Atticus Finch lives on - in a world that needs him now more than ever."
Steven Rea, Inquirer Movie Columnist and Critic
There's no mistaking the inspiration for the movie-within-a-movie in the Oscar-winning The Artist in which best actor winner Jean Dujardin leaps across the Spanish tile roofs of a hacienda, clad in black and sporting a mask, and then jumps on a horse to make his getaway. Dujardin and his director, Michel Hazanavicius, were homage-ing The Mark of Zorro, the 1920 Douglas Fairbanks swashbuckler, por supuesto.
And so, mark your calendars – with a big, bold "Z." On April 13 at the Rotunda in University City, and again on May 22 at the Bryn Mawr Film Institute, the rollicking Spanish California adventure classic will be screened with live musical accompaniment from Brendan Cooney, the pianist, composer and perpetrator of Not-So-Silent Cinema. Cooney's original score blends flamenco, tango, salsa, mariachi and jazz elements, and he'll be joined by trumpet (Patrick Hughes), bass (Josh Machiz) and guitar (Alban Bailey).
For info on The Mark of Zorro screenings, go to: www.notsosilentcinema.com
Dan Deluca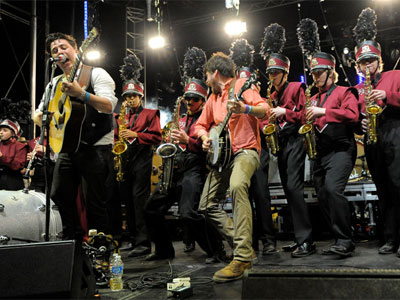 The opening and closing night movies have been announced for the first XPN Music Film Festival which is taking place mainly at the Annenberg Center in West Philadelphia this month.
On April 26, it's Big Easy Express, which follows Edward Sharpe & the Magnetic Zeros, Old Crow Medicine Show and Mumford & Sons on a traveling hootnenanny as their 2011 tour makes its way to New Orleans. On Sunday night April 29, the festival closes out with Under African Skies, a documentary that follows Paul Simon as he goes back to South Africa on the 25th anniversary of his 1986 township jive singer-songwriter album Graceland.
Other music flicks in the film fest include Swedish music-comedy-crime film The Sound Of Noise, California Solo, the story of a burnt-out Brit-pop rocker in L.A. played by Transpotting's Robert Carlyle; Charles Bradley: Soul Of America, about the Daptone soul and funk bandleader, and The Wrecking Crew, a documentary on the 1960s Los Angeles team of ace studio musicians whose members included Glen Campbell and Leon Russell.
Steven Rea, Inquirer Movie Columnist and Critic
A week without a film festival? Happily, in Philadelphia, that doesn't seem possible. The first Filadelfia Latin American Film Festival is set to kick off Friday, April 13, with a screening of Found Memories, to be held at International House, 3701 Chestnut Street in University City.
From Brazilian writer/director Julia Murat (daughter of acclaimed writer/director Lúcia Murat ), the feature debut is set in a Brazillian village at the base of a mountain, into which wanders a young photographer (Lisa Fávero) who asks questions, talks with strangers, and settles in for an exploration of the magical and the mundane. (The Portugese title for Murat's film is Historias que so existem quando lembradas, roughly translated as "Stories remembered that only exist when.")
The evening's program also includes a pre-screening reception and post-screening discussion led by Julia Solomonoff, one of the film's producers, and an after-party. For ticket info and details, and for future Filadelfia Latin American Film Festival programs, check out www.flaff.org
Molly Eichel, Daily News Staff Writer
The trailer for "Sparkle," Whitney Houston's final film, has hit the web. "Sparkle" is a remake of the 1976 musical, featuring Irene Cara ("Fame") in the role now played by "American Idol" champion Jordin Sparks. Think of it as "Dreamgirls"-Lite.
Houston is heavily present throughout the trailer, saying such prescient things as "Was my life not enough of a cautionary tale for you?"
"Sparkle" hits theater August 17. What do you think of the trailer? More importantly, what do you think of Whitney?
Jonathan Takiff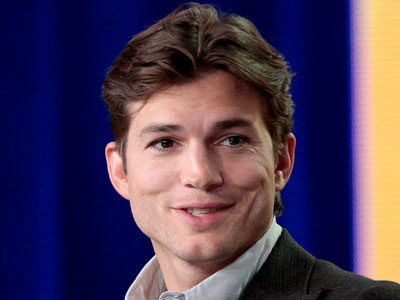 The April Fools Day leak that Ashton Kutcher has signed to play Steve Jobs in a bio-pic appears on the up-and-up, unlike other "news" on Apple.
First reported yesterday by the (up-for-sale) show biz chronicler Variety, Kutcher will start filming the Jobs story in May, after the "Two and a Half Men" series shuts down for the season. Ashton's physical resemblence to Jobs in the latter's hippy-youth clearly was the clincher.
This is not the Sony Pictures-backed Jobs opus using Walter Isaacson's authorized biography. Rather it's an "indie" project from Five Star Institute focusing more narrowly (maybe for legal reasons) on the early years when Jobs was co-founding Apple in a garage with Steve Wozniak and Ronald Wayne.