Archive: January, 2012
Steven Rea, Inquirer Movie Columnist and Critic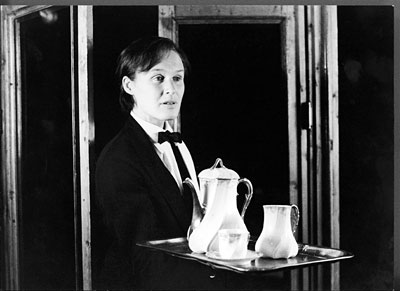 In interviews – including one forthcoming with yours truly – Glenn Close has been telling people how she's struggled to bring the character of Albert Nobbs to the big screen for, well, forever. Playing a woman forced to disguise herself as a man in order to survive in 19th century Ireland, Close has rightly received accolades for her performance, not to mention a Golden Globe best actress nomination. And don't be surprised if an Oscar nod follows when the Academy announces its nominees on Jan. 24.
Well, here's a photo of Close in the original Manhattan Theatre Club Downstage production of The Singular Life of Albert Nobbs, written and directed by Simone Benmussa, adapting a short story by George Moore. Albert Nobbs the film, directed by Rodrigo Garcia from a screenplay by Close and John Banville, opens in the Philly area on Jan. 27.
Tirdad Derakhshani
Fans of Angelina Jolie can see her talk about her Golden Globe nominated film debut as writer-director, In the Land of Blood & Honey, during a 45-minute live online chat with the star on Thursday at 8 p.m.
You can submit questions or just watch. The vid will be shown on nine different Hearst Magazine sites.
Jolie, who is featured on the January cover of Marie Claire and recently co-hosted a screening of her film at Hearst Tower in New York City, said, "This is my first online chat and I'm thrilled that Hearst is broadcasting this across so many of its websites to reach such a diverse audience as the film expands into more theaters," she said in a Hearst Magazine press statement.
Steven Rea, Inquirer Movie Columnist and Critic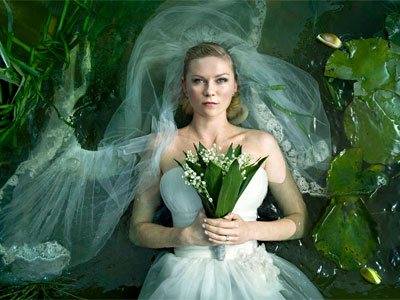 It was a Yin and Yang year, as the National Society of Film Critics saw it. In deliberations that lasted all afternoon Saturday at the fabled Broadway eatery Sardi's, the critics group bestowed its best picture prize to Lars von Trier's brooding, end-of-world saga, Melancholia, while giving the best director nod to Terrence Malick for his similarly cosmic but vastly more hopeful The Tree of Life.
In the acting categories, Kirsten Dunst won best actress for her work in Melancholia, Brad Pitt for his performances in both Moneyball and The Tree of Life, while the supporting awards went to Albert Brooks (a violent mobster in Drive) and Jessica Chastain (who appeared in six 2011 releases, but was recognized for her work in three: The Help, Take Shelter and The Tree of Life.)
A Separation, Asghar Farhadi's powerful Iranian drama, won in both the best foreign language and best screenplay categories.
Steven Rea, Inquirer Movie Columnist and Critic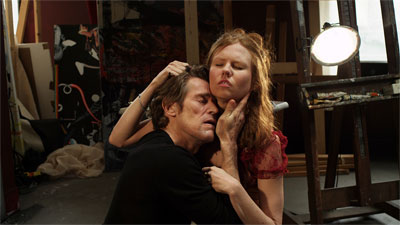 Reprinted as it came into the inbox, here's a press release and photo announcing the imminent release of the Willem Dafoe/Shanyn Leigh downtown New York apocalyptic sex drama, from the fervent mind of Abel (Bad Lieutenant) Ferrara. Does Lars von Trier know about this?
How would we spend our final hours on Earth? And what does how we choose to die say about how we have chosen to live? In the inimitable Abel Ferrara's (GO GO TALES, KING OF NEW YORK) new film, this thought experiment takes on a visceral immediacy. With the planet on the verge of extinction, a New York couple, (Oscar-nominated Willem Dafoe and Shanyn Leigh), cycles through moments of anxiety, ecstacy and torpor. As they sink into the havens of sex and art, and Skype last goodbyes in a Lower East Side apartment filled with screens bearing tidings of doom and salvation, 4:44: LAST DAYS ON EARTH becomes one of Ferrara's most potent and intimate expressions of spiritual crisis. The first fiction feature of Ferrara's to be filmed entirely in New York in over a decade, 4:44 is a mournful valentine to his beloved city.


Steven Rea, Inquirer Movie Columnist and Critic
The Artist, Bridesmaids, The Descendants, The Girl with the Dragon Tattoo, The Help, Hugo, The Ides of March, Midnight in Paris, Moneyball and War Horse – there you have the ten nominees for 2011's best picture, announced by the Producers Guild of America on Tuesday. Most of this batch were to be expected – the Golden Globe nominations, the Screen Actors Guild nominations, and many of the key critics groups have already given pics like The Artist, The Descendants and The Help big momentum as the Oscar's annual nominating ritual approaches. But Bridesmaids, the R-for-raunch hit comedy, and The Girl with the Dragon Tattoo, David Fincher's intense thriller adapted from the Stieg Larsson bestseller, both come as something of a surprise.
The influential Hollywood guild's annual nominations – its members only vote for best picture, no other category – have traditionally lined up squarely with the Academy's best picture choices, so consider this list is a good bellwether. (About 80% of PGA nominations go on to receive Oscar nods for best picture, and fifteen of the 22 PGA winners over the years have also won the best picture Academy Award, including the last four years' titles: The King's Speech, The Hurt Locker, Slumdog Millionaire and No Country for Old Men.
The PGA announces its winner on Jan. 21. Academy Award nominations are announced three days later, on Jan. 24, and the Oscar telecast is set for February 26.