Nick Vadala, Philly.com
Back in 1916, German saboteurs were responsible for a number of fires and bombings that shocked the country. Ultimately, their attacks played a large role in deploying American troops to Europe in World War I, but now, the story is about to get an update—and Bradley Cooper is tagging along for the ride. Things are about to get historical up in here.
Cooper has signed on to play Tom Tunney, the film's protagonist and an apparent "cunning Irish cop," from the film's description. Warner Bros. recently acquired the rights to the story, which come from an as-yet-unreleased book sharing the Dark Invasion moniker. Cooper also will produce.
Essentially, Cooper's newest effort will explore the hunt for the "first terrorist cell in America" prior to American's entry into World War I. Tunney, whom Cooper will presumably portray sans Jehri Curl, was the man who headed up the hunt to stop ze Germans from unleashing a biological attack, bombing the Capitol, or assinating one of the US's captains of industry. See that? Historical.
Nick Vadala, Philly.com
Dav Pilkey's Captain Underpants series has captured children's imaginations since its debut in 1997, revolving around a comic book superhero turned real after a couple of fourth graders bring him into the real world. Now, though, he's about to get even more real with an animated big-screen adaptation involving funnymen Kevin Hart and Ed Helms.
Dreamworks recently announced part of the film's cast, which includes Nick Kroll, Jordan Peele, and Thomas Middleditch in addition to Hart and Helms. Pulling talent like that—all of whom have worked on big-name networks and shows—ought to result in something at least tolerable by parents—if not enjoyable.
Hart will voice fourth-grader George Beard, while Middleditch will take over as his best friend, Harold Hutchins. Helms plays the scheming, megalomaniacal principal, Mr. Krupp, whom Hart and Middleditch will hyponotize to get Captain Underpants in the flesh. The villain, though? Nick Kroll, who will voice the nefarious Professor Poopypants.
Molly Eichel, Daily News Staff Writer
Philly actor Evan Jonigkeit needs a facial.
Jonigkeit is playing Toad in "X-Men: Days of Future Past," featuring Oscar nominees Jennifer Lawrence and Michael Fassbender, alongside Hugh Jackman, James McAvoy and Patrick Stewart. Recently, British movie mag Empire released a first view of Jonigkeit as Toad:
Nick Vadala, Philly.com
Jennifer Lawrence is just like us in that she enjoys the cheesy crunch of a nice bag of Doritos now and again. The difference, though, is that when she does it, she ruins iconic pieces of wardrobe from blockbuster films.
In a recent interview with Vanity Fair, costume designer Michael Wilkinson spilled the beans about Lawrence's love for the cheesy, fried snack food:
"I'm kind of glad we did [have extras] because Jennifer Lawrence is a very . . . let's say . . . raw and intuitive young lady, and she's not against eating Doritos and snack food in her costume. So we were glad that we had a couple [backups]."
Nick Vadala, Philly.com
In some ways, Evan Goldberg's creative efforts have always been somewhat of a sausage party. Now, though, he's taking it literally with the upcoming, R-rated animated feature, Sausage Party. And he's bringing the usual suspects along with him.
What's a lonely sausage to do when he falls out of someone's grocery cart during a 4th of July sale? Sausage Party will examine that question in depth, and apparently the answer is for him to enlist the help of other store items to make it back on the shelf. All that work just to get cooked and eaten, but, then, a sausage doesn't have much of another purpose in life—so, perhaps that's the message. Or just an easy in for food-related blue humor, which is just as good.
Confirmed voice talent includes the usual Goldberg favorites, including Jonah Hill, James Franco and Seth Rogen. Also along for the ride are Kristen Wiig, Michael Cera, and—oddly enough—Edward Norton, so at least the sausage party moniker carries over to the cast list.
Nick Vadala, Philly.com
Look, fandom is fine. A little obsession, maybe a smattering of collecting on the side—it's healthy to have interests. But dropping $100,000 on a movie prop? That's on a whole other level, which luckily for Jurassic Park fans is now accessible through eBay.
Up for sale right now is a velociraptor cage from the 1993 original film—the genuine article. If you're a fan, you might recognize the cage from Jurassic Park's opening scene, which shows workers loading dinosaurs into enclosures. This is one of those enclosures. And it includes a prop dinosaur: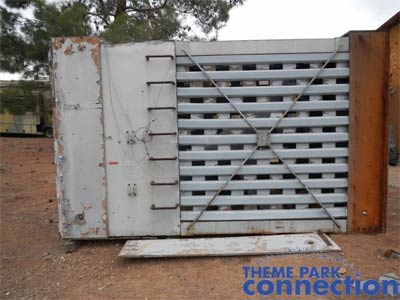 Nick Vadala, Philly.com
Since producers announced that Ben Affleck would be the next Batman in Batman vs. Superman, the internet has been very upset. And in a recent Playboy interview, Ben Affleck says he understands the concern—even he didn't want Ben Affleck to be the next Batman.
In fact, Affleck initially passed on the offer to be the next Caped Crusader, but after reviewing director Zack Snyder's take, he was in. What drew him in, he tells Playboy, was the unique approach to the Batman universe's mythology. As Affleck says:
"The stuff was incredible. … It was a unique take on Batman that was still consistent with the mythology. It made me excited. All of a sudden I had a reading of the character. When people see it, it will make more sense than it does now or even than it did to me initially."
Nick Vadala, Philly.com
There are few movie franchises as nostalgically remembered as Michael Chrichton's Jurassic Park. But now, with the addition of Parks and Recreation's Chris Pratt in the lead role for Jurassic World, that nostalgia is about to get an update.
Chris Pratt—Andy from Parks and Rec—recently confirmed his slot as the lead role of the film, confirming news of negotions from late 2013. In fact, director Ron Howard tweeted a photo of Pratt with his daughter, saying that the two would make some sort of appearance in Jurassic World. So we can rest easy knowing the Happy Days guy is a man of his word.
Pratt announced his role at a presser for The Lego Movie at Legoland in California, saying that he has long been a fan of the series. From the looks of it, Pratt's performance is likely to be inspired: