Layla A. Jones

, philly.com
On a sunny day when most students would be outside, a group of teens gather attentively around a single iPad. With the touch of a button, a Moroccan student appears on screen, posing questions for the day's discussion.
Is Superman real, the student asks his American counterparts, followed by a weightier topic, "Do you feel free in your country?"
So begins another Wednesday at Penrose Recreation Center on the corner of 12th Street and Susquehanna Avenue in North Philadelphia. Each week, it transforms into a wanderlust-filled afterschool program called Do Remember Me, giving children – some of whom have never left Philadelphia – a chance to travel virtually around the world.
Sam Wood, Philly.com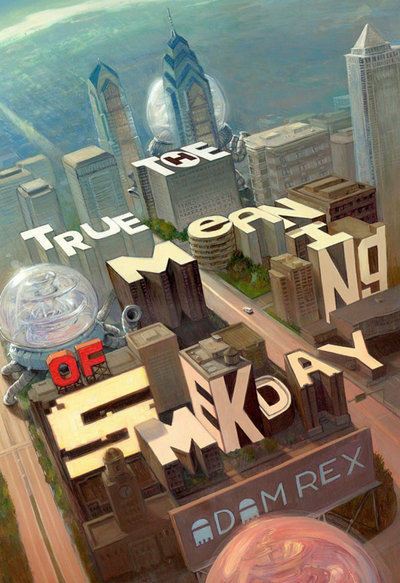 Home, the buddy comedy from DreamWorks Animation about an alien invasion, was born in West Philadelphia.
Set for release on Friday, the computer-animated family film is based on The True Meaning of Smekday, an uproarious children's novel penned by writer and illustrator Adam Rex. For eight years, Rex and his wife lived in West Philadelphia while she earned her Ph.D. in physics from the University of Pennsylvania.
In Smekday, a West Philly girl, voiced in the movie by Rihanna, embarks on a roadtrip to search for her mother who has been abducted by an inept race of aliens. Along the way, she meets up with an on-the-lam outcast (The Big Bang Theory's Jim Parsons in Home) who is hiding from his fellow intersteller invaders.
Rob Tornoe
It's moments like this I'm glad I'm a cartoonist. There's no way I could really express in words the profound effect "Star Trek" and, more specifically, Mr. Spock, had on me when I was a kid.
So hopefully my cartoon explains why the emotion I felt hunched over my drafting table this afternoon when I found out longtime Star Trek actor Leonard Nimoy passed away wasn't sadness, it was gratitude.
More than being sad about an actor that embodied a character that left an imprint on my childhood, I have to say I'm thankful that Nimoy was blessed with a long life and a large footprint that allowed him to stoke the imagination of countless people all over the world.
Mare McKeever

, philly.com

It's Oscars time! Join us now commentary from the Inquirer, Daily News and Philly.com staff members as we chat all Oscars everything. Starting with the red carpet until the very last award we'll discuss fashion, celebs, winners and more!
Marc Graser
LOS ANGELES (Variety.com) - After Sony attempted to reboot its "Spider-Man" franchise with Andrew Garfield as the web slinger, the studio is ready to give it a third try, this time with Kevin Feige, the man who has produced 10 consecutive blockbusters for Marvel Studios.
A deal to free up Spider-Man to appear in the Marvel cinematic universe, starting in 2017, is a clear admission by Sony that its superhero strategy with one of the most popular comicbook heroes around simply isn't working.
That's especially true at a time when the studio is desperate for some major film franchises. Struggling with one of the comicbook industry's most popular superheroes was starting to get embarrassing -- especially when "Guardians of the Galaxy," starring a cast of misfits unknown to most moviegoers, broke out as a bigger hit in 2014 than the last "Spider-Man" movie when it made $774 million. "The Amazing Spider Man 2" earned nearly $709 million worldwide.
Brett Lang
LOS ANGELES (Variety.com) - "American Sniper" has "Mockingjay" in its sights.
The war drama is poised to surpass the most recent edition of "The Hunger Games" as 2014's top-grossing release, analysts say. The Warner Bros. and Village Roadshow pic has made $282.4 million thus far, putting it in third place on the charts, behind "Mockingjay -- Part 1," which has earned $335.7 million, and "Guardians of the Galaxy," which has grossed $333.2 million.
BoxOffice.com is now predicting that the film will generate $360 million-$365 million during its domestic run.
Brent Lang
LOS ANGELES (Variety.com) - "The Hunger Games: Mockingjay - Part I," "Gone Girl" and "Maleficent" are powered by indelible female protagonists and rank among the biggest films of last year, but women are still treated like second-class citizens when it comes to most Hollywood movies, according to a new study.
They're the girlfriend, the mother or the wife. Their value is determined in relation to the people they bed, marry or birth.
The gender gap is documented in new research by the Center for the Study of Women in Television and Film at San Diego State University that found that females comprised a paltry 12% of protagonists in the top-grossing films of 2014. Over the past decade, the situation has gotten worse, not better. The latest figures represent a drop of three percentage points from 2013 and a fall of four percentage points from 2002.
Stuart Oldham
LOS ANGELES (Variety.com) - Peter Parker is returning to Marvel.
In a reboot of the "Spider-Man" franchise, Sony Pictures Entertainment has announced a new partnership with Marvel Studios that brings the popular superhero into the Marvel universe.
A new Spider-Man film will hit theaters on July 28, 2017.