A.D. Amorosi
If you live in Philadelphia, are over 35 years of age and the name "Tayoun" comes up, you think of Ed Tayoun's legendary Old City nightclub/restaurant the Middle East and onetime First District Councilman Jimmy Tayoun's Philadelphia Public Record newspaper.
If you're younger, you've been exposed to another pair of Tayoun brothers – Philly musician/educators Billy and Joe Tayoun. The keyboardist and percussionist, respectively, play the authentic folk songs of Lebanon and beyond with the Mid-East Ensemble and modernist Middle Eastern rock group Barakka.
If you just happened to miss Barakka, you've surely been witness to The Roddenberries, the Star Trek tribute band that the Tayouns are a part of with members of the Peek-a-Boo Revue and filmmaker/multi-instrumentalist Andrew Geller.
A.D. Amorosi
Philadelphia film director, multimedia provocateur, Scrapple TV CEO and painter Marc Brodzik is an endlessly fascinating chap whose work as a movie maker ranges from doing various jobs with this city's original Gyro Advertising crew for the kitschy hyper-sexualized Bikini Bandits series, to more serious matters like the plight of Central Pennsylvania coal miners
Through his Woodshop Films banner, Brodzik's VICE TV-like escapades include looks at outsider locals such as Hello My Name Is Darren's Darren Finizio and murderous hardcore punk Sam "Sammytown" McBride.
A.D. Amorosi
Elizabeth Banks has had some pretty great weekends of late.
The actress co-stars in Love & Mercy about the Beach Boys' Brian Wilson, which was released on June 5, the same date that first photos from the blockbuster Hunger Games: Mockingjay Part 2 (in which she appears) dropped. That same weekend, her directorial debut, Pitch Perfect 2, accumulated $250 million internationally since its May 15 release (the number 1 film in America at that time).
This weekend, not only was it announced that the production company (Brownstone) she shares with her husband Max Handelman is gearing up to produce Pitch Perfect 3 (yes, they were amongst the producers of the other two as well), but word has it that Banks also has chosen her next directorial effort: Victoria Aveyard's YA novel Red Queen – think Cinderella spliced with Game of Thrones – for Universal. Then there's Magic Mike XXL, the Channing Tatum film which opens this weekend. Yes, she's in that film as well.
Mare McKeever
Prepare yourselves for what may be a hilarious and terrific spin on the notoriously naughty film that took box offices worldwide by storm earlier this year.
Funny guy Marlon Wayans is teaming up with writer and producer Rick Alvarez for "Fifty Shades of Black," according to The Hollywood Reporter.
"We're excited to be back in business with IM Global doing our comedic remix of this movie. Sex and comedy go hand-in-hand and I'm looking forward to having fun with this project. It's amazing when a film of this caliber comes along begging to be made fun of. I'm really happy to be doing what I love with people I love to do it with. That double entendre was intentional," Wayans tells The Hollywood Reporter.
Molly Eichel

, Staff Writer
Wayne native Abbi Jacobson and comedy partner Ilana Glazer, the stars of Comedy Central's brilliant Broad City, have sold an untitled movie to Twentieth Century Fox. Bridesmaids director Paul Feig is attached to produce.
While Glazer and Jacobson are not attached to star, nor is Feig attached to direct, it's the first foray into film for the comedic duo, who play outsized versions of themselves on the hit Comedy Central show.
Feig is a champion of female comedians and is set to helm the upcoming all-female Ghostbusters reboot, starring Melissa McCarthy, Leslie Jones, Kristen Wiig and Kate McKinnon.
Layla A. Jones
On a sunny day when most students would be outside, a group of teens gather attentively around a single iPad. With the touch of a button, a Moroccan student appears on screen, posing questions for the day's discussion.
Is Superman real, the student asks his American counterparts, followed by a weightier topic, "Do you feel free in your country?"
So begins another Wednesday at Penrose Recreation Center on the corner of 12th Street and Susquehanna Avenue in North Philadelphia. Each week, it transforms into a wanderlust-filled afterschool program called Do Remember Me, giving children – some of whom have never left Philadelphia – a chance to travel virtually around the world.
Sam Wood, Philly.com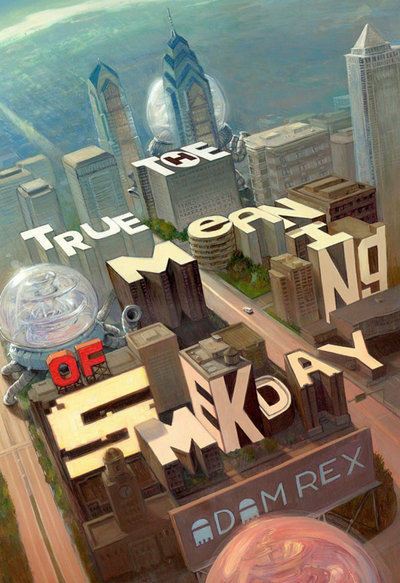 Home, the buddy comedy from DreamWorks Animation about an alien invasion, was born in West Philadelphia.
Set for release on Friday, the computer-animated family film is based on The True Meaning of Smekday, an uproarious children's novel penned by writer and illustrator Adam Rex. For eight years, Rex and his wife lived in West Philadelphia while she earned her Ph.D. in physics from the University of Pennsylvania.
In Smekday, a West Philly girl, voiced in the movie by Rihanna, embarks on a roadtrip to search for her mother who has been abducted by an inept race of aliens. Along the way, she meets up with an on-the-lam outcast (The Big Bang Theory's Jim Parsons in Home) who is hiding from his fellow intersteller invaders.
Rob Tornoe
It's moments like this I'm glad I'm a cartoonist. There's no way I could really express in words the profound effect "Star Trek" and, more specifically, Mr. Spock, had on me when I was a kid.
So hopefully my cartoon explains why the emotion I felt hunched over my drafting table this afternoon when I found out longtime Star Trek actor Leonard Nimoy passed away wasn't sadness, it was gratitude.
More than being sad about an actor that embodied a character that left an imprint on my childhood, I have to say I'm thankful that Nimoy was blessed with a long life and a large footprint that allowed him to stoke the imagination of countless people all over the world.