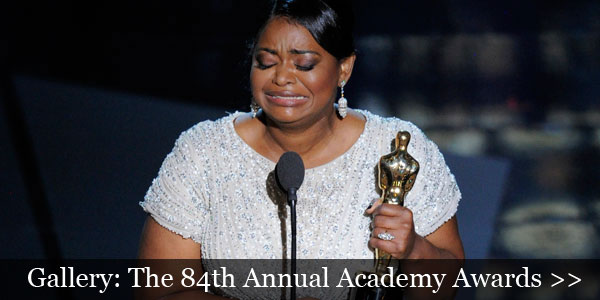 Cozy up to your TV and enjoy The 84th Annual Academy Awards with film critic Carrie Rickey, as she weighs in on the the winners, the losers, and everything in between.
11:51: I'm going to sign off now, but please follow me at my new site CarrieRickey.com.
11:50: Even though, as widely predicted, "The Artist" took the top honors at the 84th Academy Awards, there were surprises. Meryl Streep won best actress over the heavily-favored Viola Davis for "The Help." And Billy Crystal, along with producers Don Mischer and Brian Grazer, kept the show moving at a trim 3 hours and 8 minutes. I think Crystal should be host for life. From the opening montage of nominated actors in clips persuading Crystal to come back as host to the emotional thanks of "Artist" producer Thomas Langmann, who thanked his late father, Claude Berri -- the last French producer to have a set picture nomination (for "Tess" in 1980), the show was a great mix of the prepared, the ad lib and the unexpected. What did you thinK?
11:44: The Oscars ran three hours, eight minutes. "The Artist" took five Oscars in total, for best picture, best director, best actor Jean Dujardin, music score and costumes. "Hugo," likewise a movie about movies set in the 1920s, also won five: for cinematography, art direction, sound editing, sound mixing and visual effects. Upset: Meryl Streep took the best actress honors for her role as Margaret Thatcher in "The Iron Lady," winning the prize expected to go to Viola Davis in "The Help."
11:36: Tom Cruise comes out to give the statuette for best picture. The Oscar goes to "The Artist." It is the first silent movie to win prize since the first Oscar ceremony in 1929. It wins five awards, tying with "Hugo." Producer Thomas Langmann accepts the prize and pays tribute to his father, Claude Berri, an Oscar winner. Berri received his 1965 Oscar for best short in the mail because he could not afford to fly to Hollywood.
11:35: Streep says: I look out here and I see my life before my eyes: Old friends and new friends. Viola Davis was widely tapped to win. Quite surprising, but Streep was terrific as Margaret Thatcher in "The Iron Lady," even though the ovie underwhelmed.
11:30: He salutes Michelle Williams and her "My Week With Marylin" performance. He hands the statuette to Meryl Streep -- the first upset of the evening. It is her first Oscar in 29 years. Now she has three. Streep is the woman who said at the Golden Globes three years ago of her Doubt co-star Viola Davis, "Someone get this woman a screenplay!." She thanks her husband, sculptor Don Gummer. She also thanks her makeup partner Ray Helland, who she's worked with for 37 years.
11:29: OK: Right now, it's five awards for "Hugo" and four for "The Artist." If "The Artist" wins best picture, it will have the same number of statuettes as "Hugo." Now we'll get best actress award presented by Colin Firth, last year's acting winner for "The King's Speech." He praises Glenn Close, nominated for "Albert Nobbs," as an actress of "great humanity." (This is Close's sixth nomination." To Viola Davis in "The Help": "When watching an actress of great strength, one can feel it one's hair follicles." To Rooney Mara of "The Girl With the Dragon Tattoo," he praises her combination of strength and fragility. To Meryl Streep, his "Mamma Mia!" co-star and 17-time nominee, he says "You are unreasonably good."
11:23: Dujardin, who is a well-liked television and film comedian in France, worked as a contractor. His biggest screen parts have been as a self-satisfied spy in Michel Hazanavicius' "OSS" movies, ''60s-era spoofs that are the Gallic equivalent of the Austin Powers flicks.
11:22: Natalie Portman presents best actor honors, pays tribute to Demian Bichir as the illegal alien in "A Better Life" as "giving voice to voiceless." Pays tribute to George Clooney as doing the impossible, "making us think you are a regular guy, although in irregular circumstance."
To Jean Dujardin of "The Artist: "You spoke only two words onscreen but your character spoke volumes." To Gary Oldman of "Tinker Tailor Soldier Spy": "It's incredible that this is your first nomination." To Brad Pitt in "Moneyball": "Your charisma and inventiveness made us root for the underdog." The Oscar goes to Jean Dujardin, the fourth award fr "The Artist." Dujardin is a French comedian. He mentioned that first Oscar ceremony, Douglas Fairbanks was emcee and the event was 15 minutes. Dujardin modeled his performance on that of Fairbanks.
Dujardin: "If [his character] Georges Valentin could speak, he's say 'Wow! Formidable!"
11:11: I think it very possible that this sucker will be over by 11:30. Just three more awards -- actor, actress and picture. If it's over by 11:30, not the shortest Oscars ever, but one of the shortest in recent memory.
The theory is that when the best picture winner is not a box office winner ("The Artist" has grossed only $31 million thus far, Hugo about $77 million) the TV audience is likewise small, and when the winner is a blockbuster like Titanic or Lord of the Rings, the audience is huge. If that's true tonight, it will be too bad as this is actually an enjoyable show.
11:08: Crystal pays tribute to the late Oscars producer Gil Cates. Ken Russell! Farley Granger! Whitney! Peter Falk! Cliff Robertson! Sidney Lumet! (Who was born in Philly.) Steve Jos! Vanguard filmmaker George Kuchar! Documentarian Tim Hetherington, killed in the middle east. Marion Foughtery who cast everyone who is anyone. Norman Corwin, the great radio storyteller. Ends with Taylor. Understated and lovely. That's Marion Dougherty.
Esperanza Spalding is singing "It's a Wonderful World" during In Memoriam tribute. Spectrally lovely.
10:59: Meryl Streep, looking like an Oscar statuette in gold lurex, introduced by Crystal who enumerates her many awards, including two Oscars. "She's either the greatest actress who ever lived or a hoarder!" Streep introduces the clip of honorary award winners Oprah Winfrey, Jean Hersholt Award winner, and James Earl Jones, winner of the life achievement award. Winfrey, Jones and Dick Smith in auditorium and receive the third standing O of the evening.
10:54: Michel Hazanavicius takes director honors for "The Artist," which now has three statuettes.Hazanavicius thanks Uggy the dog, the Jack Russell terrier who nearly stole the movie.
Michael Douglas to present the award to best director. Douglas, who battled cancer last year, is looking hale and hearty. If Scorsese wins this, it will be only his second Oscar (after directing "The Departed") in 10 nominations.
10:51: One thing I know from all my years of Oscar-watching: The film's that leads in the final stretch -- which we're in now -- is not always the big winner. So although "Hugo" is ahead five statuettes to "The Artist's" two, anything can happen.
10:50: In keeping with the evening's theme of celebrating the magic of movies, the Oscar set looks like a classic movie palace, there's an orchestra like those accompanying silent films and uniformed concession girls stroll the aisles passing out popcorn. Corny? I think so.
10:46: Best animated short goes to "The Fantastic Flying Books of Morris Lessmore," a superb short.
10:45: Rose Byrne and Melissa McCarthy -- "Bridesmaids" co-stars, start Scorsese drinking game by name-checking director and taking swig of Stoli. "Saving Face," takes the prize over "God is the Bigger Elvis," the tale of former Hollywood actress Dolores Hart, now a nun.
10:40: "This has been a good year for strong female characters who run countries and wear petticoats like "The Iron Lady" and "J. Edgar," says Billy Crystal in introducing the women of "Bridesmaids." Many double-entendres that would have been naughty in the 1960s but are meh today. Terry George's "The Shore" wins best live-action short, a charming Irish story.
10:37: Have to say that I am liking the show so far. Producers Brian Grazer and Don Mischer really have programmed this to move and Crystal is taking the turns like a NASCAR driver. Two hours in, seven awards -- three of them to shorts -- left. Had to laugh at "Descendants" screenwriter Nat Faxon who vogued onstage in imitation of presenter Angelina Jolie. Very naughty.
Awards tally thus far: Hugo has five, The Artist two, Midnight in Paris and The Descendants one each. Milla Jovovich recaps technological awards, including digital cameras that are making obsolete film cameras.
10:36: Oscar montage of what actors want to watch on screen. Sacha Baron Cohen, who caused a red-carpet scandal by dumping mock ashes from a mock funerary urn on Ryan Seacrest, says "I wanted to make the movies I wanted to watch. I wanted to watch very sick stuff."
10:35: For original screenplay, 'Bridesmaids" and "Midnight in Paris" get largest cheers in the auditorium. Oscar goes to Woody Allen for "Midnight in Paris." This is Allen's fourth Oscar and 23rd nomination. He won previously for his screenplays for Annie Hall and Hannah and Her Sisters and for directing Annie Hall. He does not attend the Oscars out of principle.
10:30: Angelina Jolie, flashing a long, long, gam, strides out to present award for adapted screenplay. Oscar goes to Alexander Payne, Nat Faxon and Jim Rash for "The Descendants." Payne is a previous winner for his adaptation of "Sideways." Payne pays tribute to author Kaui Hart Hemings. Payne dedicates his Oscar to his mother, thanking her for letting him miss nursery school so they could watch Oscars."
10:26: Almost two hours into the show. Only nine awards -- and the tribute to the celebrities who have passed in the last year -- left. Elizabeth Taylor and Whitney Houston will be the centerpieces of that tribute.
10:25: Oscar fact: Nine Saturday Night Live actors have been nominated for Oscars, including Kristen Wiig, nominated this year for co-writing the "Bridesmaids" script.
10:19: MacKenzie, the New Zealand-born composer of "Flight of the Conchords," accepts the award. It was exciting to meet Kermit the Frog,he says, who like everyone else in Hollywood, is shorter than you think.
10:19: Will Ferrell and Zach Galifianakis enter, wearing white tails and clapping cymbals. They are here to present "best original song." Reasonably sure that "Man or Muppet" will take the prize over "Lost in Rio." Only two nominees. Oscar goes to Bret Macenzie for "Man or Muppet."
10:12: Penelope Cruz and Owen Wilson sweep in to present award for best musical score. Controversy in their category as "The Artist" composer "sampled" Bernard Herrmann's score from "Vertigo," inciting 'Vertigo" star Kim Novak to say that "it felt like rape." Well, despite Ms. Novak, Ludovic Bource of "The Artist" wins anyway.
10:10: Academy president Tom Sherak is on. Bathroom break. Billy Crystal thanks Sherak for "whipping the crowd into a frenzy."
10:07: 13 awards given; 11 to go. Crystal does a mind-reading stunt: "Brad Pitt: "This better not go too late, I have six parent/teacher conferences in the morning." Viola Davis: "I wanted to thank my filmmakers for giving me a strong female role that wasn't played by Tyler Perry." Uggy (dog from The Artist): "If I had him, I'd lick him."
10:02: I don't think anyone predicted an almost- "Hugo" sweep for the technical and artistic categories, but there it is, with five statuettes. While most predicted that Christopher Plummer would win as the sprightly gay Dad in "Beginners," there was a lot of love in the room for him and for supporting actress winner Octavia Spencer. So far, a feel-good night.
10:00: Last year's supporting actress winner, Melissa Leo of "The Fighter," presents best sporting actor honors to Christopher Plummer, 82, for "Beginners." After a brilliant stage and screen career where he was Capt. von Trapp in "The Sound of Music" and Mike Wallace in "The Insider," Plummer never received a nomination until 2010 when he played Leo Tolstoy in "The Last Station." In "Beginners" he plays a widow who comes out, much to the shock of his perplexed son. Plummer is the oldest actor ever to win Oscar. He gets standing O. The Canadian-born thespian, father of actress Amanda Plummer, hoists statuette and says, "My darling, you are two years older than I. Where have you been all my life." He honors fellow nominees: "I'm so proud to be in your company."
9:51: Melissa McCarthy and Billy Crystal do funny dressing room scene where the "Bridesmaids" star vamps the host. Ben Stiller and Emma Stone, who looks like a visual effect herself with her Titian hair and ruby dress, are an Odd Couple as the low-key veteran actor and perky newby. "Hugo" picks up a fifth Oscar for visual effects. The team recreated 1920s Paris on a London soundstage and on their computers.
9:49: OK. 1 hour, 20 minutes in. Oscarcast moving pretty fast. Except for the superfluous "Cirque de Solelil" sequence, I like it. Except for one dead-on-arrival joke about "The Help" Billy Crystal is on the top of his game. Your thoughts?
9:48: Chris Rock presents animation award to "Rango," triply movie voiced by Johnny Depp. Rock jokes that in animation "white actors can play Arabian princes and black men play donkeys or zebras." Rock voiced a zebra in "Madagascar."
9:40: Gwyneth Paltrow and Robert Downey Jr., "Iron Man" co-stars, come out to present documentary awards. Downey followed by cameramen, says he's filming a doc called "The Presenter." Oscar goes to "Undefeated," a football doc.
9:42 via @elgray: With all due respect to Cirque du Soleil, going to the movies is nothing like this. Way to scare off potential moviegoers, #Oscars.
9:38: OK, If someone from Cirque de Soleil doing trapeze work above Oscar audience falls, what happens? Oscar audience gives Cirque de Soleil a Standing O. Crystal says, "I pulled a hamstring just watching."
9:34: Kermit and Miss Piggy appear to talk about their first movie experience and introduce Cirque de Soleil who do their acrobatic tribute "Going to the Movies" in front of clips from celebrated films such as "North by Northwest" and, I think, "Batman." Now they are simulating movie audience. This isn't exactly cinematic, but para-cinematic.
9:33: Odd Oscar fact: Thelma Schoonmaker, who has edited most of Martin Scorsese's movies (they met at NYU in the '60) has two Oscars and three nominations. He has one Oscar and 10 nominations.
9:30: Nine awards given. 15 to go. Like the sound award winner who quipped "I thank everyone who's ever lived, been born, born-again, and if you haven't been mentioned, you know who you are."
9:28: Cooper and Fey present sound mixing award to Hugo -- its fourth statuette. It is racking up the statuettes The evening is turning into a testimonial to Martin Scorsese and his longtime editor Thelma Schoonmaker.
9:27: Fey and Cooper present sound editing award: Hugo takes its third statuette of the evening, for sound editing.
9:26: Tina Fey and Bradley Cooper present award for editing. Cooper says director and editor "like a marriage. Fey chimes in "And just like a marriage they spend time in a dark room ordering in food looking at pictures of other people." The award goes to Kirk Baxter and Kevin Wall for "The Girl With the Dragon Tattoo." This team won last year for "The Social Network," also directed by David Fincher.
9:24 via @elgray: If "that moment with Octavia Spencer is what the #Oscars are all about," Billy, why not trim the opening to allow enough time for speeches?
9:22: Billy Crystal explains how movies are test-screened and focus-grouped. Says he'll show focus group for "The Wizard of Oz." Funny clip with Eugene Levy, Catherine O'Hara and Bob Bablaban. "Cut the Rainbow song," one says. Pretty droll.
9:21: So far, six statuettes given to five films. Like a kids' birthday party, everyone gets a goody bag. Will this trend hold throughout the evening?
9:14: Christian Bale on hand to give supporting actress honors. All the nominees are first-timers. Octavia Spencer, a veteran supporting actress (and former roommate of "The Help's" director Tate Taylor) is the odds-on favorite for her role as the short-fused, sarcastic, pie-making Minny. Spencer wins! She's kissed by Taylor and co-star Viola Davis. She receives a standing ovation, rare for one not more than 60. "Thank you, Academy, for giving me the hottest guy in the room," she says, clutching Oscar, and sobbing. She thanks her co-stars. "Thank you world!"
9:11: Sandra Bullock presents the foreign film award. Oscar goes to the superlative "A Separation" from Iran from director Asaf Farhadi. It's a heartbreaker about a custody dispute between parents that spirals out of control. Farhadi delivers a speech about the historic culture of his country.

9:10: Pacing of the show is brisk, especially considering Crystal's 11-minute opening montage and medley. Five awards given in the first half hour. "Hugo" has two artistic awards, cinematography and art direction. "The Artist" has one, for costumes. What do you think of the show so far?
9:07: Nice montage of Morgan Freeman, Brad Pitt, Reese Witherspoon and Tom Cruise talking about their first movie. For Freeman its "King Kong," for Pitt is "Gargantuans," for Adam Sandler it's "Diamonds Are Forever." Charming.
9:06: My favorite Oscar host joke is from Steve Martin, who likes to say "Making love is like hosting the Oscars -- something I get to do only when Billy Crystal isn't in town."
9:05: J.Lo and Cameron stay around to give the makeup prize. It was a great year for the artists, making Glenn Close a man for "Albert Nobbs," Meryl Streep an aged and liver-spotted Margaret Thatcher and Ralph Fiennes Voldemort. "The Iron Lady" artists, Mark Coullier wins. He says to Streep, "Thank you for keeping me employed, Meryl."
8:54: On a night when there are more trains on the red carpet than at Grand Central, Cameron Diaz and Jennifer Lopez present Oscar for Best Costume. They quote costumer Edith Head to the effect that "A dress should be tight enough to make its wearer look like a woman and loose enough to make her look like a lady." Oscar goes to Mark Bridges for "The Artist" and its spiffy black-and-white Jazz Age costumes.
8:49: With eleven nominations "Hugo" leads the Oscar field. So far the movie about pioneer French filmmaker Georges Melies, is two-for-two. Its director Martin Scorsese personally has 11 nominations and one win -- as director of "The Departed."
8:44: Hugo wins its second statuette for art direction. The winners created a magical Paris train station. Dante Ferretti and Francesca Lo Schiavo accept the prize. Scorsese is once again thanked profusely. The winners say "This one is for Italy!"
8:43: In a great year for cinematography -- and the year 7 out of 9 of the best-pic nominees were shot on Kodak film -- Hugo's" Robert Richardson takes the prize.
8:38: Crystal performs Oscar musical medley with punning lyrics of best-picture nominations. Camera cuts to "Hugo" director Martin Scorsese with his 12-year-old daughter. The director of violent gangster films like the Oscar-winning "The Departed" said that made the PG-rated movie so that his daughter could finally watch one of his films.
8:36: Billy Crystal succeeds in demonstrating that the show is in good hands. Says, "This is my ninth time hosting the Oscars...just call me 'War Horse.' " Says, "We're at the Chapter 11 Theatre" -- joking about the fact that Kodak, who had naming rights for the Oscar's theater, is now in bankruptcy.
8:33: Morgan Freeman strolls out to roll out Oscar theme, "The Magic of Movies." Parodying the 10-times nominated film, "The Artist," Billy Crystal is seen in black-and-white silent film and the title says, "I won't host." Very good parodies of "The Descendants," "Moneyball," "Midnight in "Paris." Also parodies of "Bridesmaids" and "Mission Impossible. Billy is back and very funny.
8:32: The producers have changed the awards lineup this year. Instead of supporting actor honors, the first statuettes given will be for Cinematography, Art Direction, Costume, Makeup, Foreign Film....and then Supporting Actress.
8:31: Can host Billy Crystal compete with the red-carpet antics of Sacha Baron Cohen, who dressed as his alter ego General Aladeen of the upcoming movie "The General," poured ashes from the funeral urn (of his tennis partner Kim Jon-Il) on Ryan Seacrest?
8:30: Retro is the theme of most of the best-picture nominees tonight. Should "The Artist," a black-and-white film with 10 nominations, triumph, it would be the first silent honored by the Academy since the first awards, where "Wings" and "Sunrise" were cited. Like that 20s-era film, best-pic contender "Midnight in Paris" is likewise set in the 1920s, also Martin Scorsese's "Hugo," about pioneer French filmmaker Georges Melies.
8:22: Good, evening, Oscarites. Welcome to the 84th Academy Awards where Billy Crystal hosts for the ninth time and the eldest presenters will be Michael Douglas, 68, and Meryl Streep, 63. (At 24, Emma Stone will be the youngest.)
_________________________________________________________________________________
Read up on this year's Academy Awards nominees
Oscar cocks his golden head backward, celebrating silents and nostalgia - not a great draw for awards-show viewers.
The Academy Awards ceremony is, by nature, a rite of self-congratulation and self-love - the movie industry showers plaudits and prizes on itself for the work of the last year, but also for achievements of a lifetime. Read more>>>
Daily News movie critic Gary Thompson's picks for the Academy Awards
THE ACADEMY Award favorites this year - "Hugo" and "The Artist" - are movies about the wonder of movies, the sort that do well at Oscar time.
"The Artist" is a love letter to cinema's adaptive power; "Hugo" a celebration of pioneer Georges Melies, an early effects wizard and audience-wowing showman.
But here's a question: If Melies were alive today, what movie would he be watching? Read more>>>