CBGB is dead, long live CBGB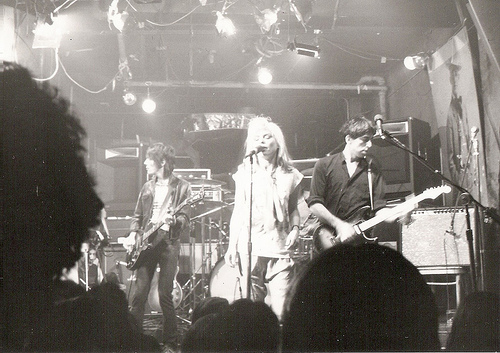 Seminal downtown New York punk/New Wave club is getting movie-ized, with Foo Fighters' Taylor Hawkins as Iggy Pop, Malin Akerman as Debbie Harry, and more.
CBGB is dead, long live CBGB

CBGB is getting its own biopic. The famously squalid, seminal punk and New Wave venue – the Bowery boite where The Ramones, Patti Smith, Television, Blondie and a gang of now legendary acts launched their careers way back in the late '70s and early '80s– is the subject of a soon-coming feature, CBGB. (The name stood for Country, BlueGrass and Blues – the New York club finally shuttered in 2006.)
Foo Fighters drummer Taylor Hawkins, in his movie debut, will play shirtless wildman Iggy Pop. Rupert Grint, better known to most of the world as Ron Weasley from the wee little Harry Potter pics, is down to play Cheetah Chrome, guitarist with The Dead Boys. Others onboard include Malin Akerman, segueing from her big hair Rolling Stone reporter role in the '80s musical Rock of Ages, to playing Debbie Harry, frontwoman of Blondie. Brit thesp Alan Rickman (also a Harry Potter alum) has signed on to portray CBGB's colorful owner Hilly Kristal, Mickey Sumner (The Borgias) has been cast as Patti Smith, and Joel David Moore (nerdy Norm Spellman in Avatar) as Joey Ramone. Shooting starts this month, with Randall Miller (the California vintner flick, Bottle Shock) directing.