Todd Spangler, Variety.com
Netflix has reached a deal with The Weinstein Co. for its first original movie -- a sequel to Ang Lee's 2000 martial arts pic "Crouching Tiger, Hidden Dragon" -- set to hit IMAX theaters and the streaming-video service simultaneously next summer.

The film, "Crouching Tiger, Hidden Dragon: The Green Legend," is slated for a Aug. 28, 2015, debut. Produced by Weinstein Co., the movie is the first of several major films to premiere day-and-date both on the SVOD service and in select IMAX theaters worldwide.

Netflix has been eyeing day-and-date releases of movies, as chief content officer Ted Sarandos said in a keynote last year at the Film Independent Forum in Los Angeles. The launch of the movie is likely to catch the ire of exhibitors -- who have in the past viewed digital encroachment on theatrical windows as a threat.
Variety.com
LOS ANGELES (Variety.com) - Warner Bros. has released the first official trailer for Paul Thomas Anderson's new film, "Inherent Vice."
Based on the Thomas Pynchon novel, the 1970s-set film stars Joaquin Phoenix as a drug-fueled detective in Los Angeles trying to find his missing ex-girlfriend. It co-stars Josh Brolin, Reese Witherspoon and Owen Wilson.
"Inherent Vice" will hold its world premiere this Saturday, Oct. 4, at the New York Film Festival before opening nationwide on Dec. 12.
Brent Lang
LOS ANGELES (Variety.com) - Denzel Washington and "The Equalizer" were number one with a bullet this weekend, as the revenge thriller picked up an impressive $35 million across 3,234 locations.
That figure gave it a comfortable lead over the weekend's other new wide release, Focus Features' "The Boxtrolls," which earned $17.2 million across 3,464 locations, and last week's champ, "The Maze Runner," which snagged $17.5 million in its sophomore frame. The young adult thriller has earned $58 million after two weeks in theaters.
"The Equalizer," a gory story of a former special ops agent going toe to toe with the Russian mob, proved to be equally appealing to both genders, with 48% of the opening crowd comprised of females. It also skewed older, with 35% of the opening weekend crowd made up of people under the age of 30. Domestically, the film picked up $3.3 million on 352 IMAX screens, a record September debut for the big screen company.
Mare McKeever, philly.com
'Magic Mike' fans have a few tears to shed after the news of Matthew McConaughey not returning for 'Magic Mike XXL,' according to director Greg Jacobs.
Rumor has it that part two of the flick is based around the guys taking a road-trip. Channing Tatum, Matt Bomer, Kevin Nash and Joe Manganiello are set to return to the stage, however Alex Pettyfer is not yet confirmed to re-join the cast, says Huffington Post Entertainment.
While we wait for the July 3, 2015 release, we have these photos of Tatum and Manganiello working on their 'Magic Mike' frame, thanks to PopSugar.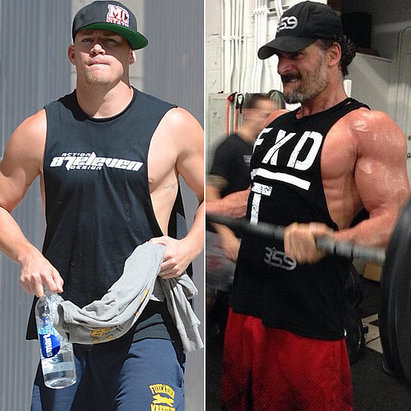 Steven Rea, Inquirer Movie Columnist and Critic
A film that had huge impact on Francis Ford Coppola, Martin Scorsese and other young upstarts of '70s Hollywood, Bernardo Bertolucci's The Conformist is back on the big screen -- at the Ritz Bourse, locally, starting Friday, Sept. 19 – and well worth a revisit. Released in 1970, the film stars Jean-Louis Trintignant as Marcello Clerici, a fedora-topped Fascist in 1930s Italy sent to Paris to assassinate his friend and former college professor, a left-leaning intellectual with a beautiful wife (Dominique Sanda) whom Clerici proceeds to tumble for, despite the fact that he himself is married (to Stefania Sandrelli).
Propelled by haunting flashbacks that help to explain Clerici's profound self-doubts, soullessness and urgent need to assimilate, The Conformist boasts scenes of such exquisite power that they practically define the cinematic experience. Shot by Vittorio Storaro, with production design by Ferdinando Scarfiotti, the film evokes the sensual sweep and elegance of 1930s art and architecture. Even Clerici's visit to the courtyard of an asylum where his father, frail and fractured, is being kept, has a visual majesty about it that is unnerving. And the tango between Sanda and Sandrelli in a Parisian dance hall -- erotic, electric, and weirdly funny. Yes, the camera pans to a fogged-up window where someone has stuck a black-and-white still of Laurel and Hardy. Even in this crushing portrait of sublimation and unhinged ambition, couched as political thriller, Bertolucci finds room for a laugh.
Alex Stedman
LOS ANGELES (Variety.com) - While David Fincher's "The Girl With the Dragon Tattoo" pulled in $232 million in 2011, there's been no official confirmations that the next two books in the Stieg Larsson trilogy, "The Girl Who Played With Fire" and 'The Girl Who Kicked the Hornets' Next," will make their way to film. However, Fincher revealed recently that he has hope for the possibility.
The director said that Sony, the producer of "Dragon Tattoo," would likely do "something" with the work that's already been done on the sequels.
"I think because [Sony] already has spent millions of dollars on the rights and the script so it will result in something," he told Swedish site Afton Bladet (via Film Divider, which provided translation), talking about Steven Zaillian's screenplays.
Variety.com
"Django Unchained" actress Daniele Watts says she was accosted by police and handcuffed on Thursday in Los Angeles after being mistaken for a prostitute.
Watts, who played house slave "CoCo" in "Django" and is Martin Lawrence's daughter on the new FX comedy "Partners," shared the news on Facebook.
"Today I was handcuffed and detained by 2 police officers from the Studio City Police Department after refusing to agree that I had done something wrong by showing affection, fully clothed, in a public place," she wrote.
Variety.com
LOS ANGELES (Variety.com) - It's another day, another milestone for "Guardians of the Galaxy." Or maybe two.
The Marvel-Disney tentpole has earned $300 million at both the domestic and foreign box offices. "Guardians," the highest grossing film of the year in the U.S., hit the mark on Friday and will make over $305 million Stateside by Sunday. It will cross $600 million worldwide by Saturday.
"Guardians" is the only movie of the year to cross $300 million domestically. Fellow Marvel-Disney blockbuster "Captain America: The Winter Soldier" grossed $259.7 million, Warner Bros.' "The Lego Movie" hauled $257.7 million and Paramount's "Transformers: Age of Extinction" reeled in $244.8 million. "Transformers," however, is the global champ with $1.07 billion. The bulk of its revenues came from China, where "Guardians" won't debut for another month.