Mare McKeever, philly.com
'Magic Mike' fans have a few tears to shed after the news of Matthew McConaughey not returning for 'Magic Mike XXL,' according to director Greg Jacobs.
Rumor has it that part two of the flick is based around the guys taking a road-trip. Channing Tatum, Matt Bomer, Kevin Nash and Joe Manganiello are set to return to the stage, however Alex Pettyfer is not yet confirmed to re-join the cast, says Huffington Post Entertainment.
While we wait for the July 3, 2015 release, we have these photos of Tatum and Manganiello working on their 'Magic Mike' frame, thanks to PopSugar.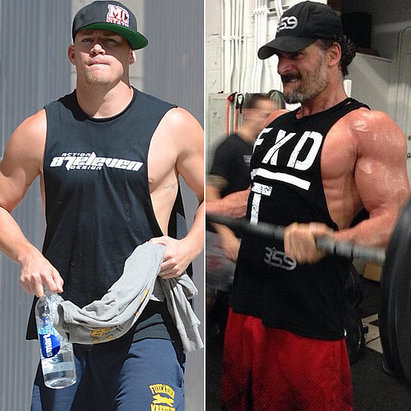 Steven Rea, Inquirer Movie Columnist and Critic
A film that had huge impact on Francis Ford Coppola, Martin Scorsese and other young upstarts of '70s Hollywood, Bernardo Bertolucci's The Conformist is back on the big screen -- at the Ritz Bourse, locally, starting Friday, Sept. 19 – and well worth a revisit. Released in 1970, the film stars Jean-Louis Trintignant as Marcello Clerici, a fedora-topped Fascist in 1930s Italy sent to Paris to assassinate his friend and former college professor, a left-leaning intellectual with a beautiful wife (Dominique Sanda) whom Clerici proceeds to tumble for, despite the fact that he himself is married (to Stefania Sandrelli).
Propelled by haunting flashbacks that help to explain Clerici's profound self-doubts, soullessness and urgent need to assimilate, The Conformist boasts scenes of such exquisite power that they practically define the cinematic experience. Shot by Vittorio Storaro, with production design by Ferdinando Scarfiotti, the film evokes the sensual sweep and elegance of 1930s art and architecture. Even Clerici's visit to the courtyard of an asylum where his father, frail and fractured, is being kept, has a visual majesty about it that is unnerving. And the tango between Sanda and Sandrelli in a Parisian dance hall -- erotic, electric, and weirdly funny. Yes, the camera pans to a fogged-up window where someone has stuck a black-and-white still of Laurel and Hardy. Even in this crushing portrait of sublimation and unhinged ambition, couched as political thriller, Bertolucci finds room for a laugh.
Alex Stedman
LOS ANGELES (Variety.com) - While David Fincher's "The Girl With the Dragon Tattoo" pulled in $232 million in 2011, there's been no official confirmations that the next two books in the Stieg Larsson trilogy, "The Girl Who Played With Fire" and 'The Girl Who Kicked the Hornets' Next," will make their way to film. However, Fincher revealed recently that he has hope for the possibility.
The director said that Sony, the producer of "Dragon Tattoo," would likely do "something" with the work that's already been done on the sequels.
"I think because [Sony] already has spent millions of dollars on the rights and the script so it will result in something," he told Swedish site Afton Bladet (via Film Divider, which provided translation), talking about Steven Zaillian's screenplays.
Variety.com
"Django Unchained" actress Daniele Watts says she was accosted by police and handcuffed on Thursday in Los Angeles after being mistaken for a prostitute.
Watts, who played house slave "CoCo" in "Django" and is Martin Lawrence's daughter on the new FX comedy "Partners," shared the news on Facebook.
"Today I was handcuffed and detained by 2 police officers from the Studio City Police Department after refusing to agree that I had done something wrong by showing affection, fully clothed, in a public place," she wrote.
Variety.com
LOS ANGELES (Variety.com) - It's another day, another milestone for "Guardians of the Galaxy." Or maybe two.
The Marvel-Disney tentpole has earned $300 million at both the domestic and foreign box offices. "Guardians," the highest grossing film of the year in the U.S., hit the mark on Friday and will make over $305 million Stateside by Sunday. It will cross $600 million worldwide by Saturday.
"Guardians" is the only movie of the year to cross $300 million domestically. Fellow Marvel-Disney blockbuster "Captain America: The Winter Soldier" grossed $259.7 million, Warner Bros.' "The Lego Movie" hauled $257.7 million and Paramount's "Transformers: Age of Extinction" reeled in $244.8 million. "Transformers," however, is the global champ with $1.07 billion. The bulk of its revenues came from China, where "Guardians" won't debut for another month.
Justin Kroll
LOS ANGELES (Variety.com) - After a long wait, StudioCanal has finally released the first trailer for "Serena," the long-delayed period pic starring Jennifer Lawrence and Bradley Cooper.
Susanne Bier directed the pic, which is set in depression-era North Carolina and follows a couple's life as they try to manage their timber empire.
The pic doesn't have a release date yet, but will bow at the London Film Festival next month.
Piya Sinha-Roy, Reuters
Actor Richard Kiel, best known for playing metal-mouthed James Bond villain Jaws, died on Wednesday at a hospital in Fresno, California. He was 74.
Kiel died at Saint Agnes Medical Center, hospital spokeswoman Kelley Sanchez said. She did not reveal any further details on the cause of his death, citing patient confidentiality.
Standing 7 feet 2 inches (2.2 meters) tall, Kiel's imposing height made him one of the most recognizable villains in the James Bond film franchise, playing Jaws in 1977's "The Spy Who Loved Me" and 1979's "Moonraker" opposite Roger Moore's Bond.
Brent Lang, Variety.com
Instead of a crown, Bill Murray wore a hunting cap, but the actor and comedian received a royal welcome at a question and answer session Friday as part of the Toronto Film Festival's "Bill Murray Day" celebration.

Fans flocked into the TIFF Bell Lightbox, spilling out into the aisles, to watch as the actor riffed, reminisced and philosophized alongside "Ghostbusters" director Ivan Reitman and "Scrooged" screenwriter Mitch Glazer, ostensibly the evening's moderator, but with Murray there's no riding herd.

They came wearing proton packs, ghostbusters outfits and t-shirts bearing Murray catchphrases from films such as "Groundhog Day" and "Caddyshack." There was even a baby outfitted in a Stay Puft Marshmallow Man costume -- "That's a good looking baby," Murray deadpanned.