Nick Vadala, Philly.com
It's been more than two decades since Leslie Nielsen started splitting sides in the Naked Gun franchise as the absurd Detective Frank Drebin. Now, we're getting a reboot, and The Hangover's Ed Helms will be his replacement.
Yes, I'm serious—and don't call me Shirley.
Paramount has tapped Reno 911 and Night at the Museum writing duo R. Ben Garant and Thomas Lennon to pen the Naked Gun reboot as a new spin on the Drebin character. Most recently, the pair wrapped a Baywatch script.
Nick Vadala, Philly.com
With as many martinis as he was downing at his peak, James Bond would have been a debilitated drunkard—or so says the new edition of the British Medical Journal. Here comes science to ruin the fun.
In analyzing Ian Fleming's 14 Bond novels, Doctors in Derby and Nottingham, UK found that the books' namesake character would have been drinking the equivalent of 1.5 bottles of wine each day (or five martinis, as was his preference). That's roughly 1,150 drinks in the 88 days the series covers. That's "top whack" levels of drinking, as one researcher put it.
Another put it more simply, calling Bond's behavior through the series the "lifestyle of an alcoholic." The first step, after all, is admitting you have a problem.
Nick Vadala, Philly.com
Usually when a pop culture supergroup reunites, the result is a sad charade of fading stars trying to recapture their old glory. But with the addition of Simon Pegg to their upcoming sci-fi comedy, Absolutely Nothing, the guys in Monty Python have expertly avoided that route.
Comedy geeks everywhere rejoiced in January of last year when Python leader Terry Jones announced a rekindling of the legendary comedy group. Pegg's addition, though, really ought to get their attention. Especially considering that the Shaun of the Dead star is a longtime fan:
"As someone whose love of comedy was hugely informed by Monty Python, the chance to work with Terry was a gift. Meeting your heroes is one thing - working with them is something else."
Nick Vadala, Philly.com
The price is indeed wrong for Adam Sandler, who Forbes says is the most overpaid actor in the world. For those keeping score at home, Sandler is one of Hollywood's few actors that can demand more than $15 million a movie.
The Forbes list ranks actors by the ratio of cash they're paid to the amount of money their movies earn, and Sandler came out far, far in the red. His last three films have been the worst, earning just $3.40 for every $1 the studios involved paid him. Other actors—say, Natalie Portman, for example—earn upwards of $43 for every dollar paid.
As they say, though, the writing has been on the wall for Sandler for a while now. Rotten Tomatoes scores show stinker status for every film he's made since 2009's Funny People, the worst of which—Jack and Jill—showing just a 3 percent approval rating. The days of Billy Madison, it would seem, are long over.
Nick Vadala, Philly.com
Zack Snyder's Man of Steel was widely loved by comic fans everywhere, but at least one star thinks he could have done it in a gutsier, more mind-blowing way. But, unfortunately for Nicholas Cage and Tim Burton, "mind-blowing" doesn't always mean "better."
Cage sat down with Metro UK this week to discuss, among other things, the unrealized siren song that is the Tim Burton Superman movie. Back in the 90s, Burton signed on to do a Superman movie dubbed Superman Lives which would feature Nic Cage as the Man of Steel himself. The project was ultimately scrapped, but photos of Cage in a mocked-up Superman suit have since hit the web and became the stuff of internet legend.
Which, of course, explained why Metro UK had to ask about the project. Cage, for his part, appears to be holding out hope:
Nick Vadala, Philly.com
Which limb will Aaron Ralston self-amputate to survive this one? The man behind the 2010 James Franco hit 127 Hours has been booked on domestic violence charges following an altercation with his girlfriend over the weekend.
Police allege that Ralston and his girlfriend, Vita Shannon, got into an altercation that escalated into physical violence that required lawful intervention. Official documents indicate that Ralston and Shannon were arguing over one of Ralston's children at the time, prompting Shannon to strike the Colorado-based adventurer in the head twice. Ralston, for his part, reportedly shoved Shannon in response.
The pair have since been charged with "wrongs to minors," a secondary domestic violence charge tacked on when an incident occurs in front of minors, but does not necessarily result in their physical harm.
Nick Vadala, Philly.com
Look, we all know the first two Rocky movies are great. You're introduced into the series' universe, Stallone's goofball charm hits you for the first time, and we all fell in love with a character that defined a city. But, seriously, Rocky IV is the best in the series, and information design firm Fathom has the documents to prove it.
Released as part of their 'Morphology' series, Fathom's look at the Rocky movies codifies each film into an easy to read graph showing where every notable event is—from montages to training and fight scenes. And, well, the other five movies ain't got nothing on Ivan Drago: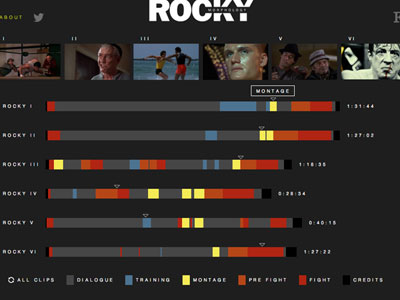 Nick Vadala, Philly.com
The cult following behind Bill Watterston's 'Calvin and Hobbes' comic strip will get a bone soon, thanks to a biopic deal picked up by Warner Bros. that will look at the notoriously private life of one of the most beloved comic strip creators of all time.
As yet unnamed, the biopic will be adapted from a screenplay dubbed "A Boy and His Tiger" by Dan Dollar at the hands of none other than Leonardo DiCaprio, who recently signed on as a producer along with Roy Lee of 'Sherlock Holmes' fame. In fact, DiCaprio seems to be the driving force behind the Watterston biopic's production, having initially brought the script to Warner Bros. for development.
But, perhaps not surprisingly, all this is going down without approval from Watterston himself. In fact, Watterston is so reclusive in the public eye that over the last 20 years, he's given just two interviews. By email.