Steven Rea, Inquirer Movie Columnist and Critic
Sam Katz is at it again. The trailer for the latest chapter in the mayoral candidate-turned-filmmaker's amazing series, Philadelphia: The Great Experiment, is out, promising one of the most illuminating, and perhaps controversial, installments yet. (Click here to see previous episodes and webisodes.)
Molly Eichel, Daily News Staff Writer
Wrestler Rowdy Roddy Piper will be at the 25th anniversary screening of the 1988 cult classic "They Live," courtesy for this summer's Awesome Fest presented by Parx Casino, I've learned exclusively.
Molly Eichel, Daily News Staff Writer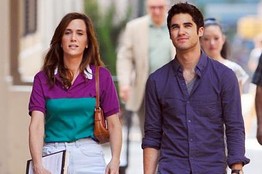 The trailer for Kristen Wiig's first big post-"Saturday Night Live" movie arrived recently, and it's set right downashore.
Molly Eichel, Daily News Staff Writer
Benj Pasek, who grew up in Ardmore, is having a really good day. The 2003 Friends Central grad is nominated for a Tony, along with writing partner Justin Paul, for Best Original Score (Music and/or Lyrics) Written for the Theatre for their work on "A Christmas Story," the musical adaptation of the beloved holiday flick. "A Christmas Story" was also nominated for Best Book and Best Musical.
Esther Lee
The second installment of The Hunger Games trilogy gives eager fans a glimpse into the lives of Katniss Everdeen (Jennifer Lawrence) and Peeta Mellark (Josh Hutcherson) immediately after the two are crowned victors of the 74th annual Hunger Games.
Steven Rea, Inquirer Movie Columnist and Critic
42, starring Chadwick Boseman as Brooklyn Dodgers legend Jackie Robinson – the player who shattered Major League Baseball's color barrier – shattered a box office record, too. The film, with Harrison Ford as Dodgers owner Branch Rickey, scored the best opening weekend numbers -- $27. 4 million – of any baseball-themed motion picture, ever. What's weird, though, is that the film 42 bumped fropm the top slot is The Benchwarmers, the 2006 screwball comedy starring John Heder, Rob Schneider and David Spade. Its opening weekend grosses: $19.7 million. Who knew? Who can even remember?
Steven Rea, Inquirer Movie Columnist and Critic
Yes, John Doe, Aimee Mann, Loudon Wainwright and Joe Henry – all in the same movie! The folks at 'XPN, in cahoots with the Philadelphia Film Society, have put together a four-day fest of films celebrating music and musicians, and driven by song. One of the highlights has to be Pleased to Meet Me, screening Friday. X-man Doe stars as a rocker whose career has hit the rocks, so to speak (bankruptcy, a lawsuit, writer's block), and who throws himself into a 24-hour recording session with a group of totally disparate (and a few desperate) players to try to save the day. Mann is the producer who puts Doe's character, Pete Jones, together with Henry, Wainwright et al. Director Archie Borders, joined by Doe and Wainwright (whose character is a theremin-ist) will be on hand for a post-screening discussion with World Café host David Dye.
Dan Deluca
The second annual WXPN Music Film Fest is upon us this weekend.