Archive: October, 2012
Jonathan Takiff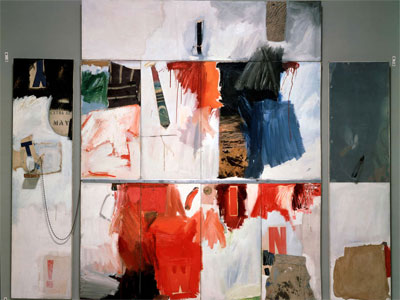 The avant garde composer John Cage, nervously kinetic choreographer Merce Cunningham and equally disruptive visual artists Jasper Johns, Robert Rauschenberg and Marcel Duchamp must have been smiling down on the Philadelphia Museum of Art yesterday.
In their collective heydays (from the late 1940s forward), this gang of five sparked storms of controversy with collaborative mash ups of sight and sound media and theories of creativity. They delighted in real world objects and in happenstance, in leaving lots to chance in the artistic process.
Yesterday, our Museum of Art opened the "Dancing Around the Bride" exhibit which likewise underscores these creators' visions and artistic cohabitation in an equally bold, art-meets-technology fashion. But we're guessing that other, life-altering storm kept most art lovers away.
Molly Eichel
Conrad Benner, proprietor of street art blog Streets Dept, who we wrote about last year, started a petition on his site to put a mural on the back of the PSFS Building, currently owned by Loews. "I've lived in Philadelphia my entire life, 27 years," Benner said today. "I've always thought my to myself why this beautiful building has this black brick wall."
The petition currently has 88 signatures and the goal is 5000.
Benner started thinking about it and researched where the biggest mural in the country is. He did not like the answer: Omaha, Neb. Tourists flock to take tours of our murals, so why should we own the biggest one? "Take a building that is a landmark and [speaks to] our past and how beautiful we were, and paint a mural on it that would represent the future of Philly that, from my view, is heavy on the arts," Benner said. "I thought it would be a cool juxtaposition our history and our future all in one building."
Molly Eichel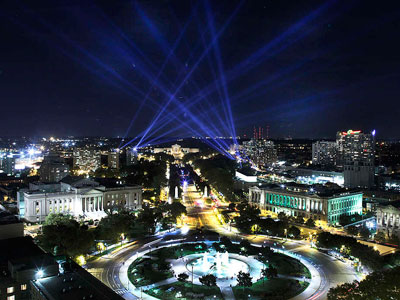 The heavens aren't cooperating with public art.
Derrick Pitts, the chief astronomer and planetarium director for the Franklin Institute, was scheduled to give a talk at "Open Air," the Benjamin Franklin Parkway-spanning public art project currently lighting up Philly's sky, tomorrow. Alas, inclement weather put a hitch in their plans and the event, "Planetarium on the Parkway," will instead be rescheduled for Fri., Oct. 12.
"Planetarium on the Parkway" puts the control of "Open Air's" 24 powerful searchlights in the hands of Pitts who will use them to point out astronomical goings-on in the night sky. Typically, the searchlights are controlled by messages people leave via the website or an iPhone app. While "Open Air" runs nightly through Oct. 14 from 8-11 p.m., Pitts' talk will begin at 8:30 p.m.