Peter Dobrin
Management and musicians of the Philadelphia Orchestra Thursday announced a tentative agreement for a new labor contract, but don't lift a glass of opening-night champagne just yet.
A "host of minor issues" remained to be worked out in the 200-page labor pact, Philadelphia Orchestra Association lawyer Lawrence G. McMichael said in U.S. Bankruptcy Court Thursday.
"The process of getting though the minutiae" is ongoing, and a deal is expected to be in the hands of musicians to consider in the next day or so, McMichael told Judge Eric L. Frank.
Peter Dobrin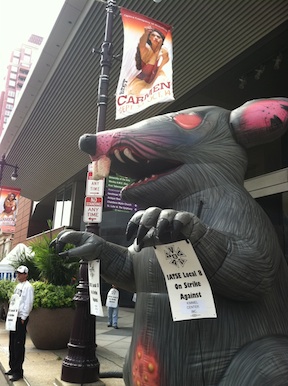 This is scheduled to appear in Sunday's print edition of the Inquirer.
The giant rat has been deflated. Extra security has gone home. And after an 18-hour strike by workers at the Kimmel Center for the Performing Arts, the shows will go on today.
Leaders of the Kimmel and local 8 of the International Alliance of Theatrical Stage Employees penned a deal Saturday putting a strike on hiatus. After talks failed to produce a new labor deal for stagehands, ushers, wardrobe and box office workers, the two sides decided to spend the next week in a "cooling off" period.
Peter Dobrin
UPDATE, 6 a.m. Saturday: Kimmel Center workers are on strike, according to Kimmel leaders. The Kimmel, Academy of Music and Merriam Theater are shut down. Talks between the Kimmel and union representing stagehands, ushers, box office and wardrobe workers are expected to continue Saturday afternoon.
------------------------------------------------
Previously:
Peter Dobrin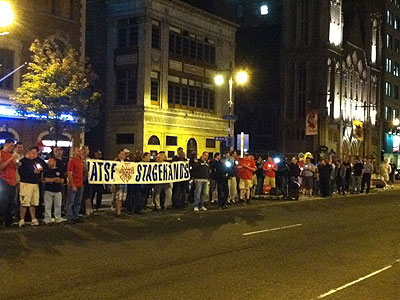 Frustrated by a lack of progress in contract talks, about 150 members of the union representing the city's theatrical ushers, box office staff, stagehands and wardrobe workers held a noisy, if well-behaved, demonstration Thursday night in the middle of Broad Street in front of the Kimmel Center.
With their contract with the Kimmel up at 12:01 Saturday morning, local leaders of the International Alliance of Theatrical Stage Employees said they were prepared to shut down the Kimmel, Academy of Music and Merriam Theater – all managed by Kimmel Center Inc. - if a deal cannot be reached.
A strike authorization vote of all 1,100 members of the union local was unanimous, said Michael Barnes, business agent for IATSE Local 8.
Peter Dobrin
The Philadelphia Orchestra Association is seeking a loan to help fund operations through the end of its bankruptcy case.
The Association has applied to U.S. Bankruptcy Court for permission to assume $3.1 million in debt to pay operating costs, including salaries and vendor bills.
"Unless these expenses are paid, the Debtor will be forced to cease operations, which would likely result in irreparable harm to its organization and jeopardize the Debtor's ability to reorganize and maximize value for all interested parties," the Association states in papers filed Wednesday.
Peter Dobrin
One major plank of the Philadelphia Orchestra Association's bankruptcy case fell into place Wednesday with the court's approval of a severance agreement between the orchestra and Peter Nero and the Philly Pops.
Optimism was ventured on other fronts in the Chapter 11 case. Though the association was still far from resolution with musicians over a new labor deal, talks are coming to a head this weekend. Mediation with Stephen Raslavich, chief judge of U.S. Bankruptcy Court, Eastern District of Pennsylvania, is set to continue Sunday and Monday.
"[Raslavich] said to bring sleeping bags — no one is leaving until it gets resolved," association bankruptcy lawyer Lawrence G. McMichael told Eric L. Frank, the judge considering the bankruptcy petition.
Peter Dobrin
The founder of Miami City Ballet will leave the company at the end of the 2012-13 season, the troupe announced Thursday.
Edward Villella - who started the company in 1985 in South Beach - said in a statement:
"My ambition from the start was to give Miami and South Florida a major dance company; my strategy was to proceed carefully and steadily, evolving rather than over-extending. Today it's no longer a fledgling operation with a limited repertory (almost entirely Balanchine) and an even more limited budget. Instead, it's a 45-plus group of brilliant dancers and has a range of ballets that stretches from the classics – Giselle, Coppélia, Don Quixote, Romeo and Juliet – to the choicest works by Balanchine's greatest successors (Jerome Robbins, Paul Taylor, Twyla Tharp). And recently we've been fortunate enough to be in a position to commission new works – the heart of every ballet company – from masters like Tharp and Alexei Ratmansky to Liam Scarlett, the youngest choreographer ever to be invited to create a new work for the main stage of Britain's Royal Ballet."
Peter Dobrin
The Philly Pops lives.
Peter Nero and the pops orchestra he leads have agreed to split from the Philadelphia Orchestra Association, terminating a six-year experimental merger that was bumpy from the start, stormy at the end, and never fully consummated.
Under the terms of the separation, the Pops will receive a $1.25 million settlement from the Association to fund future operations. The Association will continue to provide office space and a certain amount of organizational support to the Pops through June.