Peter Dobrin
It's happened again. Poor James Levine can't catch a health break. The Metropolitan Opera revealed Tuesday that Levine underwent emergency surgery Thursday after falling in Vermont and damaging one of his vertebrae. He had been recuperating from previous surgery on his back when the accident occurred.
Levine has withdrawn from all of his fall performances with the Met, and Fabio Luisi will take his place. The Met has signified Luisi's increasing importance to the company by giving him the more expansive title of principal conductor. Luisi had been principal guest conductor; Levine retains his music director title.
"While Jim's latest setback is hugely disappointing for all of us, he joins me in welcoming Fabio's larger role," said Met general manager Peter Gelb in a prepared statement. "I am very pleased that Fabio was able to rearrange his fall schedule, and I appreciate the understanding of those companies with whom he was scheduled to conduct."
Peter Dobrin
Salvatore Licitra, the Italian tenor who rose to fame in 2002 after stepping in for Pavarotti, died yesterday at Garibaldi Hospital in Catania, Italy. According to his website, he suffered injuries when a possible cerebral hemorrhage caused him to lose control of his motor scooter.
From an AP obit:
Salvatore Licitra, a tenor known in his Italian homeland as the "new Pavarotti," died Monday at age 43 after nine days in a coma following a motor scooter accident in Sicily. Garibaldi Hospital in Catania, Sicily, announcing the death, said Licitra never regained consciousness after suffering severe head and chest injuries in the Aug. 27 accident. Doctors had said Licitra crashed his scooter into a wall near the town of Ragusa, apparently after suffering an interruption of blood to the brain while driving. The hospital said Licitra's family agreed to make his organs available for transplant.
Peter Dobrin
The Financial Times reviews the Philadelphia Orchestra's recent concert at Edinburgh. It's pretty much a rave.
Peter Dobrin
A friend who heard both the Philadelphia Orchestra and Chicago Symphony Orchestra concerts in Lucerne in the past few days offered these observations (starting with Chicago):
Unbelievable. I didn't know an orchestra could play so loud. Even from the second balcony. If you were drawing a cartoon, you'd show everyone with their hair streaming backwards from the force. To be fair, Chicago had somewhere between 10 and 15 more players on the stage than Philadelphia, but the sonic power was more than just that. They played a Bernard Rands piece, Strauss Death and Transfiguration (which I thought was boring) and Shostakovich 5th - which knocked everybody's socks off. I guess I would say that it was a difference in intention between the French concept of iron delicacy (Eiffel Tower) and brute force (city of the big shoulders?). Muti was Muti. He seems ageless. Not a gray hair on his beautiful head. His hair - and the rest of him - completely animated. He shamelessly milked the crowd.
Some things never change!

Peter Dobrin
Ceding to the New England debut of Irene, the Boston Symphony Orchestra has called off its Sunday afternoon Beethoven 9 - Tanglewood's first cancellation in the orchestra's 75 years there. Philadelphian Eric Owens would have been a soloist, as well as Academy of Vocal Arts graduate Joyce El-Khoury.
Peter Dobrin
July brought $500,000 in new legal bills for the Philadelphia Orchestra Association. Five of the six major law firms and other consultants to the Association's chapter 11 case submitted invoices for court approval for the period covering July 1-31, bringing the total to just over $3 million.
In its strategic plan, the Association estimated that the entire case would cost $2.9 million in professional fees. (In addition, the plan called for $3 million to allow for settlement with creditors, and $2.5 million to cover any declines in ticket sales and donations during bankruptcy.)
That sum reflects only part of the expense brought by the case so far. In addition, the Kimmel Center, Peter Nero and the Philly Pops, the American Federation of Musician and others are incurring legal and other professional fees in the four-month-old case.
Peter Dobrin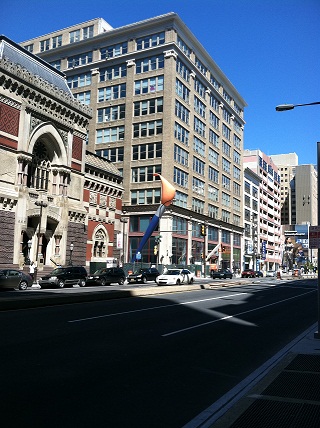 A rather large and tilting paint brush went up this weekend over Broad Street in front of the Pennsylvania Academy of the Fine Arts.
Read about it here.