A time machine is under construction at the Kimmel Center, a massive, high tech sculptural, light, sound and video installation signifying . . . all kinds of stuff.
Stretching more than 100 feet through the Commonwealth Plaza, snaking from the Kimmel;s front door to the entry way to Verizon Hall, the tunnel of past, present and future imagery (and sounds) is the physical centerpiece of the Philadelphia International Festival of the Arts (March 28-April 27). And just one of many free treats that hopefully will draw visitors in on a daily basis.
While the swirling, custom steel grid work is mostly up and the time tunnel will likely be enclosed by week's end, "we've got a month to fine tune what goes inside," said production designer Robert Pyzocha. His team has been brainstorming about the TM since last September and put out a heady artistic proposal which excited regional executives/funders at Dow Chemical, also major sponsors of the Franklin Institute-backed Science Festival returning in April.
Colin Kerrigan
Most of these photographs of Paris probably seem like they're paintings or even highly photoshopped images. However, they're not at all. They're actually real photos that were shot in the early 20th century using Autochrome Lumière technology. This technology was created in 1903 by the Lumière Brothers, who are were also apparently the earliest filmmakers in history. Pretty cool, right?
More of the photos can be found HERE.
Peter Dobrin
If notes on staves were New Year's greetings, the Philadelphia Orchestra sailed a sheaf full of good wishes out into Verizon Hall Monday night. At what he told a sold-out crowd was "the biggest party in town," Yannick Nézet-Séguin led a program that, Janus-like, glanced back at a year of "great moments and maybe not so great moments," but looked forward, too.
Everyone knew what he meant. Never uttered was the word "bankruptcy," but by forming a first half of the program with Haydn's "Farewell" Symphony and music from Strauss' Der Rosenkavalier, the orchestra's music director put sound to his aspirations, and, hopefully, the city's as well. Goodbye to talk of lawsuits and weighing the orchestra as a going concern, and hello to a silvery bloom. The suite from Strauss' opera suggests nostalgia, but, more than that, it is gilded with the possibilities of transformation.
Comedy broke out in the Haydn. The composer choreographed the piece as a way of telling his patron that the musicians needed a break, but the Philadelphians added their own gestures as each finished his or her part and exited the stage even while the music continued. Some embraced, while one – perhaps in a gentle rebuke of audience etiquette breaches over the years – pantomimed a cell phone call. Nézet-Séguin left before his last two players, which had the audience in stitches and kept the last wisps of the piece from being heard.
Colin Kerrigan
Since 2012 is coming to a close and Instagram just signed up its 100 millionth user, we decided to put together a list of eight Instagrammers we think you should follow in 2013. We asked all of them the same six questions to get a little insight into their life as a phone photographer.
Be sure to let us know if you have any recommendations for us in the comment section.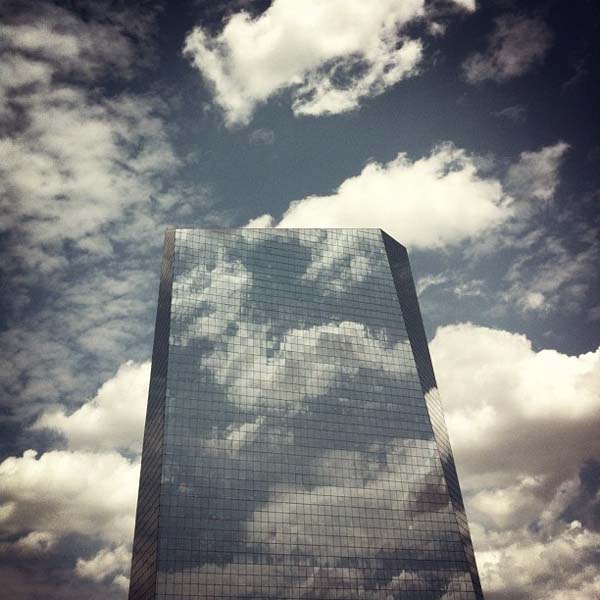 Peter Dobrin
In these parts, it's not Christmas time until the man in the white beard says so. That would be Peter Nero.
For more than a dozen years, he has presided over an annual holiday show with his Philly Pops. Nero is stepping down at the end of the season, which means that the current run in Verizon Hall is probably your last-ever chance to hear Enescu, Glière and Mussorgsky as the pike, carp and whitefish of a giant gefilte fish of a Hanukkah medley. Nero's successor is not a pianist, which also suggests that if this tradition continues, the format won't feature a jazz pianist who somehow manages to be both erudite and haimish, with a little show-biz humor thrown in for good measure. Nero is the end of the line.
Take his Christmas adaptation of "Gangnam Style" (please). PSY's video has clocked 925 million hits on YouTube, and that's good enough for Nero. He put together his own version for Santa, a line of leggy young dancers and a Korean singer from the University of the Arts as Nero chimed in at the punch line ("Oh, Santa baby"). This, obviously, is what a 78-year-old Jew from Brooklyn can do when he really puts his mind to it.
Peter Dobrin
The orchestra is a remarkable chameleon. At Saturday's second family concert of the season, the Philadelphia Orchestra kept changing form - inhabiting a pure classical realm one moment, pops the next.
Conspicuously, the two coexisted in a single piece. Bill Holcombe's 'Twas the Night Before Christmas, conducted by Cristian Măcelaru and narrated by Charlotte Blake Alston (pictured), is a suavely packaged catalog of tunes, from traditional Christmas to Wagner's Siegfried horn call. Sometimes all it takes is a flash of a melody, a micro reference, to illustrate a portion of Clement C. Moore's poem. The piece, brought to the orchestra by its artistic administrator, Jeremy Rothman, was supremely satisfying - but mostly because the orchestra could sway so convincingly between its quick-silver changing idioms.
Young dancers from Pennsylvania Ballet II stepped onto the stage for excerpts from The Nutcracker. Sarah Lee, 19, as Coffee in the "Arabian Dance" was its chief pleasure, assured and poised.
Peter Dobrin
A new violin concerto promised to the Philadelphia Orchestra won't be done in time for its January premiere, Carnegie Hall announced Thursday.
"Regardless of how they fare later in life, some works have a pleasant birth, while others a difficult one," said composer Osvaldo Golijov in a prepared statement. "The violin concerto belongs to the second type, and I can only hope that when it is ready to see the world, it will be worthy of the artistry of Leonidas Kavakos, as well as that of the other artists and presenters who entrusted me with its creation."
Mid-January performances had been scheduled in Philadelphia and New York with Yannick Nézet-Séguin conducting. Violinist Leonidas Kavakos will perform Karol Szymanowski's Violin Concerto No. 2 in its stead.
Peter Dobrin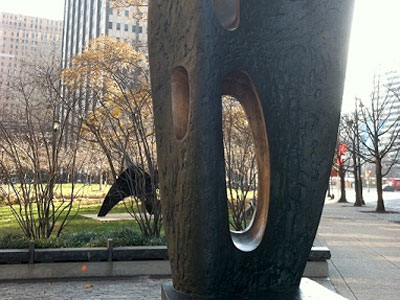 The arrival of a new piece of art in the city, the joining of an artistic citizen and its setting, deserves a certain kind of ongoing reception. And sure enough, more than a few passersby could be seen obliging - stopping, inspecting, or at least turning their heads, Wednesday morning as Dame Barbara Hepworth's Rock Form (Porthcurno) settled in at 17th and the Parkway.
The piece - perhaps the only local example of the artist's work on public view - was sited thoughtfully. From one side, the bronze appears slender as a flame. Looking west, you can spy the cross atop the Cathedral Basilica of Saints Peter and Paul through one if its Swiss-cheese holes. It juts out on a piece of Fairmount Park-owned land, a star thrust out onto the front of a stage. Something about it is very 1960s. It is perhaps a more detailed and elegant version of Single Form, made in memory of Dag Hammarskjöld at the United Nations building in New York.
If the neighborhood is new, one neighbor is familiar. Just to the east sits Henry Moore's Three Way Piece Number 1. Both works are bronze, both made in 1964, both of a similar aesthetic.