Molly Eichel
We hope you all read Shaun Brady's excellent piece about Spanish artists Patricia Gomez Villaescusa and Maria Jesus Gonzalez Fernandez and their exhibition "Doing Time/Depth of Surface." They use a technique to perserve crumbling structures and have travelled to Holmesburg prison to recreate the graffiti left by the prisoners over a century of operation.
Below, you can see the artists mounting their work. While it's not the most intimate view, it gives a sneak peak of the exhibit that officially kicks off with an opening reception on Friday.
Philagrafika presents "Doing Time/Depth of Surface," Moore College of Art & Design, 20th Street and Ben Franklin Parkway, Saturday through March 17, free. Opening reception: 6-8 p.m. Friday, 215-965-4027,
www.thegalleriesatmoore.org
,
www.philagrafika.org
.
Meredith Broussard
Taxidermy is in high style. If you're interested in learning more, try picking up one of the books mentioned in Elyssa East's recent article:
Kingdom Under Glass: A Tale of Obsession, Adventure, and One Man's Quest to Preserve the World's Great Animals
Molly Eichel
Today, we told you about the Free Library of Philadelphia's year-long celebration of writer Charles Dickens. Kicking things off today was a Dickens Idol contest, in which Dickensiacs auditioned to play the author of "A Christmas Carol" and "A Tale of Two Cities" at upcoming Dickens-themed events. Ladies and Gentleman, your Dickens Idol is ... a lady?!
Say hello to Bala Cynwyd's Lisa Litman. To win, she performed an original monologue as Dickens, embodied Fagin from "Oliver Twist" and participated in a question-and-answer session from a judging panel including Ben Franklin; Janine Pollock, Head of the Free Library's Rare Book Department; Sam Gish, casting agent from the Philadelphia Casting Agency; and Siobhan A. Reardon, President and Director of the Free Library.
Litman, an education consultant with a background in the performing arts, was chosen unanimously.
Courtesy of the Free Library
Peter Dobrin
Rather than waiting for the outcome of upcoming talks between the Kimmel Center and IATSE, the Chamber Orchestra of Philadelphia is canceling its October concerts.
The orchestra announced Thursday morning that it looked for, but could find, an alternate venue for the Oct. 16 and 17 concerts with conductor Mischa Santora and pianist Rustem Hayroudinoff in the Perelman Theater.
The Kimmel and the union representing its stagehands, ushers, box office and wardrobe workers went on an 18-hour strike last weekend before declaring a "cooling off" period in talks for a new contract. Negotiations are expected to begin next week. The chamber orchestra's rehearsals were to have begun Oct. 12.
Peter Dobrin
Management and musicians of the Philadelphia Orchestra Thursday announced a tentative agreement for a new labor contract, but don't lift a glass of opening-night champagne just yet.
A "host of minor issues" remained to be worked out in the 200-page labor pact, Philadelphia Orchestra Association lawyer Lawrence G. McMichael said in U.S. Bankruptcy Court Thursday.
"The process of getting though the minutiae" is ongoing, and a deal is expected to be in the hands of musicians to consider in the next day or so, McMichael told Judge Eric L. Frank.
Peter Dobrin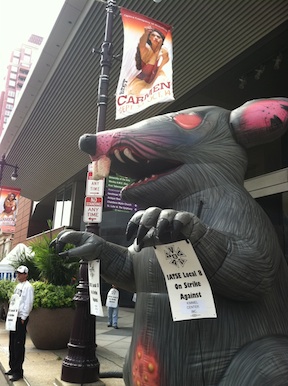 This is scheduled to appear in Sunday's print edition of the Inquirer.
The giant rat has been deflated. Extra security has gone home. And after an 18-hour strike by workers at the Kimmel Center for the Performing Arts, the shows will go on today.
Leaders of the Kimmel and local 8 of the International Alliance of Theatrical Stage Employees penned a deal Saturday putting a strike on hiatus. After talks failed to produce a new labor deal for stagehands, ushers, wardrobe and box office workers, the two sides decided to spend the next week in a "cooling off" period.
Peter Dobrin
UPDATE, 6 a.m. Saturday: Kimmel Center workers are on strike, according to Kimmel leaders. The Kimmel, Academy of Music and Merriam Theater are shut down. Talks between the Kimmel and union representing stagehands, ushers, box office and wardrobe workers are expected to continue Saturday afternoon.
------------------------------------------------
Previously: