Colin Kerrigan
Since 2012 is coming to a close and Instagram just signed up its 100 millionth user, we decided to put together a list of eight Instagrammers we think you should follow in 2013. We asked all of them the same six questions to get a little insight into their life as a phone photographer.
Be sure to let us know if you have any recommendations for us in the comment section.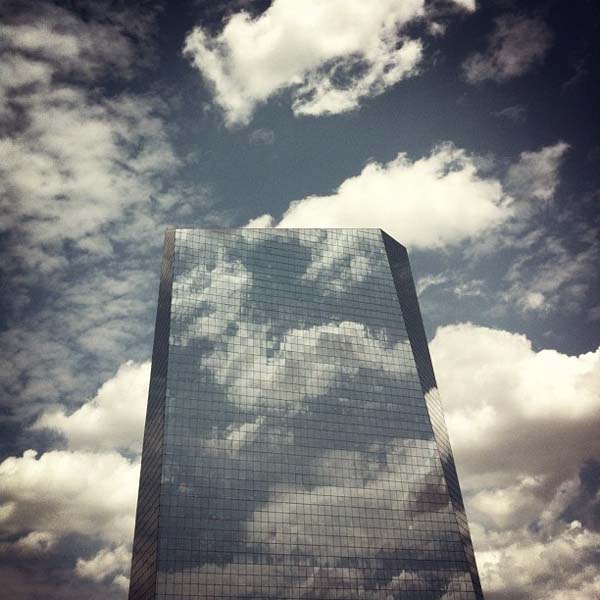 Peter Dobrin
In these parts, it's not Christmas time until the man in the white beard says so. That would be Peter Nero.
For more than a dozen years, he has presided over an annual holiday show with his Philly Pops. Nero is stepping down at the end of the season, which means that the current run in Verizon Hall is probably your last-ever chance to hear Enescu, Glière and Mussorgsky as the pike, carp and whitefish of a giant gefilte fish of a Hanukkah medley. Nero's successor is not a pianist, which also suggests that if this tradition continues, the format won't feature a jazz pianist who somehow manages to be both erudite and haimish, with a little show-biz humor thrown in for good measure. Nero is the end of the line.
Take his Christmas adaptation of "Gangnam Style" (please). PSY's video has clocked 925 million hits on YouTube, and that's good enough for Nero. He put together his own version for Santa, a line of leggy young dancers and a Korean singer from the University of the Arts as Nero chimed in at the punch line ("Oh, Santa baby"). This, obviously, is what a 78-year-old Jew from Brooklyn can do when he really puts his mind to it.
Peter Dobrin
The orchestra is a remarkable chameleon. At Saturday's second family concert of the season, the Philadelphia Orchestra kept changing form - inhabiting a pure classical realm one moment, pops the next.
Conspicuously, the two coexisted in a single piece. Bill Holcombe's 'Twas the Night Before Christmas, conducted by Cristian Măcelaru and narrated by Charlotte Blake Alston (pictured), is a suavely packaged catalog of tunes, from traditional Christmas to Wagner's Siegfried horn call. Sometimes all it takes is a flash of a melody, a micro reference, to illustrate a portion of Clement C. Moore's poem. The piece, brought to the orchestra by its artistic administrator, Jeremy Rothman, was supremely satisfying - but mostly because the orchestra could sway so convincingly between its quick-silver changing idioms.
Young dancers from Pennsylvania Ballet II stepped onto the stage for excerpts from The Nutcracker. Sarah Lee, 19, as Coffee in the "Arabian Dance" was its chief pleasure, assured and poised.
Peter Dobrin
A new violin concerto promised to the Philadelphia Orchestra won't be done in time for its January premiere, Carnegie Hall announced Thursday.
"Regardless of how they fare later in life, some works have a pleasant birth, while others a difficult one," said composer Osvaldo Golijov in a prepared statement. "The violin concerto belongs to the second type, and I can only hope that when it is ready to see the world, it will be worthy of the artistry of Leonidas Kavakos, as well as that of the other artists and presenters who entrusted me with its creation."
Mid-January performances had been scheduled in Philadelphia and New York with Yannick Nézet-Séguin conducting. Violinist Leonidas Kavakos will perform Karol Szymanowski's Violin Concerto No. 2 in its stead.
Peter Dobrin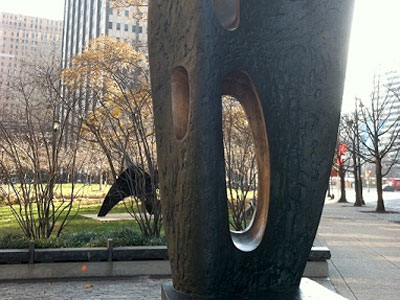 The arrival of a new piece of art in the city, the joining of an artistic citizen and its setting, deserves a certain kind of ongoing reception. And sure enough, more than a few passersby could be seen obliging - stopping, inspecting, or at least turning their heads, Wednesday morning as Dame Barbara Hepworth's Rock Form (Porthcurno) settled in at 17th and the Parkway.
The piece - perhaps the only local example of the artist's work on public view - was sited thoughtfully. From one side, the bronze appears slender as a flame. Looking west, you can spy the cross atop the Cathedral Basilica of Saints Peter and Paul through one if its Swiss-cheese holes. It juts out on a piece of Fairmount Park-owned land, a star thrust out onto the front of a stage. Something about it is very 1960s. It is perhaps a more detailed and elegant version of Single Form, made in memory of Dag Hammarskjöld at the United Nations building in New York.
If the neighborhood is new, one neighbor is familiar. Just to the east sits Henry Moore's Three Way Piece Number 1. Both works are bronze, both made in 1964, both of a similar aesthetic.
Jonathan Takiff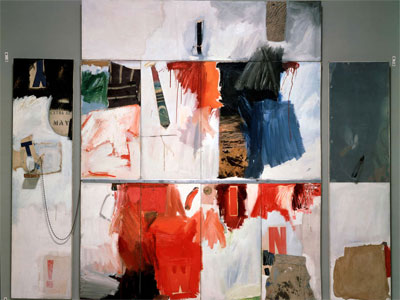 The avant garde composer John Cage, nervously kinetic choreographer Merce Cunningham and equally disruptive visual artists Jasper Johns, Robert Rauschenberg and Marcel Duchamp must have been smiling down on the Philadelphia Museum of Art yesterday.
In their collective heydays (from the late 1940s forward), this gang of five sparked storms of controversy with collaborative mash ups of sight and sound media and theories of creativity. They delighted in real world objects and in happenstance, in leaving lots to chance in the artistic process.
Yesterday, our Museum of Art opened the "Dancing Around the Bride" exhibit which likewise underscores these creators' visions and artistic cohabitation in an equally bold, art-meets-technology fashion. But we're guessing that other, life-altering storm kept most art lovers away.
Molly Eichel
Conrad Benner, proprietor of street art blog Streets Dept, who we wrote about last year, started a petition on his site to put a mural on the back of the PSFS Building, currently owned by Loews. "I've lived in Philadelphia my entire life, 27 years," Benner said today. "I've always thought my to myself why this beautiful building has this black brick wall."
The petition currently has 88 signatures and the goal is 5000.
Benner started thinking about it and researched where the biggest mural in the country is. He did not like the answer: Omaha, Neb. Tourists flock to take tours of our murals, so why should we own the biggest one? "Take a building that is a landmark and [speaks to] our past and how beautiful we were, and paint a mural on it that would represent the future of Philly that, from my view, is heavy on the arts," Benner said. "I thought it would be a cool juxtaposition our history and our future all in one building."
Molly Eichel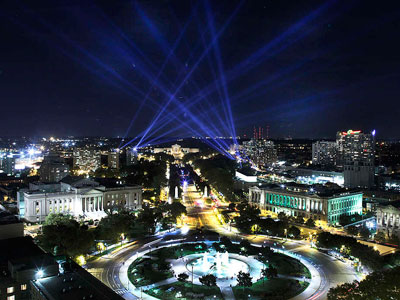 The heavens aren't cooperating with public art.
Derrick Pitts, the chief astronomer and planetarium director for the Franklin Institute, was scheduled to give a talk at "Open Air," the Benjamin Franklin Parkway-spanning public art project currently lighting up Philly's sky, tomorrow. Alas, inclement weather put a hitch in their plans and the event, "Planetarium on the Parkway," will instead be rescheduled for Fri., Oct. 12.
"Planetarium on the Parkway" puts the control of "Open Air's" 24 powerful searchlights in the hands of Pitts who will use them to point out astronomical goings-on in the night sky. Typically, the searchlights are controlled by messages people leave via the website or an iPhone app. While "Open Air" runs nightly through Oct. 14 from 8-11 p.m., Pitts' talk will begin at 8:30 p.m.