If you've been keeping track of the latest season of America's Next Top Model, you know that Tyra Banks has decided to change it up this time by having 16 contestants – both male and female – battle it out for the big prize: a NEXT modeling contract, a spread in Nylon magazine, and a $100,000 campaign with Guess.
On Friday night, the remaining three finalists are competing in one of their last challenges: The coveted Guess Campaign photo shoot. Models Jourdan Miller, Marvin Cortes, and Cory Hindorff are facing off in part one of the final two episodes.
Cory Hindorff is a fan favorite; excuse me, a "phan" favorite. The striking 22-year-old hails from Philadelphia and is the only gay contestant on this season's run. Even if Cory doesn't go on to the final challenge, which we'll find out tonight, he's already won in our hearts – and we're sure he's feeling on top of the world. The fresh young face graces the cover of the 2014 winter issue of G Philly and to honor his journey on Top Model, he will be celebrating the occasion with his friends and fans this Friday evening.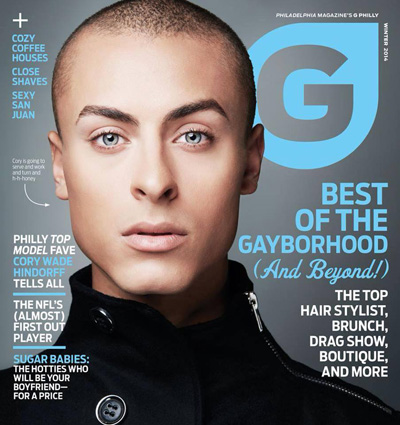 First, Cory will be hosting an ANTM finale party at Tabu Lounge from 9 - 11 p.m. Following the airing of the episode, in which we will find out if Cory makes it to the FINAL finale, Hindorff will play host at The Barbary's "Cruel Intentions" dance party, where we're certain that the vibes will be fierce and fab. Make sure to wear your "fierce fuchsia" – a color chosen by Tyra to represent Cory during his final run.
Whether he wins or loses, tonight is certainly worth celebrating.
-
Staying indoors? Tune into the CW tonight, Friday, Nov. 8, at 9/8c, to watch part one of the two part America's Next Top Model finale episodes. Part two will air Friday, Nov. 15.